Legendary Foods Popped Protein Chips Barbecue - 7 Bags
Item #: LEG21
UPC: 1081003597221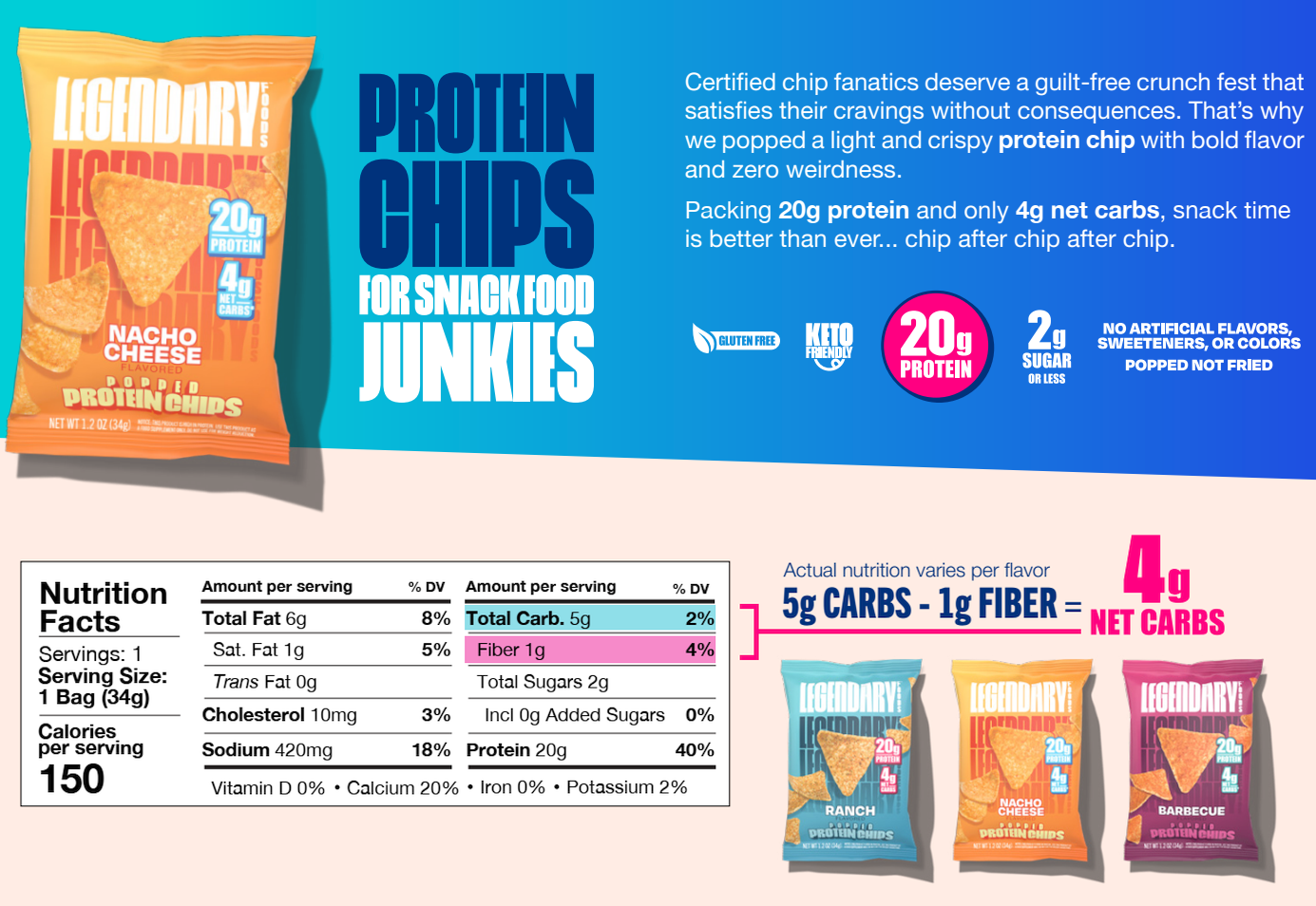 Certified chip fanatics deserve a guilt-free crunch fest that satisfies their cravings without consequences. That's why we popped a light and crispy protein chip with bold flavor and zero weirdness. Packing 20g protein and only 4g net carbs , snack time is better than ever... chip after chip after chip.
PROTEIN BLEND: SODIUM CASEINATE, MILK PROTEIN ISOLATE, CALCIUM CASEINATE & WHEY PROTEIN ISOLATE Delivering 20g of protein per bag, this blend of dairy proteins was specifically selected for its ability to support the building and repair of healthy muscle while delivering Legendary flavor and the perfect chip experience that we demand.
FUN FACT: The Legendary R&D team uses the PDCAAS (Protein digestibility corrected amino acid score) to calculate the protein content in all of our products. This takes into account the amino acid composition of our different proteins. Long story short: when we put 20g on the label, it's in there!
BROWN RICE PROTEIN In addition to the blend of dairy proteins (listed above), Legendary Popped Protein Chips also contain Brown Rice Protein to support the taste and texture experience in every bite.
HIGH OLEIC SUNFLOWER OIL Specifically selected to help hold our seasonings to the protein chips, this monounsaturated fat has been clinically studied and can help support cardiovascular health, as well as an increase in HDL "good" cholesterol.
SOLUBLE CORN FIBER (FLAVOR DEPENDENT)
Soluble corn fiber is a non-digestible source of fiber that provides sweetness and improves texture.
XANTHAN GUM, SUNFLOWER LECITHIN
This gluten-free and plant-based duo helps to keep our protein intact during the popping process (Xanthan Gum), while also helping our
ingredients to blend and remain stable from the moment of heating until the moment of enjoyment (Sunflower Lecithin).*
NATURAL COLORS
All Legendary Popped Protein Chips are free of artificial colors, using only
natural ingredients such as Paprika for coloring