Core Nutritionals BURN Sour Apple - 50 Servings
Item #: CU354
UPC: 658580071516
Extreme Thermogenic Powder
Zum XR® - Delayed release caffeine for sustained energy
KSM-66® - Reduction in cortisol levels
SaffSerrene™ - Supports mental health and mood balance, suppresses appetite
Core BURN is a comprehensive weight management supplement and appetite suppressants
1 scoops per serving.
50 servings per container.
BURN is the next innovation in thermogenics. A modern weight loss solution using trademarked and patented ingredients, BURN addresses every major metabolic pathway of adipose creation and deposition. Whereas many thermogenics focus exclusively on stimulation, BURN contains ingredients with specific, high-quality evidence demonstrating their efficacy. SaffSerene™, for example, has been demonstrated to significantly reduce subjective feelings of hunger – one of the only dietary ingredients on the market that the FDA allows to make such a claim. KSM-66®, a patented extract of Ashwagandha, has been shown to significantly reduce corstiol – the body's key stress hormone – in clinical trials. Together with the other premium ingredients in BURN, these two ingredients create an unparalleled weight management product.
A complete formula, BURN is simply the modern evolution in weight loss supplements. With every facet of weight loss covered, BURN is the perfect companion to your diet and exercise regimen.
Acetyl-l-Carnitine:
L-carnitine is a derivative of the amino acid lysine and, as certain conditions outpace the body's ability to produce it, l-carnitine is considered a conditionally essential amino acid. While endogenous biosynthesis of l-carnitine from the amino acids lysine and methionine is sufficient for essential processes – along with dietary sources of carnitine from protein-rich red meat, for example – dietary supplementation of carnitine may pose benefits in certain physiological conditions.
Unfortunately, due to excess metabolism of l-carnitine by microorganisms in the small intestine, exogenous supplementation with oral l-carnitine has proved ineffective. ALCAR, an acetylated version of l-carnitine, has considerably higher oral bioavailability, due likely to only partial hydrolytic metabolism. Once in the bloodstream, ALCAR plays a fundamental role in the production of energy, acting as the catalyst for the beta-oxidation of long chain fatty acids by the mitochondria; regulating the CoA to Acyl-CoA ratio (necessary for the production of ATP); and the metabolism of carbohydrates. ALCAR also is an excitatory agent for neurons, increases neuronal transmission, and increases the production of neurotransmitters and neurohormones such as dopamine and serotonin.
KSM-66® Full-spectrum Ashwagandha root extract (5% Withanolides)
Withania somnifera Dunal, colloquially known as Winter Cherry or Indian Ginseng, is an herb that features prominently in the traditional Indian medicinal system of Ayurveda. Known as Ashwagandha in Ayurveda, Withania somnifera is a critical ingredient in various Ayurvedic tonics and tinctures prepared as a traditional remedy for the treatment of various ailments.
Recently identified as a potent adaptogenic and target for therapeutic applications, Ashwaghanda has been the subject of numerous animal, pre-clinical, and clinical trials designed to examine its potential effects as an antioxidant, anti-carcinogenic, anxiolytic, antibacterial, antifungal, and immonumodulating compound. Ashwaghanda's broad therapeutic potential is hypothesized to be the result of its robust phytochemical profile, including a wide swath of alkaloids, sitoindosides, and the highly biologically active withanolide group. As the principally biologically active compounds within Ashwaghanda, withanolides such as withanone, withaferine A, withanolides A, D, and G have been identified, isolated, and extensively studied in the various applications noted above.
In recognition of the potential physiological benefits of withanolides, Core Nutritionals selected KSM-66® to include in its HARD formula. KSM-66® is a full-spectrum Ashwaghanda extract, standardized for 5% withanolides – meaning that KSM-66® not only includes the full range of biologically active compounds within Ashwaghanda, but also that it contains the highest currently available concentration of the principally active withanolides (5%).
The high concentrations of withanolides within KSM-66® has resulted in encouraging results in a number of human, clinical trials – particularly considering many of these trials were conducted using the methodological gold standard of randomization, double-blind delivery, and placebo control. Amongst the most impressive results contained in these trials:
A 27.9% reduction in serum cortisol levels, measured over 60 days in a trial featuring 64 chronically stressed adults.
Statistically significant increases to endurance and stamina, as measured by VO2 max, in a clinical trial featuring 50 healthy, exercise-trained adults.
Increased measures of well-being as reported by self-assessment scales, included in both the clinical trials mentioned above.
Statistically significant increases in serum testosterone levels in a clinical trial featuring 68 infertile men.
Though each of these results is impressive, perhaps the most significant is the 27.9% reduction in cortisol seen in the 60 day trial. As detailed above, cortisol possesses a multitude of potentially degradative physiological effects, including: inhibiting glucose uptake, causing a constriction of the vasculature (vasoconstriction), the breakdown of glycogen, and inarguably the result most would desire to avoid, proteolysis (the breakdown of muscle tissue).
To put it the simplest way possible, cortisol's chief functions involve either turning on, or shutting off, the very things we as fitness enthusiasts want to avoid or turn on, respectively!
Garcinia cambogia fruit extract (50% hydroxycitric acid):
Garcinia cambogia, more commonly known under a variety of names, including the tamarind, is a small tropical fruit endemic to Indonesia. This plant has come under increased media attention over the past few years, due largely to the purported effects of its principal constituent, hyrdoxycitric acid, or HCA.
HCA itself is a derivative of citric acid, and competitively inhibits the enzyme adenosine triphosphatase-citrate-lyase. This enzyme is an extra-mitochondrial enzyme (meaning it sits outside the mitochondria) chiefly responsible for a process known as de novo lipogenesis – or the production of fatty acids from glucose.
Green coffee extract (50% chlorogenic acid):
Chlorogenic acids are phenolic compounds created during the metabolism of various isoquinic acids found in the leaves of both coffee and tea. In addition to the well-established sympathomimetic effects of coffee and tea's constituents, recent research has demonstrated a range of other potential benefits for compounds such as chlorogenic acids.
Recent literature suggests that the consumption of both green coffee, as well as standardized extracts of CGAs, relax the vasculature and improve vasoreactivity, impose an inhibitory effect on lipid accumulation and body weight in both mice and humans, and modulate glucose metabolism via the glucose-6-phosphate pathway.
Trials in both humans and mice using 1% extracts of green coffee bean revealed significant bodyweight reductions over periods of two and eight weeks. Researchers hypothesized that the bodyweight reductions associated with oral CGA administration was associated with the product's numerous mechanisms of action, rather than a single, isolated cause.
Yerba Mate Extract 4:1 (Ilex paraguariensis)(leaf)
Yerba Mate, otherwise known by its scientific name Ilex Paraguariensis, is a flowering tree with leaves rich in polyphenols, saponins and xanthines. The metabolic effectiveness of Yerba Mate has been studies on both fatty acid oxidation (FAO) as well as energy expenditure derived FAO (EEFAO). A recent study showed that supplementing Yerba Mate paired with sub-maximal exercise increased fat utilization by 23%. Another study concluded that Yerba Mate increase FAO and EEFAO by 24% in exercise intensities below 70% and even more profound FAO when exercising below 50% of exercise intensity.
Caffeine (1,3,7-trimethylxanthine) and Theobromine (3,7-dimethyl-1H-purine-2,6-dione):
Caffeine is the most widely consumed, and perhaps one of the most reviewed, psychoactive compounds. Its physiological effects in a range of areas have been well-documented, including exercise performance, information processing, alertness and mood enhancement, attention, and awareness, along with its anti-lipogenic and lipolytic abilities. Caffeine is also the most well-known in the methylxanthine compound class, the constituents of which inter-metabolize into one another in the human body and largely share similar effects.
Various clinical trials have demonstrated that xanthines – including caffeine and theobromine – exert potent lipolytic (the breakdown of fat tissue into fatty acids) and oxidative (the actual 'burning' of fat) actions as sympathomimetic amines. In less scientifically-complex parlance, this means caffeine is forcing your body to preferentially use fat tissue as a fuel source for the oxidative provision of ATP (your body's energy currency).
Evidence for caffeine's capacity as a lipolytic is widely available. In a clinical study featuring four separate trials in both normal and obese subjects, for example, caffeine was found to significantly increase fatty acid metabolism (as measured by serum fatty acid concentration), resting metabolic rate, and total fat oxidation – suggesting the preferential substrate selection spoken about above occurs in both normal and obese individuals. Other trials have demonstrated the effects of methylxanthines on total fat mass (reduction), lean body mass (increases), stamina and endurance, as well as cardiovascular capacity.
Additionally, as selective cAMP potentiators, through the beta-adrenergic pathway, caffeine and theobromine have been hypothesized to exert a synergistic effect on lipolysis when combined with forskolin.
Bacopa monnieri (50% bacosides):
Bacopa monnieri, also known as the water hyssop commonly, or as Brahmi in Ayurvedic texts, is a small creeping herb endemic to sub-tropical India. The herb has been used in traditional Indian medicine for well over one thousand years, with its first recorded usage coming in the 6th century A.D. In this traditional context, BM has been used for a wide-range of purposes, including as a treatment of asthma and epilepsy.
More recently, BM has been the subject of numerous cognition and memory trials, as the plant has a well-established nootropic effect. Likely through modulation of the serotonin reuptake system, clinical trials in healthy humans have demonstrated that BM possesses a significant effect on the retention of newly-learned information. In several trials utilizing a 300mg daily serving, BM was also shown to decrease the recall delay of newly learned information and reduce short term forgetfulness – suggesting that the herb's effect on the serotonic and cholinergic systems are increasing the encoding (the literal storing) of memory information.
Beyond cognition and memory encoding, BM has also been demonstrated to function as a potent adaptogen and relaxant – which in the Core BURN Ultra formula may help to smooth the effect curve of the product's stimulants, reducing jitteriness or, "crash."
Züm-XR ® XR Caffeine (provides 50mg caffeine):
Züm-XR is a patented coating technology that allows the dissolution profile of certain ingredients, primarily caffeine, to have a longer lasting affect in blood serum levels. The release of those ingredients is initiated by an abrasion in the stomach and pH levels between the stomach and the upper gastrointestinal tract. The coating of the microbead technology is a patented timing system with pharmaceutical grade safe polymers. Comparatively speaking, the dissolution profile of Züm-XR caffeine to your typical immediate release caffeine showed that Züm-XR took a far greater amount of time, well over 120 minutes to complete the process of dissolution.
Saffron Extract (stigma) (Crocus sativus L.) (SaffSerene ™):
SaffSerene ™ patented Saffron is a deviate from non-GMO saffron flowers source from Turkey and Morocco. This particular Saffron extract contains 2% safronal, crocin, and pirocrocin as primary active constituents. Saffron has been used in ancient folk medicine as a sedative, antidepressant, etc. A randomized double-blind placebo controlled trial conducted in 2005 between 30 female and male testers suggested that a moderate and consistent dose of saffron significantly benefited mood after 6 weeks. Furthermore, a pilot trial conducted in 2004 evaluated the effectiveness of Saffron comparatively to Fluoxetine. In a minimal dose of 15mg daily, the consistency of saffron compared to fluoxetine was overwhelmingly positive in regards to alleviating acute depression and anxiety. In addition it has been suggested that crocin and safranal inhibit repute of dopamine, norepinephrine and serotonin levels.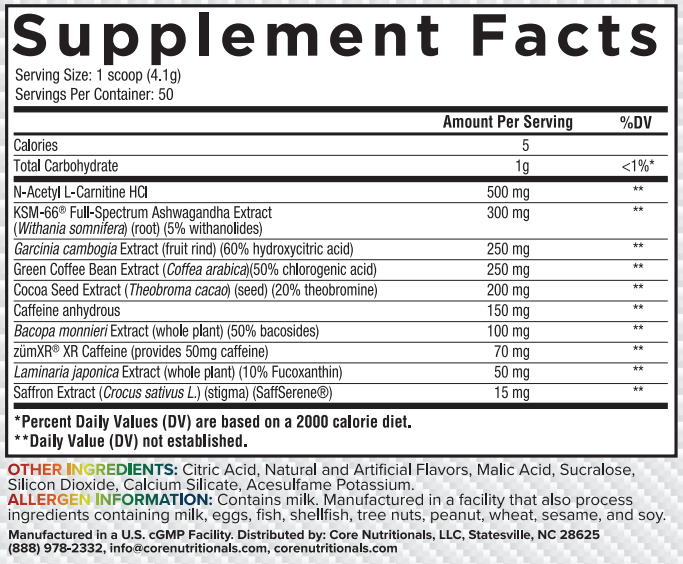 *These statements have not been evaluated by the Food and Drug Administration. This product is not intended to diagnose, treat, cure or prevent any disease.