SNS Serious Nutrition Solutions Creatine HCL 750 Mg Capsules - 2 x 120 Cap Btls TWINPACK
Item #: SN2251
UPC: 899773000191
Ultra-Concentrated Form of Creatine*
Superior Absorption*
SNS Creatine HCI can be cost effectively used by those looking for an Ultra-Concentrated form of Creatine that doesn't require any loading and that does NOT cause the bloating and fluid retention that is normally associated with some other forms of Creatine.
Creatine HCI Highlights:
- Supports Lean Muscle & Strength*
- Promotes Endurance & Enhanced Recovery*
- Ultra-Concentrated Form of Creatine*
- No Bloating or Fluid Retention*
- No Loading Phase*
- 120 servings
SNS Creatine HCI can be stacked with Agmatine XT, Focus XT, X-Gels, &/or many other SNS products for improved, synergistic results.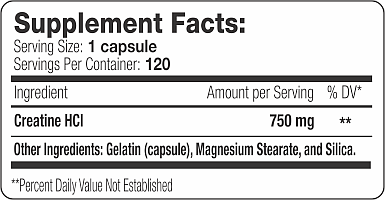 * These statements have not been evaluated by the Food and Drug Administration. This product is not intended to diagnose, treat, cure, or prevent any disease.
More items you might like
Loading...