Apollon Nutrition CreaSMASH - 30 Servings
Item #: APN95
UPC: 850042072103
20% Off + Free Ship w/$100 Apollon order
SMASH THE COMPETITION WITH CREASMASH!
Creatine is a staple supplement for a vast majority of gym rats, athletes, and physique competitors. It is the single most successful and well-studied supplement in the history of sports nutrition.
Put another way, creatine is the s***. It's been studied thousands of times, proven effective across a wide array of athletic endeavors and populations, and is SAFE.
Quite simply, if you're not supplementing with creatine, then you're missing out on some serious gains.
Apollon Nutrition already has an advanced creatine supplement in its arsenal with Creatine-X, which pairs the research-backed 5g dose of Creapure creatine monohydrate alongside other natural energy (ATP) enhancers in elevATP and Senactiv.
In traditional Apollon Nutrition fashion, we're never satisfied with the current state of affairs and sought to improve our already advanced creatine supplement and create something truly exceptional.
The result of those efforts is a creatine supplement that will smash the competition.
Behold…CREASMASH!
WHAT IS CREASMASH?
In designing CREASMASH, we're not attempting to improve creatine. We combine the king of bodybuilding supplements with other proven ergogenics to enhance energy production, stamina, oxygen utilization, and blood flow to make YOU perform better no matter the venue or athletic endeavor and SMASH the competition!
WHAT'S IN CREASMASH?
CREAPURE® CREATINE MONOHYDRATE (3.5G)
There's not much to say here that you already don't know. Creatine is king when it comes to sports nutrition supplements. It enhances energy production (ATP), cellular hydration, and athletic performance. There's also a body of emerging research creatine also benefits cognitive function!
Creatine has also been shown to:
Enhance power & strength
Improve lean mass gains
Increase hydration and cell volumization
Boost total work output
Support bone health and blood sugar levels
Aid recovery from injury
CREASMASH delivers 3.5 grams of Creapure creatine monohydrate, which is within the commonly studied range of creatine monohydrate supplementation (3-5 grams per day).[1,2,3]
NO3-T® CREATINE NITRATE (2.5G)
Creatine nitrate is an "alternative" form of creatine wherein a molecule of creatine is bonded to a molecule of nitrate. Each gram of creatine nitrate delivers ~675mg of actual creatine, but the purpose of supplementing with creatine nitrate isn't so much for the creatine component (though that certainly helps!). It's primarily for the nitrates.
Nitrates are compounds that are naturally present in many foods common to the diet, such as spinach, beets, or arugula, and they are also used to preserve meats (e.g. bacon). The primary benefits of nitrates (whether obtained through the diet or supplementation) is that they fuel nitric oxide production, thereby enhancing blood flow, vasodilation, and nutrient delivery to working muscles. This culminates in greater oxygen efficiency when training, more strength & power, and massive muscle pumps!
Creatine nitrate supplementation has been shown to improve bench press lifting volume, peak power, average power, and average velocity. [4,5] Additional research has found that nitrate supplementation prior to exercise lowers the oxygen cost during exercise, which means that the muscles need less oxygen to perform the same amount of work.[6]
Combining creatine monohydrate plus creatine nitrate brings the total creatine content of CREASMASH to 5.19g. You're also getting 812.5mg of nitrates, which is well within the ergogenic dose established by researchers to improve athletic performance and support cardiovascular health.
CARNOSYN® BETA ALANINE (3.2G)
No other supplement is more synonymous with endurance and stamina than beta alanine. As ubiquitous as beta alanine is in sports nutrition, the vast majority of products use generic beta alanine, not CarnoSyn.
CarnoSyn is the only patented beta-alanine on the market, backed by years of scientific research as well as the only beta alanine supplement with New Dietary Ingredient (NDI) status. More than 55 clinical studies support the ergogenic benefits of CarnoSyn® beta-alanine, including:
Increased muscle buffering capacity
Greater endurance
Delayed onset of fatigue
Improved endurance
Increased strength
Enhanced recovery from exercise
CarnoSyn beta alanine helps athletes to go harder, for longer during training, reaping greater gains from every single training session.
BETAPOWER® BETAINE (2.5G)
BetaPower® is 99% pure natural betaine that is derived from the molasses of sugar beets. Betaine is an organic osmolyte and methyl donor that helps maintain cellular hydration, protects against cellular stress, and supports a healthy metabolism.
Numerous clinical trials demonstrate significant improvements in physical performance, especially in strength, power and muscle endurance. It's also been shown to benefit muscle growth and body composition.
ELEVATP® (150MG)
elevATP® is a blend of ancient peat and apple extracts found to[7,8,9]:
Increase ATP levels in the body
Improve power output in resistance-trained athletes
Boost performance
Support gains in lean mass and muscle strength
Improve body composition
Additional research indicates that supplementation with elevATP may also help reduce performance decrements associated with overreaching.[10]
SENACTIV® (100MG)
Senactiv is a premium, patented blend of Panax notoginseng and Rosa roxburghii from ingredient pioneers NuLiv Science that boosts the production of an important enzyme involved in the production of ATP -- citrate synthase.[11]
Other studies suggest that Senactiv may help remove old, unfit cells and replenish them with new healthy cells.
Additional research indicates that Senacti in exercised muscle tissues as well as decrease levels of inflammatory biomarkers, such as IL-6.[11,12]
ASTRAGIN® (50MG)
AstraGin is another premium, patented ingredient from NuLiv Science containing a blend of highly purified Panax notoginseng and Astragalus membranaceus that has been shown in 16 in-vitro and eight in-vivo studies to increase the bioavailability and absorption of several key nutrients, including amino acids such as creatine and leucine!
AstraGin also has a beneficial impact on gut health due to its ability to reduce inflammation in the intestinal wall up to 73%!
HOW TO USE CREASMASH
CREASMASH can be used the same as your everyday creatine supplement -- take it whenever is convenient during the day to achieve/maintain creatine saturation.
However, taking CREASMASH at certain times of the day do offer certain benefits.
For instance, CREASMASH contains nitrates as well as elevATP and betaine. When taken pre workout, these ingredients help boost athletic performance, muscle pumps and results ("GAINZ") in a myriad of ways, including increased blood flow, reduced fatigue, greater strength and power output, and more.
Mixing CREASMASH into your pre workout is a great add-on that only enhances the benefits of your go-to pre workout (which should be Hooligan, Assassin, or another Apollon Nutrition pre workout supplement).
CREASMASH also can be added to your post workout recovery shake, as it mixes seamlessly with a scoop of Apollon Nutrition protein powder. The ingredients in CREASMASH support blood flow, helping your body to clear away metabolic waste products generated by intense exercise, and boost glycogen replenishment, reducing DOMS and accelerating your ability to train hard tomorrow!
At the end of the day, if you're looking for a creatine supplement that offers just a little bit more (actually a whole hell of a lot more!), then CREASMASH is your best option! Grab a bottle today and experience the myriad of benefits it has to offer!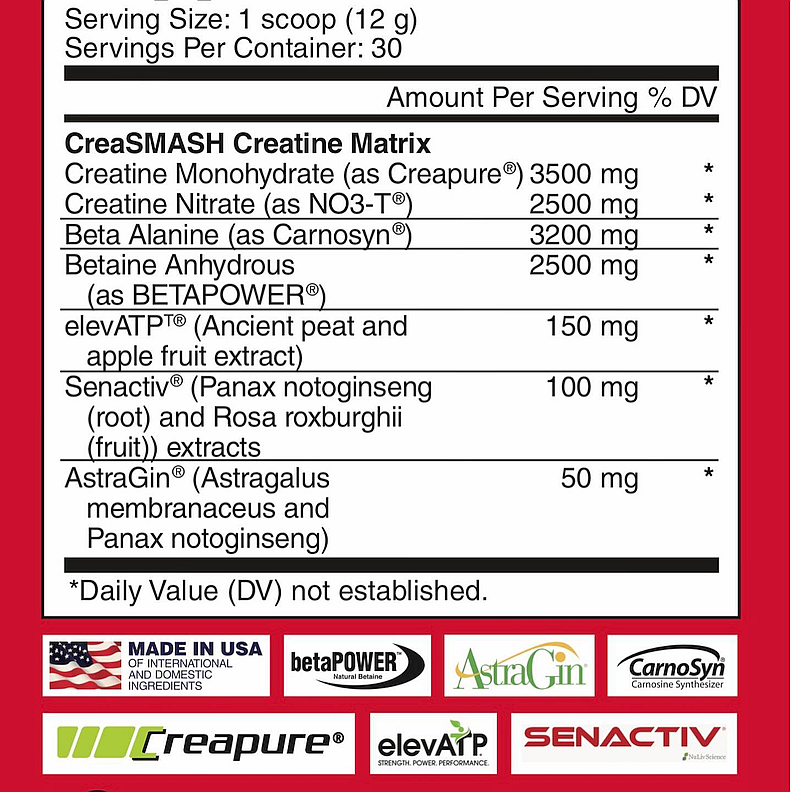 References
Yáñez-silva a, buzzachera cf, piçarro idc, januario rsb, ferreira lhb, mcanulty sr, utter ac, souza-junior tp. Effect of low dose, short-term creatine supplementation on muscle power output in elite youth soccer players. J int soc sports nutr. 2017 feb 7;14:5. Doi: 10.1186/s12970-017-0162-2. Pmid: 28190980; pmcid: pmc5296953.
Hultman, e. K., söderlund, k., timmons, j. A., cederblad, g., & greenhaff, p. (1996). Muscle creatine loading men. Journal of applied physiology (bethesda, md. : 1985), 81, 232–237. Https://doi.Org/10.1152/jappl.1996.81.1.232
Kreider, r.B., kalman, d.S., antonio, j. Et al. International society of sports nutrition position stand: safety and efficacy of creatine supplementation in exercise, sport, and medicine. J int soc sports nutr 14, 18 (2017). Https://doi.Org/10.1186/s12970-017-0173-z
Galvan, e., walker, d.K., simbo, s.Y. Et al. Acute and chronic safety and efficacy of dose dependent creatine nitrate supplementation and exercise performance. J int soc sports nutr 13, 12 (2016). Https://doi.Org/10.1186/s12970-016-0124-0
Galvan e, o'connor a, goodenough yc, dalton r, levers k, barringer n, cho m, jung p, greenwoord m, rasmussen c, murano ps, earnest cp, kreider r. Effects of 28 days of two creatine nitrate based dietary supplements on bench press power in recreationally active males. J int soc sports nutr. 2015 sep 21;12(suppl 1):p17. Doi: 10.1186/1550-2783-12-s1-p17. Pmcid: pmc4595304.
Lansley ke, winyard pg, fulford j, vanhatalo a, bailey sj, blackwell jr, dimenna fj, gilchrist m, benjamin n, jones am. Dietary nitrate supplementation reduces the o2 cost of walking and running: a placebo-controlled study. J appl physiol (1985). 2011 mar;110(3):591-600. Doi: 10.1152/japplphysiol.01070.2010. Epub 2010 nov 11. Pmid: 21071588.
B, argumedo r, shu c, huynh l, pietrzkowski z. Effect of the dietary supplement elevatp on blood atp level: an acute pilot clinical study. J aging res clin practice. 2013;2:178–84.
Reyes-izquierdo t, shu c, argumedo r, nemzer b, pietrzkowski z. The effect of elevatptm on whole blood atp levels: a single dose, crossover clinical study. J aging res clin practice. 2014;3:56–60.
Joy, j. M., falcone, p. H., vogel, r. M., mosman, m. M., kim, m. P., & moon, j. R. (2015). Supplementation with a proprietary blend of ancient peat and apple extract may improve body composition without affecting hematology in resistance-trained men. Applied physiology, nutrition, and metabolism, 40(11), 1171–1177. Https://doi.Org/10.1139/apnm-2015-0241
Joy jm, vogel rm, moon jr, et al. Ancient peat and apple extracts supplementation may improve strength and power adaptations in resistance trained men. Bmc complement altern med. 2016;16:224. Published 2016 jul 18. Doi:10.1186/s12906-016-1222-x
Wu, j., saovieng, s., cheng, I. S., liu, t., hong, s., lin, c. Y., su, I. C., huang, c. Y., & kuo, c. H. (2019). Ginsenoside rg1 supplementation clears senescence-associated β-galactosidase in exercising human skeletal muscle. Journal of ginseng research, 43(4), 580–588. Https://doi.Org/10.1016/j.Jgr.2018.06.002
Hou cw, lee sd, kao cl, cheng is, lin yn, et al. (2015) improved inflammatory balance of human skeletal muscle during exercise after supplementations of the ginseng-based steroid rg1. Plos one 10(1): e0116387. Https://doi.Org/10.1371/journal.Pone.0116387