SNS Serious Nutrition Solutions Betaine Anydrous Powder - 300 Grams
Item #: SN095
UPC: 899773000061
Betaine Anhydrous – 300 grams
Supports Building Lean Muscle
Supports Improved Strength, Power, Performance, Endurance, & Recovery*
Supports Improved Body-Composition
Supports Improved Lean Muscle, Strength, Power, Performance, & Body-Composition*
Betaine Anhydrous quickly took the fitness industry by storm and has become a must have ingredient for any athletes, bodybuilders, and fitness enthusiasts that are looking to increase lean muscle, strength, power, endurance, performance, recovery, and improve body-composition.
Supplementing with Betaine Anhydrous supports:
Increases in Strength and Power*
Increases in Lean Muscle*
Decreased Body-Fat*
Enhanced Endurance and Performance*
Improved Recovery*
A number of studies have shown that Betaine Anhydrous can increase strength and power in bouts of exercise. One study done in males who trained for 6 weeks showed that subjects who took two daily doses of 1.25 grams of Betaine Anhydrous increased muscle mass by 4 lbs, decreased body-fat by 7%, and increases arm size by 10% when compared to the placebo group. Results like this place Betaine Anhydrous in a category of being an elite muscle building ingredient.
Important Note:
Due to its immense demand and popularity, Betaine Anhydrous is included in many popular pre-workout products but the problem is – the studies showing the tremendous benefits of this exciting ingredient were based on people using Betaine Anhydrous daily and the average person doesn't use their pre-workout daily!
SNS Betaine Anhydrous powder allows you to supplement daily with this awesome ingredient at a great price.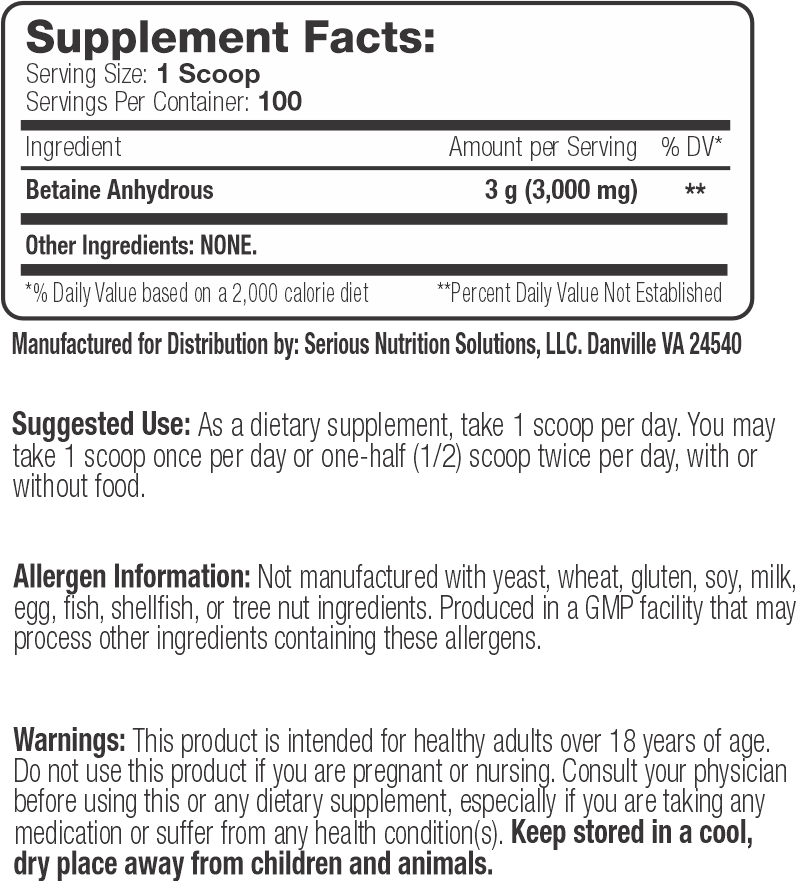 * These statements have not been evaluated by the Food and Drug Administration. This product is not intended to diagnose, treat, cure, or prevent any disease.