EPG Oxy Xtreme - 60 Cap
Item #: EPG07
UPC: 617375773387
Stop wasting your money on those nasty energy drinks, and in effective energy shots.
Take a product that isn't overloaded with caffeine, contains no chemicals and promotes a positive, creative energy with fat burning properties.
KANNA 20:1 extract (Sceletium tortuosum). Kanna provides euphoria, endurance and an all-around sense of well-being. Kanna fights stress and anxiety by interacting with the brain`s dopamine and serotonin receptors.
When combined with High caliber Stimulants like Theobromine, Yohimbe HCL and Alpha yohimbe the effects are a feel good / razor focus, much like DMAA and Ephedra.
Caffeine Anhydrous, is a good base stimulant that sets the foundation for the high caliber stimulants: Theobromine, Yohimbe HCL and Rauwolscine (Alpha Yohimbine).
Theobromine, is a bitter alkaloid of the cacao plant, It is found in chocolate, as well as in a number of other foods although in the stimulant category it actually gives the body more energy by increasing the oxygen flow opening by up the bronchioles, breathing becomes easier also Through widening of blood vessels, theobromine helps the body increase blood flow.
Rauwolscine as a simulant, is used for weight loss, enhanced athletic performance, and to reduce mental and physical fatigue. It is a frequent addition to energy and weight loss products.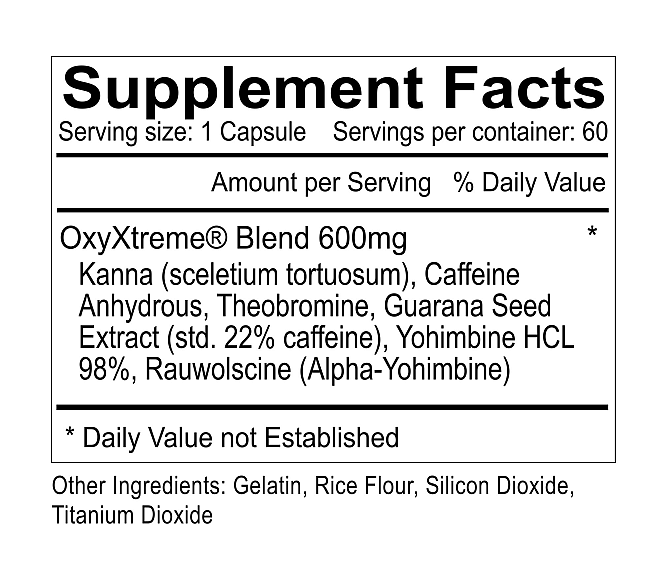 FDA: These statements have not been evaluated by the Food and Drug Administration. This product is not intended to diagnose, treat, cure, or prevent any disease.
More items you might like
Loading...