MuscleMeds Carnivor Mass Chocolate Fudge - 5.7 Lb
Item #: MS045
UPC: 891597002641
Anabolic Beef Protein Gainer

720 Muscle-Building Calories†

50g Hydrolyzed Beef Protein Isolate

125g High Impact Reactive Carbs†

Insulin Amplification and Signaling†

Loaded with Creatine and BCAAs

CARNIVOR MASS is called by some "an anabolic superfood" and is more advanced than the typical mass gainer. Where regular foods and typical gainers may be limited in terms of speed of absorption and the potential for insulin spiking, CARNIVOR MASS excels. It combines pure hydrolyzed beef protein isolate (BPI) with a dual-action insulin signal amplifying technology known as iSpike™. BPI and iSpike act in tandem to support improved muscle anabolism while minimizing fat storage. CARNIVOR MASS is a fast, clean and highly anabolic gainer.†
CARNIVOR MASS IS
INFORMED CHOICE APPROVED!
Informed Choice:
Trusted to be clean, CARNIVOR MASS is Informed-Choice Certified, tested for over 200 banned substances on the WADA list, and produced in a GMP Compliant Facility. You can be confident you are getting the highest quality product available.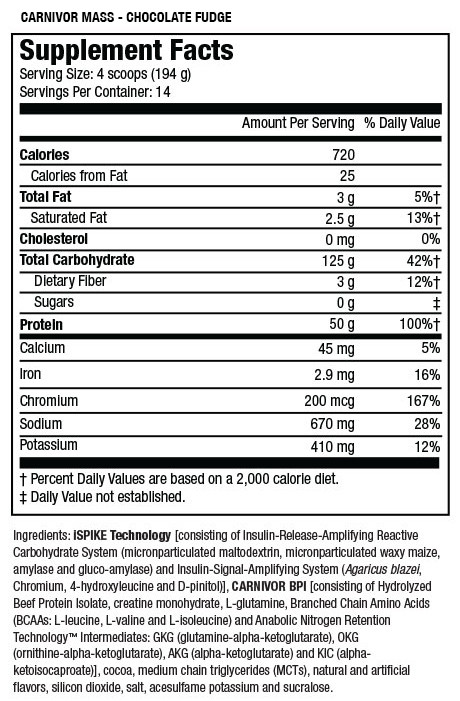 †These statements have not been evaluated by the Food & Drug Administration. This product is not intended to diagnose, treat, cure or prevent any disease.
More items you might like
Loading...