Beverly International EFA Gold - 90 Cap
Item #: BV038
UPC: 857254000849
Used and recommended by trainers nationwide.
We're proud to say that many Beverly products have been used and recommended by professional trainers across the nation. But it's not often you hear about an essential fatty acid (EFA) supplement getting such an accolade. Trainers tell us that they feel confident touting EFA Gold because it delivers on completeness, potency and purity. Each easy-to-swallow softgel is loaded with purity-tested omega-3, omega-6, and omega-9 fatty acids.
Size: 90 softgels (30 servings)
Benefits:
Wellness: EFAs support your health and well-being from head to toe.
Performance
Muscle Building & Preservation: Research suggests that supplementation with omega-3 fatty acids from fish oil may help mitigate age-associated muscle loss.
Why people like it
Complete, synergistic formula: EFA Gold supplies a synergistic blend of omega-3, omega-6, and omega-9 fatty acids from organic flaxseed, fish, and borage.
Potent: One serving of EFA Gold provides up to 600 mg of the omega-3s EPA and DHA, a dose suggested by clinical research to promote cardiovascular health.
The fish oil in EFA Gold has been purified and is mercury-free.
Stomach-friendly. No fishy aftertaste.
Who is this product ideal for?
Anyone who wants to boost their intake of EFAs: busy athletes, imperfect eaters, etc.
Secrets to Success
For wellness, take 3 softgels daily with a meal.
If you are trying to improve your body composition (i.e. lose fat, gain muscle), take 3 softgels 2-3 times daily.
Why are there 3 capsules per serving? The short answer is that multiple capsules are required to deliver an effective dose of EFAs.
Arguably the most important EFAs are the long-chain omega-3 fatty acids eicosapentaenoic acid (EPA) and docosahexaenoic acid (DHA). These are most abundant in dark-fleshed cold-water fish, especially salmon.
Health organizations and some medical experts recommend consuming 500 mg or more of EPA + DHA daily. The average daily intake of EPA + DHA in the US is a fraction of this -about 100 mg.
Of course, the best way to boost your intake of EPA and DHA is to eat more fish like salmon. But not everyone likes fish. This makes supplements like EFA Gold a convenient alternative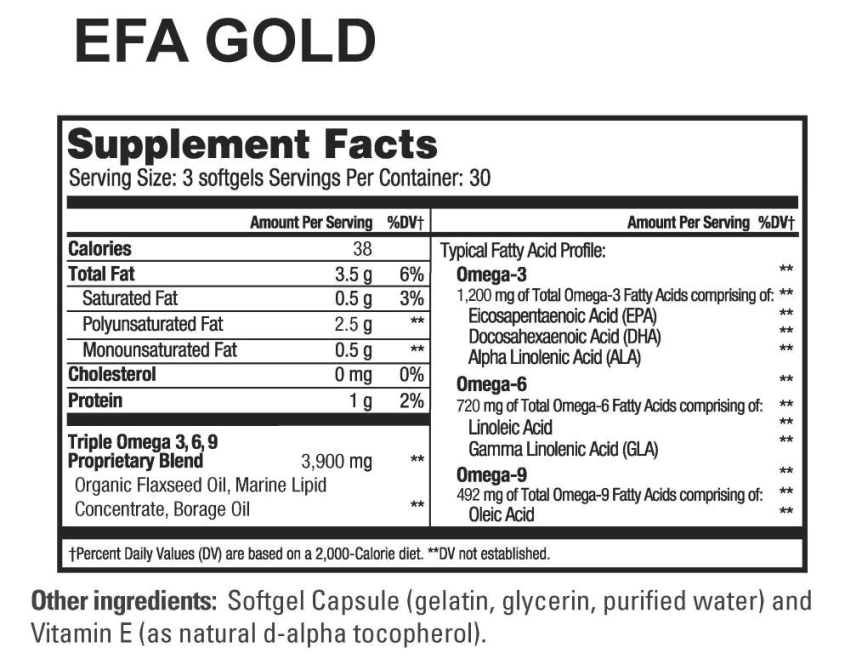 Ironclad Guarantee: If you're not 100% satisfied after using this product for 60 days, then we will refund your money. No questions asked.
THESE STATEMENTS HAVE NOT BEEN EVALUATED BY THE FOOD AND DRUG ADMINISTRATION. THIS PRODUCT IS NOT INTENDED TO DIAGNOSE, TREAT, CURE OR PREVENT ANY DISEASE.
More items you might like
Loading...