Beverly International Muscularity Bcaa's - 180 Cap
Item #: BV028
UPC: 857254000641
MUSCULARITY
The Dieter's BCAA formula.
Muscularity is a branched-chain amino acid (BCAA) capsule. This formula has been specifically designed for use with meals when following a calorie-restricted diet. In addition to the BCAAs leucine, isoleucine, and valine, it contains vitamin B6, vitamin B12, biotin, chromium picolinate, and zinc picolinate. These nutrients support energy metabolism and healthy insulin action. Anecdotally, zinc picolinate has been used to help clear up the skin (e.g. acne).
Size: 180 capsules (30 servings)
Benefits:
Muscle Building & Preservation
Recovery
Why people like it
Makes dieting more effective: Under calorie-restricted conditions, Muscularity helps you retain muscle and recover from workouts.
Who is this product ideal for?
Anyone who is training hard while following a calorie-restricted diet (e.g. contest prep, cutting, fat-loss).
Secrets to Success
A good rule of thumb is to add Muscularity to your supplement stack when your daily caloric intake drops below 12 calories per pound of body weight for females, and 15 calories per pound for males.
Adjust your dose according to your body weight:
100 - 150 lb: 2 capsules per meal (6 capsules daily)
150 - 200 lb: 3 capsules per meal (9 capsules daily)
> 200 lb: 4 capsules per meal (12 capsules daily)
During contest prep, physique athletes typically begin taking Muscularity 5-8 weeks before the contest.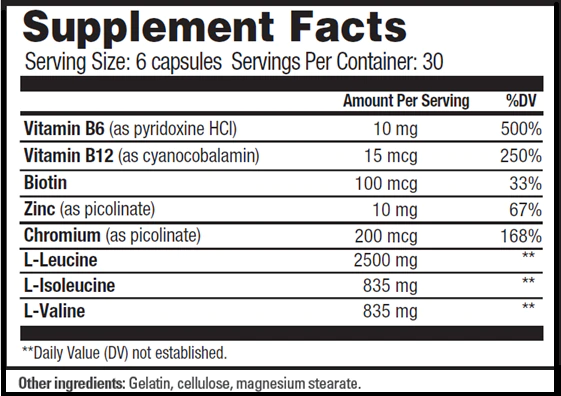 Ironclad Guarantee: Muscularity is backed by our 60-Day, Zero-Risk, 100% Satisfaction Guarantee.


THESE STATEMENTS HAVE NOT BEEN EVALUATED BY THE FOOD AND DRUG ADMINISTRATION. THIS PRODUCT IS NOT INTENDED TO DIAGNOSE, TREAT, CURE OR PREVENT ANY DISEASE.
More items you might like
Loading...