Beverly International 7 Keto Musclean - 90 Cap
Item #: BV023
UPC: 857254000511
Beverly International 7-Keto MuscLean
The Ideal Fat-Loss Catalyst.

7-Keto MuscLean is a rarity among fat-loss products: While other brands tout the latest "magic bullet", this formula has remained unchanged since 2003. That's because it continues to provide satisfying results to thousands of Beverly clients.
Size: 90 capsules (30 servings)
Benefits:
* Fat Loss*
* Muscle Building & Preservation*: 7-Keto Musclean helps preserve lean muscle on a calorie-restricted (e.g. fat-loss or pre-contest) diet.*
Why people like it
* It works! While Lean Out helps your body transport fat to tissues where it can be burned, 7-Keto MuscLean stimulates your metabolism to burn fat more quickly.* When stacked, these two Beverly products can truly transform your physique.
* Clinically based: Its flagship ingredient, 7-Keto®, has been tested in numerous clinical trials and been granted 5 U.S. patents for its effects on weight loss. In clinical studies, men and women who took 7-Keto® while exercising and following a calorie-restricted diet lost an average of 3 times more weight than subjects who took a placebo.*
Who it's ideal for
* Anyone who is training hard on a calorie-restricted diet (e.g. contest prep, cutting, fat-loss).
* Individuals 40 years and over who wish to combat age-associated fat gain.
Secrets to Success
* Caffeine-tolerant uses: Take 3 capsules in the morning. Repeat 4-6 hours later.
* Caffeine-sensitive users: Begin by assessing your tolerance with 1 capsule. Repeat 4-6 hours later. After 1 week, depending on tolerance, increase your dosage to 2 capsules in the morning and 2 capsules 4-6 hours later. After 2 weeks, depending on tolerance, increase the dosage to 3 capsules in the morning and 3 capsules 4-6 hours later.
* For maximum results, stack Lean Out with 7-Keto Musclean. Users typically report the greatest results when following this practice.
What people are saying
(The following testimonials have been sourced online and may have been edited for the sake of grammar and/or space.)
Sosh says: "This is a superior fat-loss product to use in conjunction with a proper exercise and diet routine. Unlike popular, hyped-up products, this one works very effectively."
Siglerj says: "7-Keto Musclean provides a good, smooth energy boost, while at the same time boosting thermogenesis and suppressing my appetite."
Angie2014 says: "This product is great! After exercising for a few months all I was seeing were slow results. Once I started taking 7-Keto Musclean, I lost 17 lb in 3 weeks. It helped me steadily lose weight while suppressing appetite. I can tell a difference with energy levels and increased digestion. I love this stuff! I love Beverly products."
IA says: "I highly recommend the 7-Keto Musclean/Lean Out stack. Wow! With the right diet, it is very rewarding. I recently went off of them for 3 weeks and could not wait to start again. I noticed a big change in my energy level and performance without them. Now I love my workouts with your products. Thank you so much!"
Delmar says: "7-Keto Musclean is the best fat burner I have used that provides outstanding energy while not affecting my nervous system. I don't know about you but I absolutely hate feeling jittery!"
Gyminifitness says: "I'm definitely able to see more definition in a short period of time. Stacking this with Lean out and a clean diet is making a difference."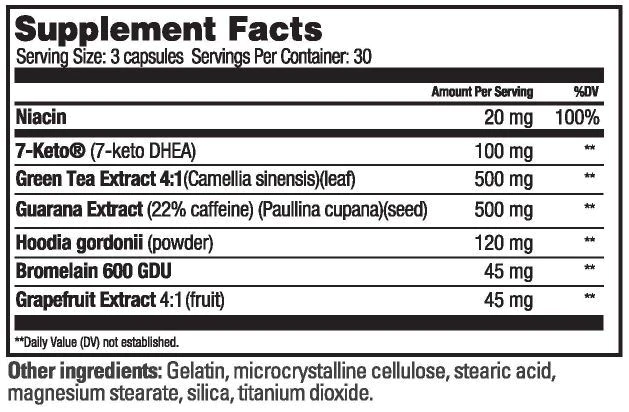 More items you might like
Loading...