Beverly International Super Pak - 30 Day
Item #: BV017
UPC: 857254000054
SUPER PAK

The ultimate micronutrient solution since 1970.
Since 1970, barely a year after the moon landing, Super Pak has been helping hard-training natural physique athletes and others ensure that they get every micronutrient they need, every day. Each presorted daily pack helps you achieve peak performance with super doses of essential vitamins and minerals, food concentrates, enzymes, and more.
When we say "super doses", we mean it. Indeed, it would be difficult to obtain the doses of micronutrients found in Super Pak from whole food alone. Below is just a portion of what you get in each daily pack:
10,000 IU Vitamin A, equivalent to 1 cup of kale
2,000 mg Vitamin C, equivalent to 10 large red bell peppers
800 IU Vitamin D, equivalent to 6 cups of whole milk
1000 IU Vitamin E, equivalent to 10 cups of whole almonds
150 mg Thiamin, equivalent to 68 cups of wheat germ
150 mg Riboflavin, equivalent to 750 cups of cooked Shitake mushrooms
22 mg Zinc, equivalent to 14 oz of top sirloin steak
200 mcg Chromium, equivalent to 9 cups of broccoli
150 mg Choline, equivalent to 1 hard-boiled egg
150 mg Inositol, equivalent to ½ cup of red kidney beans
3 mg Copper, equivalent to 30 cups of fresh basil
10 mg Manganese, equivalent to 2 cups of wild frozen blueberries

Size: 1 box (30 daily packs)
Benefits:
Performance
Wellness
How do I choose between Super Pak and FitTabs?
If you are an advanced athlete who frequently performs long, exhaustive workouts, go with Super Pak. Otherwise, take Fit Tabs.
Why people like it
Potency guaranteed: You get 100% of every nutrient listed on the Supplement Facts panel. We guarantee it. This is achieved by procuring each ingredient individually before blending, and using generous overages.
Custom-made: Super Pak is made exclusively for Beverly to suit the needs of the advanced athlete.
Convenient: No more messing around with multiple bottles any more. Every tablet and capsule you need for the day has been presorted inside a moisture-resistant packet.
Sustained-release: A sustained-release technology ensures that the tablets in Super Pak release their nutrient cargo over a period of up to 6 hours.
Chelated minerals: Our minerals are chelated with hydrolyzed protein to promote maximum bioavailability.
Take 1 packet daily, with food.
Each packet contains a total of 9 tablets and capsules. These should be swallowed one at a time with water during, or soon after, a meal or snack.
Taking Super Pak with food will minimize the risk of stomach upset and allow your body to use the micronutrients more efficiently. B vitamins, in particular, may cause stomach upset if taken on an empty stomach.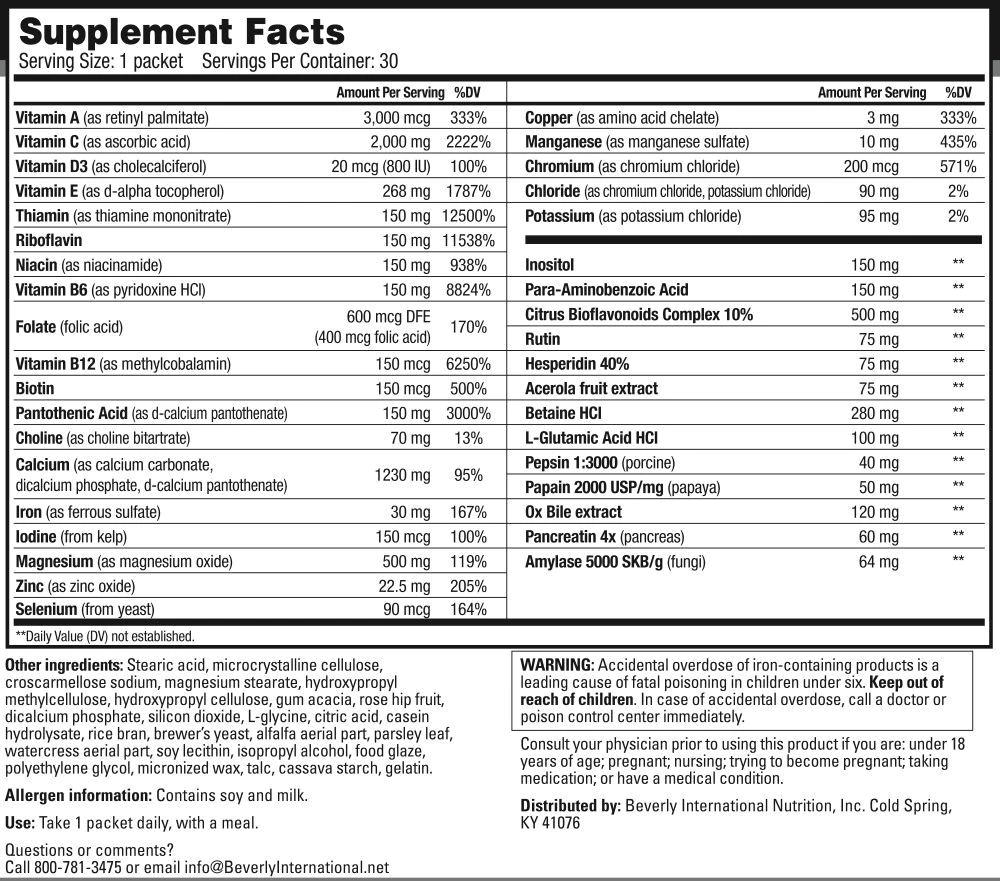 Ironclad Guarantee: Super Pak is backed by our "No Nonsense" money back guarantee. We want you to give yourself time to see results, so try the Super Pak risk free for 60 days. If you are not head over heels satisfied you can return any unused portion for a full, no questions asked, refund.
THESE STATEMENTS HAVE NOT BEEN EVALUATED BY THE FOOD AND DRUG ADMINISTRATION. THIS PRODUCT IS NOT INTENDED TO DIAGNOSE, TREAT, CURE OR PREVENT ANY DISEASE.
More items you might like
Loading...