Beverly International Multiple Enzyme Complex - 100 Tab
Item #: BV013
UPC: 857254000962
The Antidote to Bloat.
MEC is a broad-spectrum formula designed to help alleviate normal digestion-related discomfort by assisting in the breakdown of the protein, carbs, and fat in food. Who can benefit from it? Dr. Elizabeth Lipski, PhD (clinical nutrition), author of Digestive Wellness, says: "If someone tells me they consistently feel bloated or gassy 2-4 hours after eating, or that food feels like it just "sits there" hours after a meal, I've found that support from digestive enzymes in these cases can make a real difference." Consistent with Dr. Lipski's findings, clients regularly tell us that MEC makes digestion easier and more comfortable and allows them to enjoy a broader variety of foods in their diet.
Size: 100 tablets (100 servings)
Benefits:
Wellness
Why people like it
Broad-spectrum, fast-acting: With its broad array of enzymes, MEC helps your body break down the protein, carbs, and fat in food from multiple angles, simultaneously. This results in faster relief. Indeed, clients regularly report that MEC quickly alleviates normal digestion-related issues, including occasional bloating, gas, sour stomach, and fullness.
Improves food tolerance: MEC users often find that they can enjoy a wider range of foods.
Secrets to Success
Take 1-3 tablets with each meal, including protein shakes.
Dr. Lipski has found that the combination of digestive enzymes with probiotics helps alleviate symptoms of irritable bowel syndrome (IBS). Many of her patients report a significant improvement in the first week of treatment.
She provides the following tips to help alleviate IBS:
Increase fiber intake.
Drink at least 6-8 glasses of water daily.
Take digestive enzymes with each meal.
Take probiotics twice daily.
Take digestive enzymes once daily on an empty stomach to help clean out bacteria and other unwanted material.
Who is this product ideal for?
Anyone who experiences normal digestion-related discomfort, such as gas, bloating, or fullness.
Athletes who consume high-calorie or high-protein diets.

Hard gainers who have difficulty eating enough food to gain muscle often find that MEC is the missing link to jumpstarting their bodybuilding progress.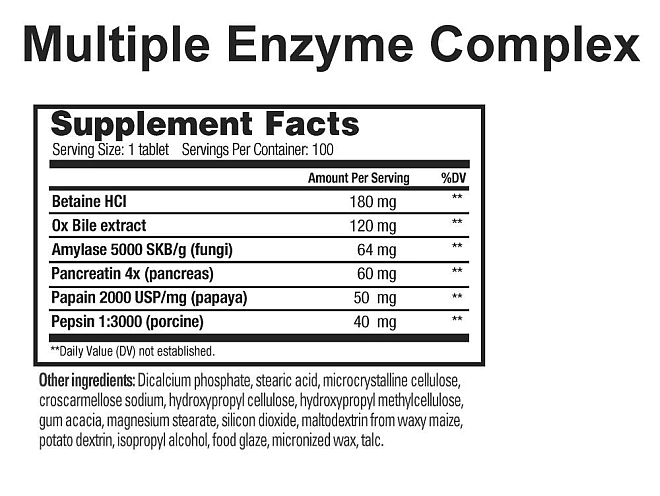 Ironclad Guarantee: Multiple Enzyme Complex is backed by our 60-Day, Zero-Risk, 100% Satisfaction Guarantee.

THESE STATEMENTS HAVE NOT BEEN EVALUATED BY THE FOOD AND DRUG ADMINISTRATION. THIS PRODUCT IS NOT INTENDED TO DIAGNOSE, TREAT, CURE OR PREVENT ANY DISEASE.
More items you might like
Loading...