Beverly International Energy Reserve - 60 Tab
Item #: BV003
UPC: 857254000726
ENERGY RESERVE
Pharmaceutical-grade carnitine for dieting.
Energy Reserve is a favorite, particularly with women who are training hard on a calorie-restricted diet. Whether you're preparing for a physique contest or a photo shoot, or trying to drop a dress size or two, Energy Reserve can be your best friend. Each easy-to-swallow tablet contains 600 mg of pharmaceutical-quality carnitine. Research suggests that supplementation with carnitine boosts fat-burning capacity and spares muscle glycogen so that you don?t run out of steam so easily during workouts.
Size: 60 tablets (60 servings)
Benefits:
Fat Loss
Performance (endurance)
Why people like it
Makes dieting work better: If you're on a low-calorie diet, Energy Reserve can enhance your ability to burn fat and boost your performance in the gym.
Who is this product ideal for?
Anyone who is training hard while following a calorie-restricted diet (e.g. contest prep, cutting, fat-loss).
Secrets to Success
For maximum results, take 1-2 tablets before cardio and 1-2 tablets with each of 3 meals.
During contest prep, physique athletes typically begin taking Energy Reserve 5-8 weeks before the contest.
It is important to take carnitine multiple times daily. Research suggests that this is the most efficient way to boost tissue levels of carnitine.(Nearly all of the body's carnitine is found in muscle tissue.) If you don't miss a dose, the level of carnitine in your tissues will gradually increase and you'll start to see benefits. Be patient and the rewards will come.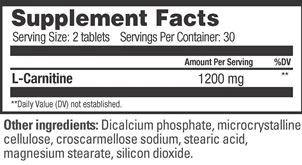 Ironclad Guarantee: If you want to improve your muscle-to-fat ratio, l-carnitine is a must! So why not take us up on a chance to try Energy Reserve risk free? If you're not happy you can just return your unused portion and we'll give you a refund with no hassles or hard feelings!
THESE STATEMENTS HAVE NOT BEEN EVALUATED BY THE FOOD AND DRUG ADMINISTRATION. THIS PRODUCT IS NOT INTENDED TO DIAGNOSE, TREAT, CURE OR PREVENT ANY DISEASE.
More items you might like
Loading...