Beverly International Advanced Antioxidant - 60 Tab
Item #: BV002
UPC: 857254000801
ADVANCED ANTIOXIDANT
Our strongest defense against oxidative stress.
This high-potency formula supports your cells' natural ability to fight free radicals. Free radicals are a normal by-product of metabolism. In excess, however, they may cause damage to cells, known as oxidative stress, which has been suggested to contribute to aging and chronic health conditions.
Size: 60 tablets (30 servings)
Benefits:
Wellness
Recovery
Why people like it
Broad-spectrum: It contains nutraceuticals that work synergistically to protect your cells from a broad range of free radicals.
Who is this product ideal for?
Anyone who leads a busy, high-stress lifestyle and feels they may not be getting enough antioxidants from their diet.
Secrets to Success
Take 2 tablets daily with meals.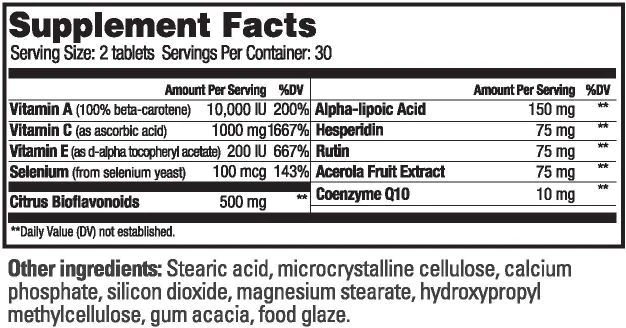 Ironclad Guarantee: Dieting and training hard increases the output of free radicals. It's crucial for muscularity, health and longevity to support the body's recovery from these stresses. Beverly's Advanced Antioxidant formula will rid your body of Free Radical riff-raff. Try it and secure your body today. Advanced Antioxidant is backed by our 60-Day, Zero-Risk, 100% satisfaction Guarantee.
THESE STATEMENTS HAVE NOT BEEN EVALUATED BY THE FOOD AND DRUG ADMINISTRATION. THIS PRODUCT IS NOT INTENDED TO DIAGNOSE, TREAT, CURE OR PREVENT ANY DISEASE.
More items you might like
Loading...