Ultimate Nutrition BCAA Powder 12,000 Blue Raspberry - 60 Servings
Item #: UN519
UPC: 099071004406
30% Off Special Offer
Out of Stock
The Ultimate Training Partner:

BCAA 12,000 has been the trusted recovery fuel for athletes globally. Drink BCAA 12,000 twice daily to get the recommended 12g of BCAAs that are shown to maximize muscle recovery and performance. Each refreshing post-workout beverage helps repair muscles and reduces delayed onset muscle soreness (DOMS). Recovery has never tasted so good. Try all of our delicious flavors.
Get the Facts:

6g of BCAAs per serving
Optimal and researched 2:1:1 ratio
3g L-leucine / 1.5g L-isoleucine / 1.5g L-valine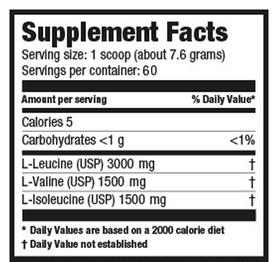 RECOMMENDED USE:
Mix level about 8 grams with 6-8 fl. oz. (about 180-240ml) of water (adjust for desired taste). For optimal use on training days, take one rounded scoop during your workout and one rounded scoop after your workout. On non-training days, take two rounded scoops between meals.
These statements have not been evaluated by the Food and Drug Administration. This product is not intended to diagnose, treat, cure, or prevent any disease.
More items you might like
Loading...