SNS Serious Nutrition Solutions DAA D-Aspartic Acid Powder - 300 Grams (100 Servings)
Item #: SN074
UPC: 850008039010
Natural Testosterone Booster
& Potent Libido Enhancer

SNS DAA Powder contains 3 grams (3,000 mg.) of D-Aspartic Acid per serving.
D-Aspartic Acid (DAA) is one of the most popular natural testosterone boosting ingredients on the market and is commonly used by bodybuilders, general health & fitness athletes, &/or by makes looking to increase their natural testosterone levels and libido.
D-Aspartic Acid (DAA) Highlights/Supports:
- Natural Testosterone Booster
- Increased Libido/Sex Drive
- Increased Energy & Stamina
- Improved Strength & Lean Muscle Gains
- Improved Performance & Recovery
- Improved Sense of Well-Being
SNS DAA Powder provides a cost-effective way to supplement with this popular ingredient!
SNS DAA Powder – Ultra Pure/No Fillers – 100 Servings Per Container!
FAQ (Frequently Asked Questions:
What is D-Aspartic Acid?
D-Aspartic Acid (DAA) is an amino acid that is found naturally occurring in the pituitary gland, hypothalamus, and testes and plays a central role in the production and regulation of males hormones that directly enhance athletic ability, size, and strength. It is also a potent sexual stimulator that can be used to help enhance libido and improve erection quality, duration of intercourse, and perceived orgasm intensity.
D-Aspartic Acid may also enhance nitric oxide levels and promote the elevation of neurotransmitters such as dopamine and GABA, which are thought to be responsible for improved memory, sense of well-being, and nootropic benefits.
What does the Research Say?
Research on Sodium D-Aspartic Acid has shown that it serves as a specialized neurotransmitter in parts of the nervous system involved in hormone production, and has been shown to stimulate the release of LH and GH from the pituitary gland (2, 4, 5, 6). It has also been shown to have a direct stimulating effect in the testes on testosterone production (2, 3).
A human study on D-Aspartic Acid showed that it raised testosterone levels in healthy adult males an average of 42% in as little as 12 days, with some experiencing a boost of over 50% in that same period of time. This study also indicated that testosterone levels were still elevated 3 days after the discontinuation of D-Aspartic Acid, which indicates that it builds up over time, and then slowly decreases after supplementation is stopped (7).
The above study shows for obvious reasons why Sodium D-Aspartic Acid is desirable for athletes and weights trainers looking to build lean muscle and strength.
It is important to note that the dosage used in the study was 3.12 grams per day, which is the exact dosage used in SNS DAA Caps and the approximate dosage used in SNS DAA Powder.
What Key Hormones does D-Aspartic Acid Support?
D-Aspartic Acid research supports the powerful effects of DAA on promoting the production of four key hormones:
- Testosterone
- Luteinizing Hormone (LH)
- Growth Hormone
- Follicle Stimulating Hormone (FSH)
Testosterone:
Increased testosterone levels have been shown to have a positive effect on lean muscle, strength, muscle retention, and fat loss. This supports an lean, hard physique and increased physical performance.
Luteinizing Hormone (LH):
Luteinizing Hormone, along with Follicle-Stimulating Hormone, is a gonadotropin that stimulates the testes to increase testosterone and sperm production.
Growth Hormone:
Growth Hormone has a variety of anti-aging properties and promotes lean muscle growth, maximized healing and recovery, and deep, restful sleep. It also has a direct role in rebuilding muscle and body tissues that may be damaged by intense exercise and working out.
Follicle-Stimulating Hormone:
Follicle-Stimulating Hormone (FSH) stimulates testosterone production in the testes and plays a supportive role in the growth and reproductive process in the body and is essential to maintaining and quacking adding lean muscle mass.
SNS DAA Powder
Natural Testosterone Support for Less than .30 cents per Day!
Stacking & Synergy:
SNS DAA Powder can be stacked with Focus XT, VASO6, VasoForce XT, Inhibit-P, Bulbine, Tribulus-750, or other select SNS products for improved, synergistic results.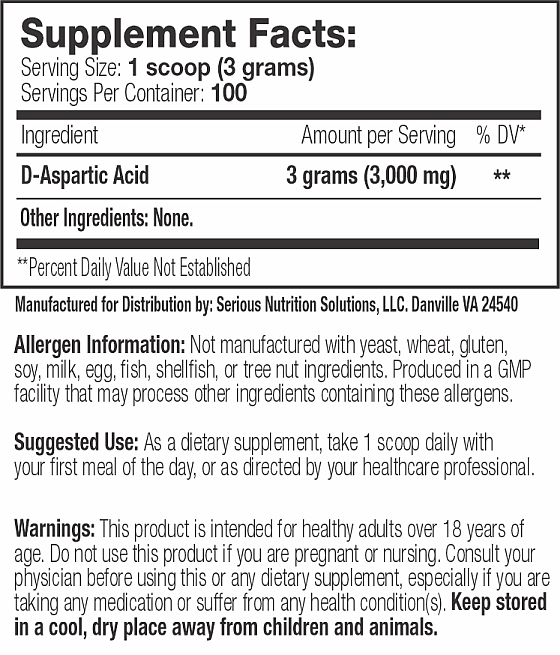 References
(1)D'ANIELLO, A., DI FIORE, M., FISHER, G., MILONE, A., SELENI, A., D'ANIELLO, S., PERNA, A. and INGROSSO, D. (2000). Occurrence of D-aspartic acid and N-methyl-D-aspartic acid in rat neuroendocrine tissues and their role in the modulation of luteinizing hormone and growth hormone release. The FASEB Journal, 14(5), pp.699-714.
(2)D'Aniello, A. (2007). d-Aspartic acid: An endogenous amino acid with an important neuroendocrine role. Brain Research Reviews, 53(2), pp.215-234.
(3)Topo, E., Soricelli, A., Di Maio, A., D'Aniello, E., Di Fiore, M. and D'Aniello, A. (2009). Evidence for the involvement of d-aspartic acid in learning and memory of rat. Amino Acids, 38(5), pp.1561-1569.
(4)D'Aniello, A., Cosmo, A., Cristo, C., Annunziato, L., Petrucelli, L. and Fisher, G. (1996). Involvement of D-Aspartic acid in the synthesis of testosterone in rat testes. Life Sciences, 59(2), pp.97-104.
(5)Dunlop, D., Neidle, A., McHale, D., Dunlop, D. and Lajtha, A. (1986). The presence of free D-aspartic acid in rodents and man. Biochemical and Biophysical Research Communications, 141(1), pp.27-32.
(6)Morari, M., O'Connor, W., Ungerstedt, U. and Fuxe, K. (1993). N-methyl-d-Aspartic Acid Differentially Regulates Extracellular Dopamine, GABA, and Glutamate Levels in the Dorsolateral Neostriatum of the Halothane-Anesthetized Rat: An In Vivo Microdialysis Study. Journal of Neurochemistry, 60(5), pp.1884-1893.
(7)Topo, E., Soricelli, A., D'Aniello, A., Ronsini, S. and D'Aniello, G. (2009). The role and molecular mechanism of D-aspartic acid in the release and synthesis of LH and testosterone in humans and rats. Reproductive Biology and Endocrinology, 7(1), p.120.
Warning:
This product is for healthy males over 18 years of age. Consult a physician before using this, or any dietary supplement, especially if you are using any prescription or over the counter medication, or if you have any pre-existing medical condition. It is rare but possible to have androgenic side effects including but not limited to increased risk of male pattern baldness or gynecomastia with this product. Do not exceed recommended dosage. Store in a cool, dry place away from children.
More items you might like
Loading...