Vigor Labs Chainsaw - Ball Refill Stack - 2 Btls
Item #: VG003
Supports climax maximization and natural semen production*
Supports prostate health*
Potent formula supports enhanced blood flow conducive to better erection*
Results you can feel*
A healthy prostate supports better orgasms*
Once a day formulation
30 Day Supply
Made in the USA
Manufactured at a cGMP facility
Q. What is Ball Refill?
A. Elevate the health of your prostate for extreme semen production and a mind-blowing climax with Ball Refill. Amplify the potential of your erect penis with nature's most powerful ingredients for the optimal erection enhanced by potent botanicals. That's right, a healthy prostate plus enhanced blood flow means a powerful climax.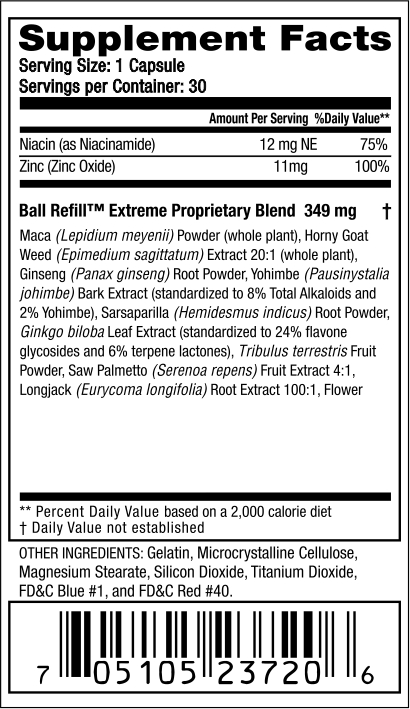 *Disclaimer: Individual Results May Vary. These statements have not been evaluated by the Food and Drug Administration. This product is not intended to diagnose, treat, cure, or prevent any disease. No claims are made as to the effects on fertility.
---
Chainsaw
Enhances erection*
Enhances endurance and stamina*
Collectors Edition Bottle Style
More satisfying orgasms and sex*
30 Day Supply, 30 Capsules
Get results you can feel*
Made in the USA at a cGMP lab

Q. What is Chainsaw?
A. Stay strong all night long. Chainsaw combines the power of the most potent blood flow stimulators on the market with exceptional ingredients to elevate your endurance to marathon levels. Achieve your lover's desires for longer and stronger each and every time.
Q: How do I take Chainsaw?
A: Chainsaw is taken once a day, just like a vitamin. One capsule in the morning gets your blood flowing all day, every day so you're ready for nonstop action whenever the time is right.
Q: What does Chainsaw contain?
A: Chainsaw contains a proprietary blend of naturally sourced ingredients targeted to increase blood flow to your body -especially to your erection- as well as to elevate your endurance. Ingredients like Niacin, Yohimbe, Horny Goat Weed, and Cnidium work in synergy with White Willow to enhance your erection, while Rhodiola and Ginseng keep you going strong all night (or day) long.

Supplement Facts
Serving Size: 1 Capsule
Servings Per Container: 30
Amount Per Serving
Niacin 20 mg 100 %
Chainsaw Extreme Proprietary Blend: 375 mg *
Yohimbe Extract (standarized to 8% yohimbe alkaloids)(pausinystalia hohimbe)
(bark), Horny Goat Weed Extract (Epimedium sagittatum)(whole plant),
White Willow Bark Powder (salix alba), Panax Ginseng (root), Ginkgo biloba leaf extract (Standardized to 24% flavone glycosides and 6% terpene lactones), Cnidium Extract 4:1 (Cnidium monnieri)(fruit), Rhodiola rosea extract (standardized to 3% rosavins and 1% salidroside)(root), longjack extract 100:1 (eurycoma longifolia)(root)

*Daily Value Not Established

Other Ingredients: Gelatin, rice flour, magnesium stearate, silicon dioxide, FD&C Blue #1 and FD&C Red #3.
Warnings
Seek advice from a health care practitioner to use if you have high blood pressure, heart or thyroid disease, diabetes, difficulty in urination due to an enlarged prostate, or if you are pregnant, nursing, or taking an MAO inhibitor or any prescription drug. Reduce or discontinue use if nervousness, tremors, sleeplessness, loss of appetite or nausea occur. Not intended for use by persons under 18 years of age. Do not exceed recommended serving size.
More items you might like
Loading...