Animal Test - 21 Pack + FREE XL T Shirt
Item #: UV150
UPC: 039442030320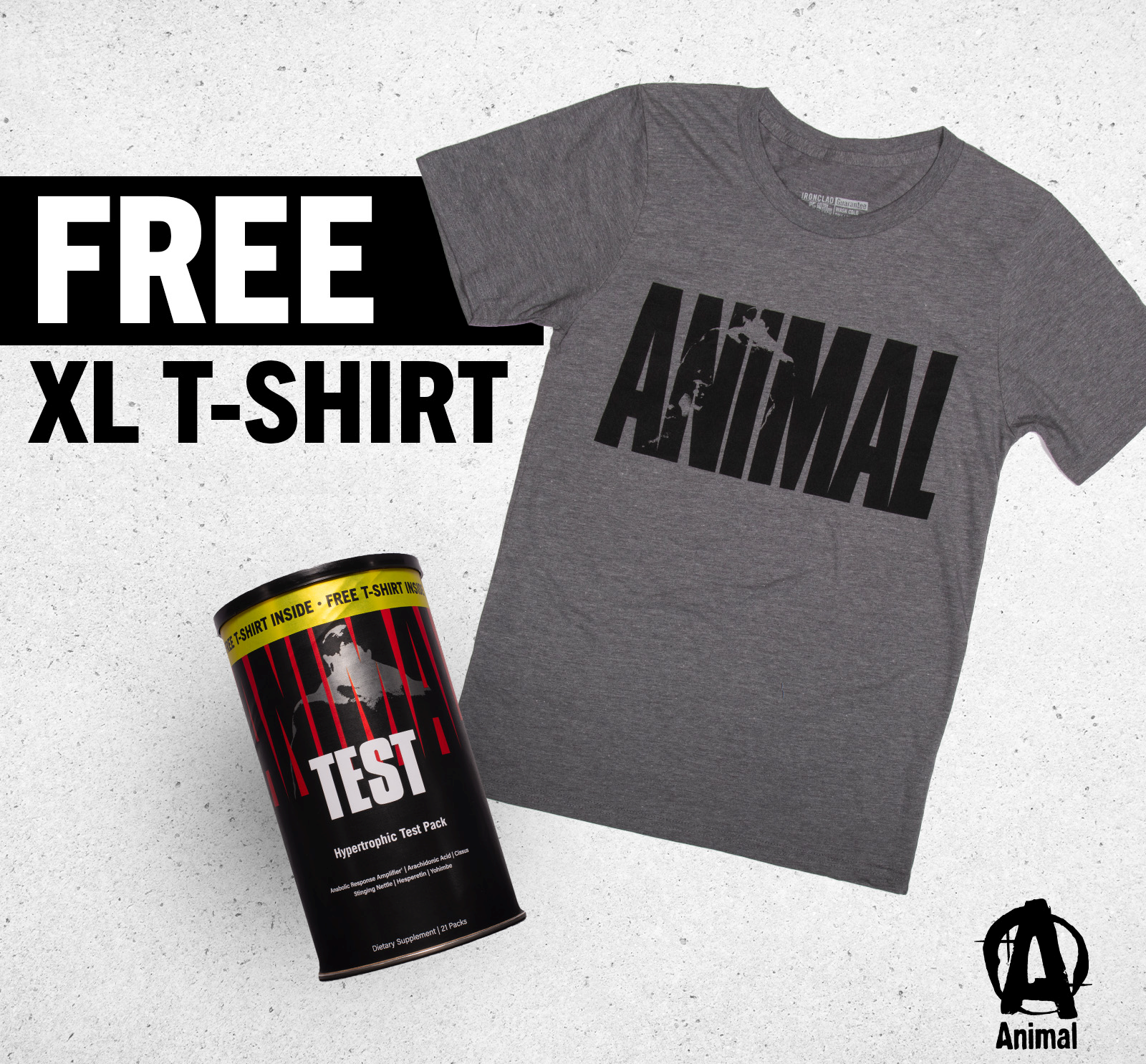 ANIMAL TEST

Hypertrophic Testosterone Stack
Break through muscle size plateaus with the complete testosterone boosting matrix for men. Animal Test works to increase both your testosterone output and your testosterone absorption. Our complete all-in-one test booster pack is formulated for strength athletes, bodybuilders, powerlifters, and those looking to take their gains to the next level.
All-in-One testosterone booster pack for men
Anabolic compound designed to amplify natural testosterone levels
Promote maximum hypertrophy with patented Arachidonic Acid
Each can contains a 21-day cycle
Discover the Secrets to Growing More Muscle Tissue
DESCRIPTION
Discover the Secrets to Growing More Muscle Tissue
The answer to more muscle gain is here. With Animal Test, you can become the game-changing performer you've always wanted to be.
With the combination of Arachidonic Acid, Ketosterones, Trans-Resveratrol and more, this anabolic formula can have you building massive muscle in no time. It's time to take control of your muscle-building destiny, and Animal Test has the power to help you do this. †
One of our most popular supplements for athletes looking to support muscle growth, Animal Test also contains Arachidonic Acid, a powerful Omega 6 fatty acid that may help manage muscle inflammation during your workout. This can help lead to more muscle fiber breakdown, and potential increased muscle mass. †
Animal Test contains a key ingredient called Stinging Nettle Root and that is known to inhibit sex hormone binding globulin (SHBG). Stinging Nettle Root extract allows for the enhanced activation of free testosterone that promotes gains in strength and size as well as improved focus, recovery and gym performance. Why worry about free testosterone? Total testosterone is not the name of the game here. If it's bound, it's unusable. That's why the key lies in free testosterone. †
Animal Test includes a key ingredient called Polygonum Cuspidatum, which contains Resveratrol which helps supports estrogen metabolism, glucose metabolism and also contains anti-inflammatory benefits. This can help support short and long-term health. Additionally, this powerful antioxidant activates AMPK, a remarkable protein that helps regulate your blood sugar levels. †
Animal Test is the premiere testosterone-boosting pill pack supplement for the athlete who wants to take their mass and performance to the next level. †
Supports strength and performance†
May help block cortisol to avoid the breakdown of muscle during performance†
Supports recovery to get you back in the gym†
Supports the growth of muscle tissue†
Contains Cissus Quadrangularis to support joint health†
HOW TO USE
Take a single pack every day for 21 straight days. On training days, take the pack with the last meal before you work out. On off days, just take the pack with any meal. Animal Test works best along intense training and an increase in quality protein and calories. Make sure you stay hydrated on this cycle. Unlike other "cycled" Animal products, you can use Animal Test for two consecutive cycles—without an "off" week—for a total of 42 straight days. After this double cycle, take a full 4 weeks off. During this period, we recommend using Animal M-Stak to help preserve your lean mass gains.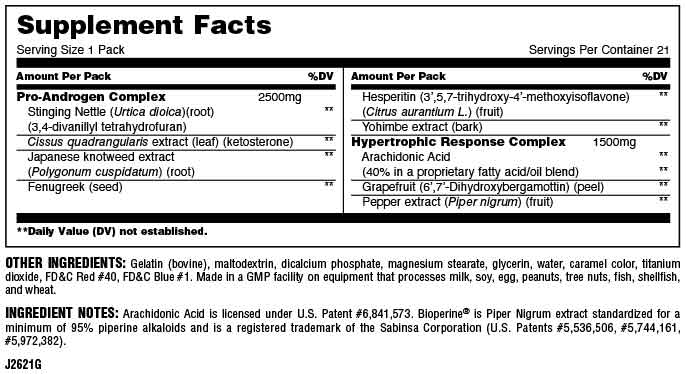 †These statements have not been evaluated by the Food and Drug Administration. This product is not intended to diagnose, treat, cure or prevent any disease.
More items you might like
Loading...