Ultimate Nutrition Muscle Juice 2544 Chocolate - 10.45 Lb
Item #: UN222
UPC: 099071002259
Muscle Juice Mass Gainer
With Muscle Juice 2544 used as part of your workout program you will: GROW muscle with 55 grams of Ultimate Nutrition®'s special protein blend (whey protein isolate, whey potein concentrate, calcium caseinate, egg white albumin). This formula provides protein to constantly feed and nourish your muscles. GROW muscle with 162 grams of Ultimate Nutrition's premium-quality carbohydrate complex to fuel your body for maximum possible growth. GROW muscle with 17g of high-performance fat containing MCT oil (medium chain triglycerides) which supports performance by increasing energy and does not get stored as fat. MCT allows for a slow and steady release of energy and will not increase serum cholesterol levels. Does your current weight gainer give you the following? 55 whey grams of protein per serving? Whey protein concentrates and whey protein isolates as the first listed ingredients? At least 4 different types of quality proteins, including whey, egg, and caseinate? Over 13,000mg. (13g) of BCAAs per serving? Over 10.9 grams of glutamine precursors per serving? Over 1.4 grams of arginine? Amazing taste? If not, it might be time to switch immediately!
Add four scoops of Muscle Juice 2544 (approximately 250 grams) to 18 ounces (533 ml) of water or milk. Mix throughly, chill and serve. To encourage maximum muscle weight gain and enhance your exercise program, take 30 to 45 minutes before workouts and again once hour after completion of your workout. On non-training days, take one serving between meals in the AM and a serving between meals in the PM. Each scoop weighs approx. 62.5 grams with a concentrated caloric value of 255 calories per scoop. You may need to adjust the serving size depending upon the duration, frequency and intensity of you workout program. Fruit, honey, yogurt, or other foods can be added to make a thicker, full bodied nutrition drink if desired.

Label below is for Chocolate flavor. Other flavors may vary slightly.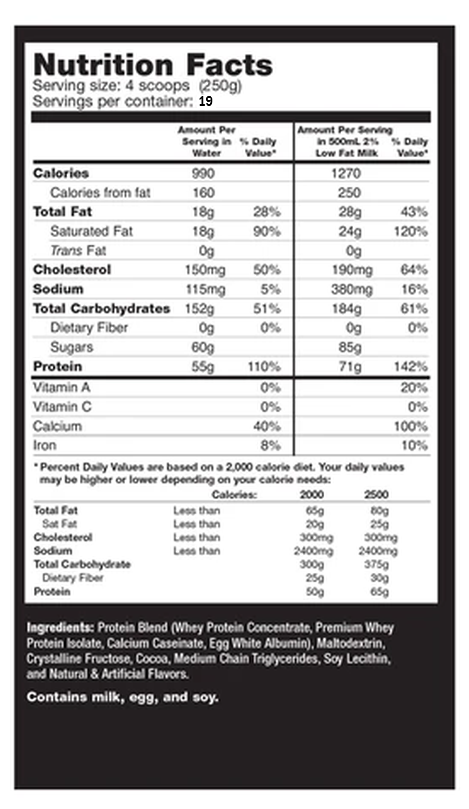 More items you might like
Loading...