MHP Anadrox Pump & Burn - 224 Capsules
Item #: SE136
UPC: 666222942018
ENERGY, PUMP, & FAT LOSS
Anadrox combines the power of nitric oxide with potent energizers, performance enhancers and vasothermic fat burning catalysts, in one breakthrough formula. The simultaneous increase in nitric oxide and thermogenesis causes a rapid increase in heat, boosting your metabolism and calorie burning for enhanced fat loss.

PROVEN WEIGHT LOSS INGREDIENTS
Grains of Paradise
Natural Caffeine Green tea & Guarana
L-Arginine, L-Citrulline, N-Acetyl—L Cysteine, NADH
Guggulsterones E and Z, Citrus Aurantium
Anadrox provides the perfect energy kick with natural caffeine from green tea and guarana. This will give you the quick and long-lasting energy you need, without the crash often experienced from synthetic caffeine.
Plus the combination of adaptogens and natural antioxidants from hops extract, turmeric, quercetin, and bioperine will further boost exercise performance. Fuel muscle contractions and output more than you thought possible, it's time to feel the PUMP & fuel the BURN!
2 In 1 Thermogenic Pre-Workout
VasoThermic Metabolism Boosters
Extreme Vascularity + Muscle Fullness
Energy & Performance Enhancers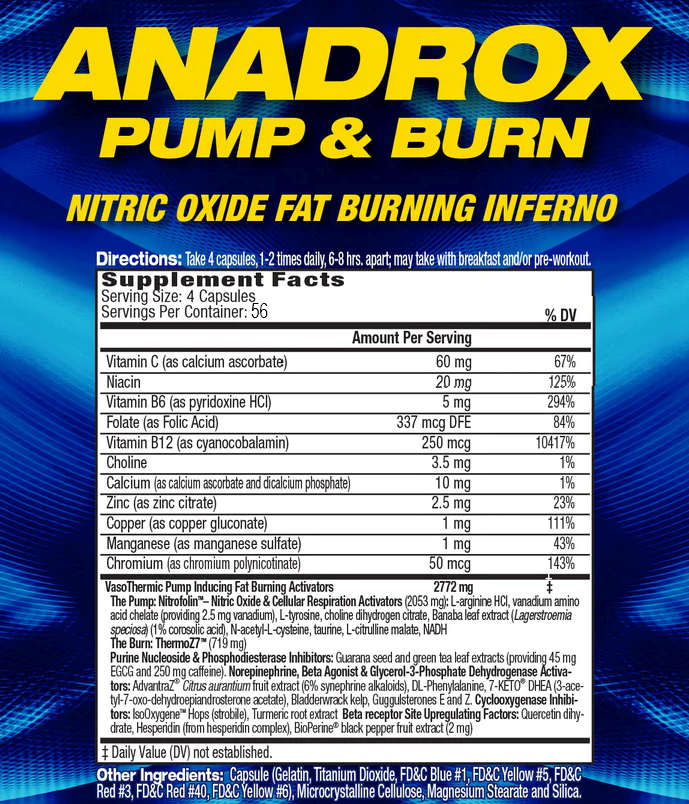 More items you might like
Loading...