Optimum Nutrition Platinum Hydrowhey Protein Chocolate - 1.75 Lb (20 Servings)
Item #: ON577
UPC: 748927026429
HYDROLYZED WHEY PROTEIN ISOLATES
Platinum Hydrowhey is the most advanced whey protein we've ever developed. In a word: Excellence. By hydrolyzing whey protein isolates to break larger proteins down into smaller pieces, these ultra-pure whey isolates are able to get into your system rapidly, enabling your muscles to start recovering from heavy training. We've dialed up this ultra pure and rapidly-digesting formula with added micronized Branched Chain Amino Acids (BCAAs).
Made With Advanced Hydrolyzed Whey Protein Isolates for Faster Delivery

30 Grams of Ultra-Pure Protein Per Serving

Nearly 9 Grams of Naturally Occurring and Added Leucine, Isoleucine, and Valine (BCAAs) per Scoop

Instantized to Mix Easily With a Spoon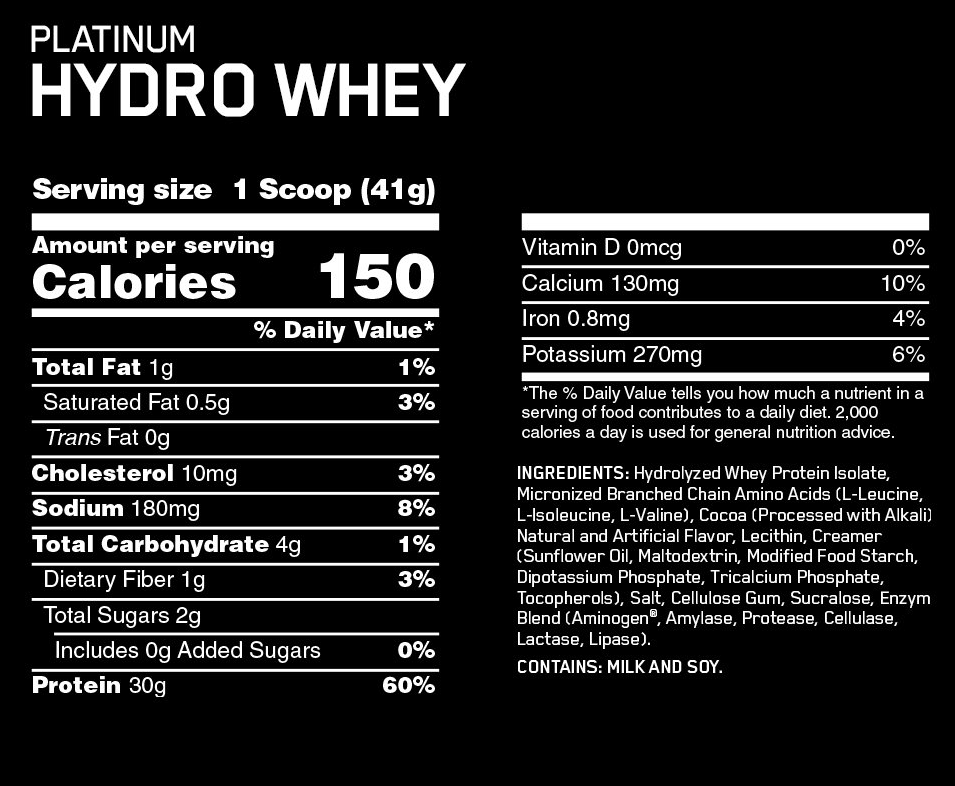 THESE STATEMENTS HAVE NOT BEEN EVALUATED BY THE FOOD AND DRUG ADMINISTRATION. THIS PRODUCT IS NOT INTENDED TO DIAGNOSE, TREAT, CURE OR PREVENT ANY DISEASE. FOR BEST RESULTS SUPPLEMENTS SHOULD BE TAKEN AS DIRECTED OVER TIME, AT MAXIMUM DOSAGE IN CONJUNCTION WITH A HEALTHY DIET AND REGULAR EXERCISE PROGRAM. RESULTS MAY VARY.
More items you might like
Loading...