Optimum Nutrition Hmb 1000 Mg - 90 Cap
Item #: ON103
UPC: 748927023138
HMB 1000 CAPS
Helps Support Muscle Strength
HMB is a metabolite of the amino acid, leucine. Every capsule contains 1 gram of pure HMB.

BENEFITS
1 Gram of Calcium beta-Hydroxy beta-Methylbutyrate Monohydrate Per Serving
1-Capsule Serving Size
Supports Muscle Strength¹
SUGGESTED USE
Consume 1 capsule, three times daily with a meal. Intended for use in healthy adults as part of a healthy, balanced diet and exercise program.

**Product Packaging Information
Please note due to Covid challenges, we have faced supply chain constraints sourcing packaging components for our products. As a result, packaging cap and bottle colors may vary, temporarily, across some of our products. Despite these challenges, we are here to help you stay stocked with your favorite Optimum Nutrition products to support your fitness goals. Rest assured that these variances affect packaging only, it does not affect the product inside. We are still delivering the same high quality products backed by 30 years of the highest quality standards. Thank you for your understanding during this time.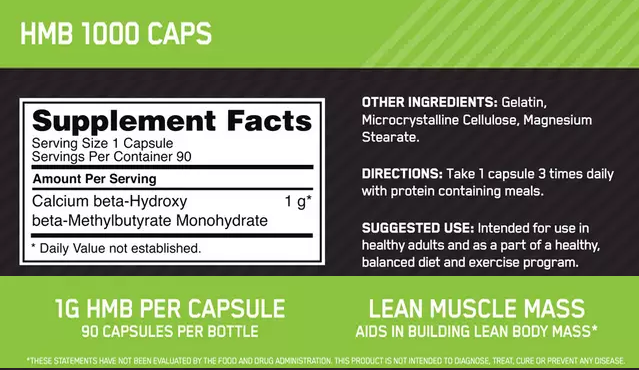 1. These statements have not been evaluated by the food and drug administration. This product is not intended to diagnose, treat, cure or prevent any disease.
More items you might like
Loading...