Axe & Sledge Daily Cleanse - 120 Cap
Item #: AXS113
UPC: 750258226423
Free Shipping w/$45 A&S order -Excluded from coupons
Detoxification, antioxidant, anti-inflammatory agent

Toxins are harmful substances that are either produced in the body, found in nature, or made synthetically. High levels of toxins can negatively affect various aspects of health and may lead to a plateau in performance, weight loss, and increase your risk of becoming ill.
Since we are exposed to toxins every day, the body is equipped with a comprehensive detoxification system. Various organs are responsible for detoxifying the body, including the lungs, skin, digestive system, kidneys, and liver. Each organ has its own way of getting rid of toxins. For example, the lungs detoxify the body by removing gases, while the kidneys filter toxins out of the blood and into the urine.
Although the body can remove toxins on its own, there are plenty of things that you can do to improve your internal detoxification systems' efficiency, including:
Minimizing alcohol consumption
Getting adequate sleep
Increasing your daily water intake
Limiting highly processed foods & sugar intake
Eating a nutrient-rich diet with foods that are high in antioxidants
Exercising regularly
Reducing stress levels

Beyond the dietary and lifestyle modifications mentioned above, you can also utilize specific supplements to boost your body's detoxification system. However, the vast majority of products marketed as "detox supplements" hide behind proprietary blends, use low-quality ingredients, and are underdosed. Instead of wasting your time and money on an inferior product, pick up a bottle of daily cleanse!
Axe & sledge daily cleanse is a fully-loaded antioxidant, anti-inflammatory, & detoxification supplement that's specifically formulated to:
Assist with the elimination of toxins
Support digestion
Improve mood & energy levels
Reduce bloating
Promote liver and kidney function
Decrease inflammation
Combat oxidative stress

Daily cleanse achieves these benefits by using efficacious doses of natural plant extracts, antioxidants, and three patented ingredients, including:
Spectra™: a full-spectrum antioxidant made up of 29 different fruits, vegetables, & herbs.
Curcumin c3® complex: a patented curcuminoid complex that's standardized to contain at least 95% curcuminoids.
Bioperine®: a high-quality black pepper extract that's standardized to contain at least 95% piperine.
Check out the ingredient breakdown section below for more information about the formula!
Improving your body's ability to remove toxins will not only enhance your health, but will also significantly increase your performance, recovery, and body composition. Add daily cleanse to your health supplement stack and we guarantee you will notice a major difference in how you look and feel.
Key features:
Fully disclosed label
Three patented ingredients
30-day supply
Third-party tested
Gluten-free
Vegan-friendly
Keto-friendly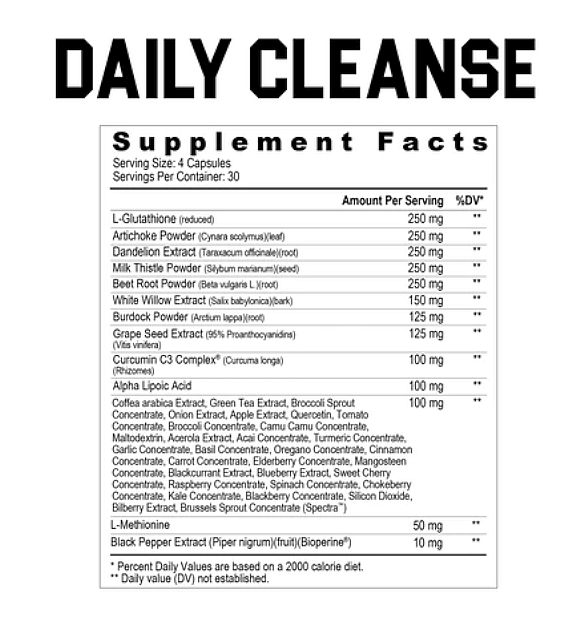 As a dietary supplement, take 4 capsules of daily cleanse with 8 oz of water. For best results, consume daily. Users can also take two capsules in the morning and two capsules later in the day if preferred.
Warning: consult with a physician prior to using this product if you are taking medication or have a medical condition. Don't use if pregnant or lactating. Discontinue use two weeks prior to surgery. Keep out of reach of children. Keep the container tightly closed in a cool, dry, and dark place.
California prop 65 warning: consuming this product can expose you to chemicals including lead, which is known in the state of california to cause cancer and birth defects, or other reproductive harm. For more information, go to www.P65warnings.Ca.Gov
These statements have not been evaluated by the food and drug administration. This product is not intended to diagnose, treat, cure, or prevent any disease.
ALLERGEN WARNING: THIS PRODUCT IS MANUFACTURED IN A FACILITY WHICH PROCESSES MILK, EGGS, SHELLFISH, TREE NUTS, PEANUTS, WHEAT, SOYBEANS, AND SESAME.