Kaged Muscle Kaged Mindset Nootropic Orange Mango - 30 Servings
Item #: KM340
UPC: 850028478974
Intro
Deal
-25% Off Special - Discount in cart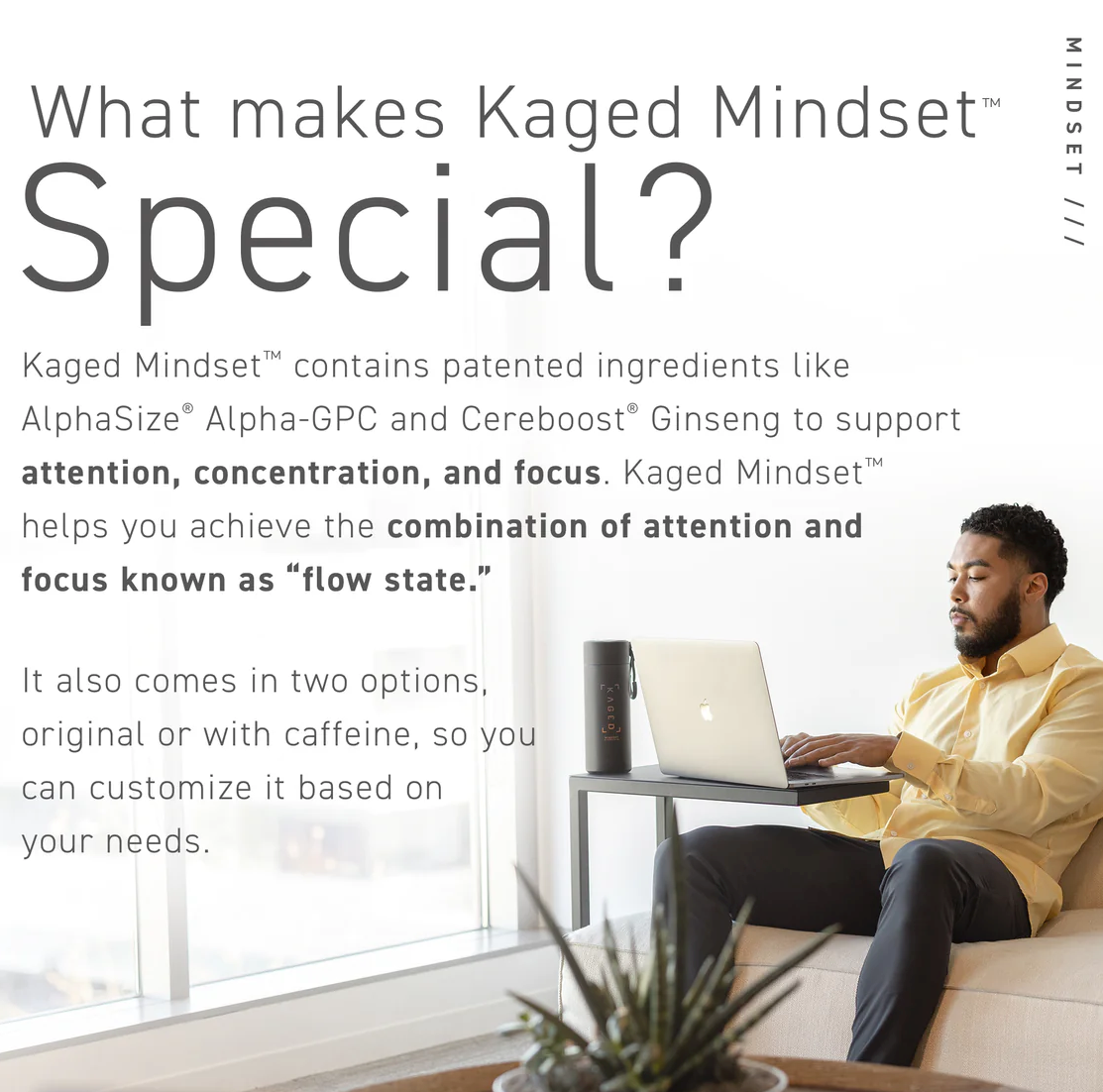 Kaged Mindset
Cognition-Enhancing Nootropic Without Caffeine
Kaged Mindset is a nootropic that enhances working memory, improves focus, and sharpens cognition. With key ingredients like Alpha-GPC and Cereboost, this nootropic will help you be more productive and creative so you can accomplish your most meaningful work.*
Directions: Mix 1 scoop with 8-10 ounces of cold water or 2 scoops with 10-12 ounces 30 minutes before your work session or creative flow. Start with one scoop to assess tolerance. Do not exceed two scoops per day.
AlphaSize® Alpha-GPC
AlphaSize® Alpha-Glyceryl Phosphoryl Choline, commonly called simply "alpha-GPC," can enhance your energy and focus. It works as a precursor to the neurotransmitter acetylcholine. AlphaSize® is a pure, patented form. Mentally dial in for your work session.
Cereboost
Cereboost is an American ginseng that enhances alertness, working memory, and calmness. Because of that, it's an excellent addition to nootropics and products where you need to stay alert and calm.
DOMINATE YOUR MEETING, THE STAGE, OR THE BLANK PAGE
Mindset will help you stay clear-headed to perform your best during your most important hours. It's perfect whether you need to get more done, find the extra motivation to work, or need support to give you the last hit of creativity to spark your best ideas.

FIND YOUR COGNITIVE EDGE
Mindset hones your attention and sharpens your working memory with the right doses of quality ingredients. It gives your brain the edge you need to find flow easier and stay in flow longer.* Just like you take your post-workout shake and essential supplements to support your physical performance, you take Mindset for your mental performance.

REPLACE YOUR COFFEE
Mindset can help you shake your caffeine addiction, replace your morning coffee, and give you smooth, sustained focus without the jitters or the crash. Ingredients like Alpha GPC and Cereboost® improve attention and reduce mental fatigue to keep you locked in for hours,so you can get your most important shit done.