Black Magic Supply Nine Lives Beef Liver + Daily Vitamin - 160 Cap
Item #: BM058
UPC: 860007487286
SALE
Buy 2 Black Magic items get Free Shipping
NINE LIVES BEEF LIVER DAILY VITAMIN
For decades, individuals have been shelling out a few shekels each month for a fruity-flavored chewable or one-a-day tablet under the guise that these products were providing benefits. While multi's of yesteryear were better than nothing, they are a far cry from optimal.*
Nine Lives ushers in the modern era of multi-vitamins/multi-minerals.*
We've sourced nature's most nutrient-dense superfood -- liver -- and combined it with a select number of other essential nutrients to create a revolutionary multi-vitamin and daily nutritional supplement.*
BEEF LIVER - NATURE'S SUPERFOOD
Containing over 25 nature-identical vitamins, minerals and cofactors, liver is Mother Earth's ultimate multivitamin -- supporting energy production, digestion, and detoxification. Included among the 20+ bioavailable nutrients found in beef liver include:
● Preformed vitamin A
● Heme iron
● Vitamin B12
● Vitamin B9 (folate)
● Copper
● Choline
Liver is also a valuable source of essential amino acids that can be used to support muscle recovery and growth, tissue repair, joint health and hormone production.*
"YUCK! I Don't Like the Taste of Liver!"
We hear you, 1000%! Anyone who's had to shovel back plates of ill-prepared liver and onions for dinner growing up can relate.*
By using premium-quality, desiccated liver and encapsulating it, beef liver has never been more accessible or easier to take. No longer do you have to suffer from the "off" taste of cooked liver. Yet, you're able to derive all the benefits that accompany eating organ meats!*
ADDED ESSENTIAL VITAMINS & MINERALS
To further enhance the robust micronutrient profile of beef liver and create a superior natural multi-vitamin/multi-mineral product, we've fortified NINE LIVES with a select number of essential vitamins and minerals that boost natural energy production, enhance cognition and creativity, and support host defence and immune function.*
SUGGESTED USE
Consume one serving (4 capsules) daily, preferably with a meal. DO NOT CONSUME MORE THAN ONE SERVING IN ANY 24 HOUR PERIOD.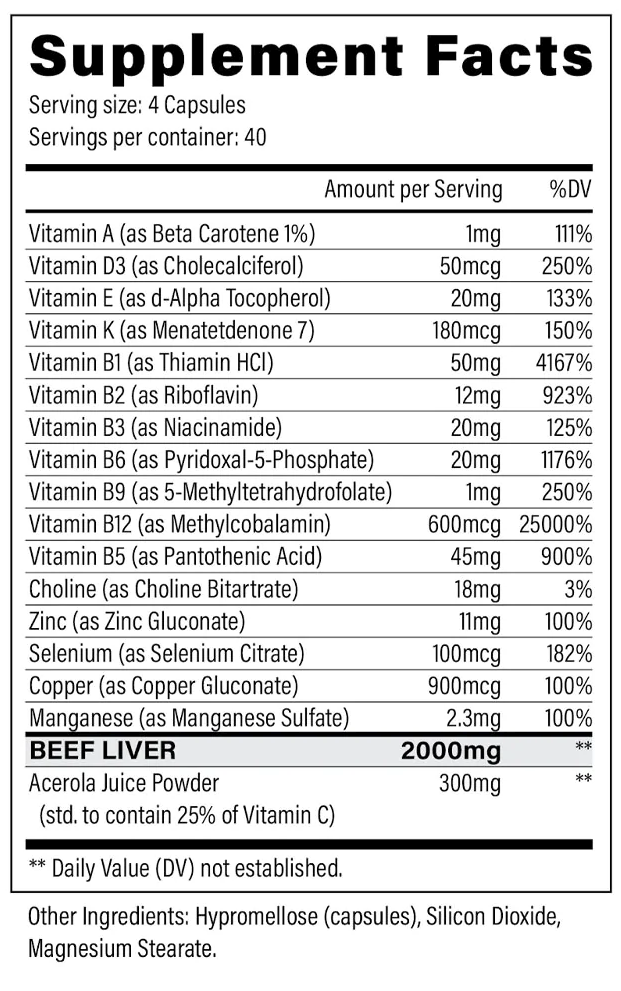 Disclaimer:
*These statements have not been evaluated by the Food and Drug Administration. This product is not intended to diagnose, treat, cure, or prevent any disease.