MuscleMeds Carnivor Shred Vanilla Caramel - 3.8 Lb (56 Servings)
Item #: MS096
UPC: 891597006205
CARNIVOR SHRED - 100% BEEF PROTEIN + FAT BURN
CARNIVOR SHRED is the ultimate fat burning and muscle building solution, featuring the incredible power of CARNIVOR Beef Protein Isolate and powerful shredding agents such as Super 6-Paradol, green tea, yerba mate and green coffee bean. Carnivor Shred helps activate brown adipose tissue (BAT) and boosts your metabolism to get you ripped.
BUILDING POWER OF CARNIVOR - BACKED BY RESEARCH
Clinical research shows that hard training male athletes supplementing with CARNIVOR BPI gained an average of 7.7 lbs. of muscle mass in just 8 weeks, a 6.4% average increase in lean body mass, while the placebo group only increased lean body mass by 0.7 lbs. from baseline. The study also revealed that athletes who used CARNIVOR BPI increased their total combined bench press and deadlift 1-rep max by 147.7 lbs., while the placebo group only increased total strength by 82.6 lbs. from baseline.+ These impressive findings validate the muscle and strength building effects of CARNIVOR.
LACTOSE FREE – SUGAR FREE – FAT FREE
Containing zero Fat, Sugar, or Lactose, Carnivor is much easier on the gut. Carnivor Beef protein isolate provides the ultimate alternative to whey, without stomach turning lactose or dairy. With Carnivor BPI you can also get all the muscle building amino acids and protein of a steak without the fat or cholesterol.
BURN MORE CALORIES… BURN MORE BODY FAT
CARNIVOR Shred contains effective metabolism boosters to increase your metabolic rate and burn more calories and fat. Each serving contains a clinical dose of Grains of Paradise which has been shown to boost your metabolic rate so effectively that it can help you burn 100 additional calories. Plus, it contains caffeine and other thermogenic ingredients for increased energy and weight loss.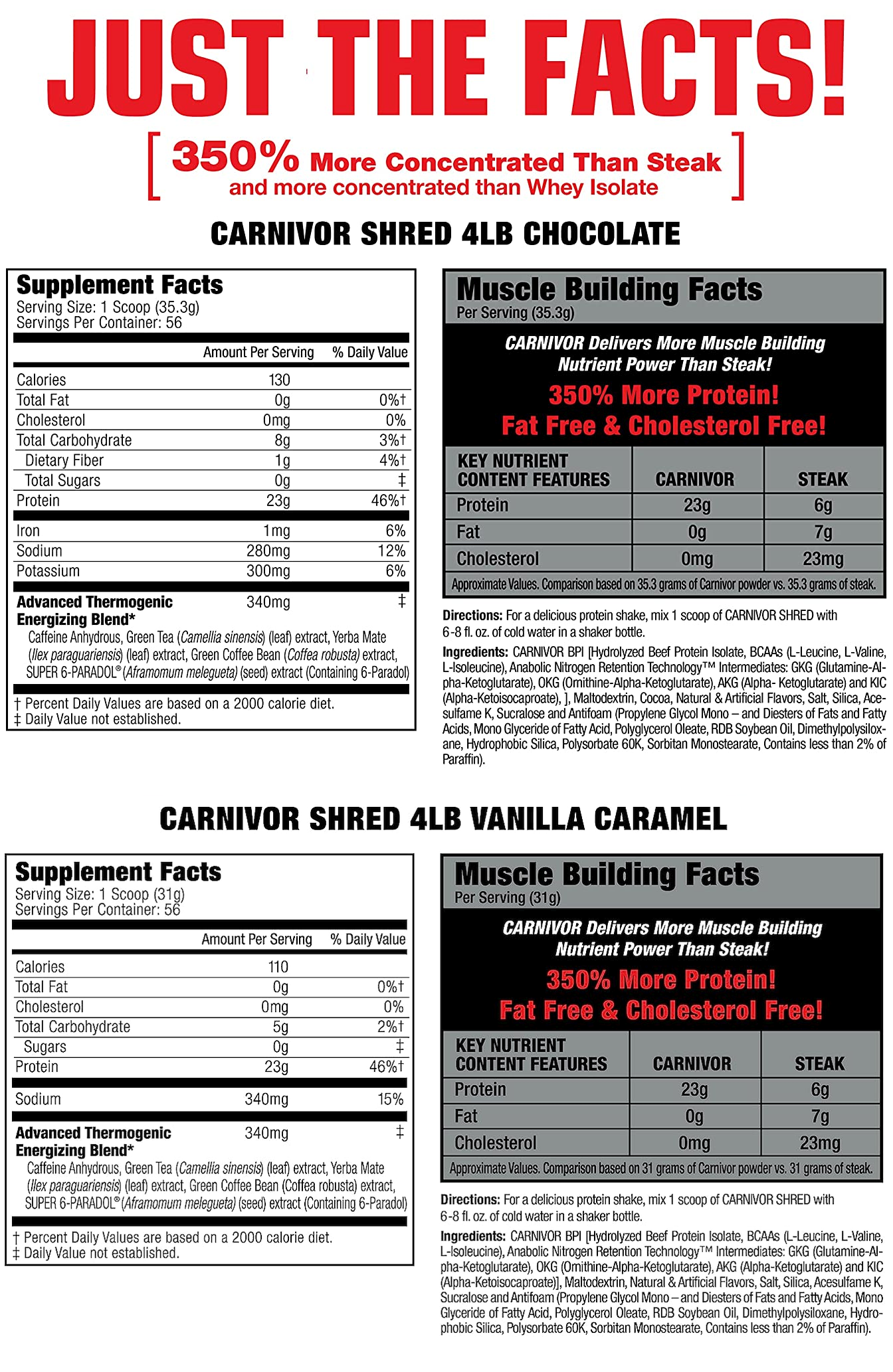 >