Rule 1 R1 BCAA Orange Burst - 60 Servings
Item #: R1039
UPC: 858925004753
R1 BCAAS
Micronized BCAAs
5g micronized BCAAs†
2:1:1 ratio of leucine to isoleucine and valine
Formula transparency
ZERO Fillers
ZERO Added Sugars
ZERO Stimulants
ZERO Gums
With three vital amino acids in a 2:1:1 ratio of leucine-to-isoleucine-to-valine, R1 BCAAs is a convenient, concentrated way to get the branched-chain amino acids the human body needs but cannot produce on its own.^
R1 BCAAs
WHAT IT IS
Intra-Workout Critical
Leucine, isoleucine, and valine are involved in supporting protein synthesis, preservation of lean mass, and muscle energetics and endurance.^
WHAT'S IN IT
Branched-Chain Aminos
Available in a variety of fruit flavors or as an unflavored powder that can be added to protein shakes or pre-, intra-, or post-workout formulas, R1 BCAAs provide leucine, isoleucine, and valine to help support muscle recovery.^
.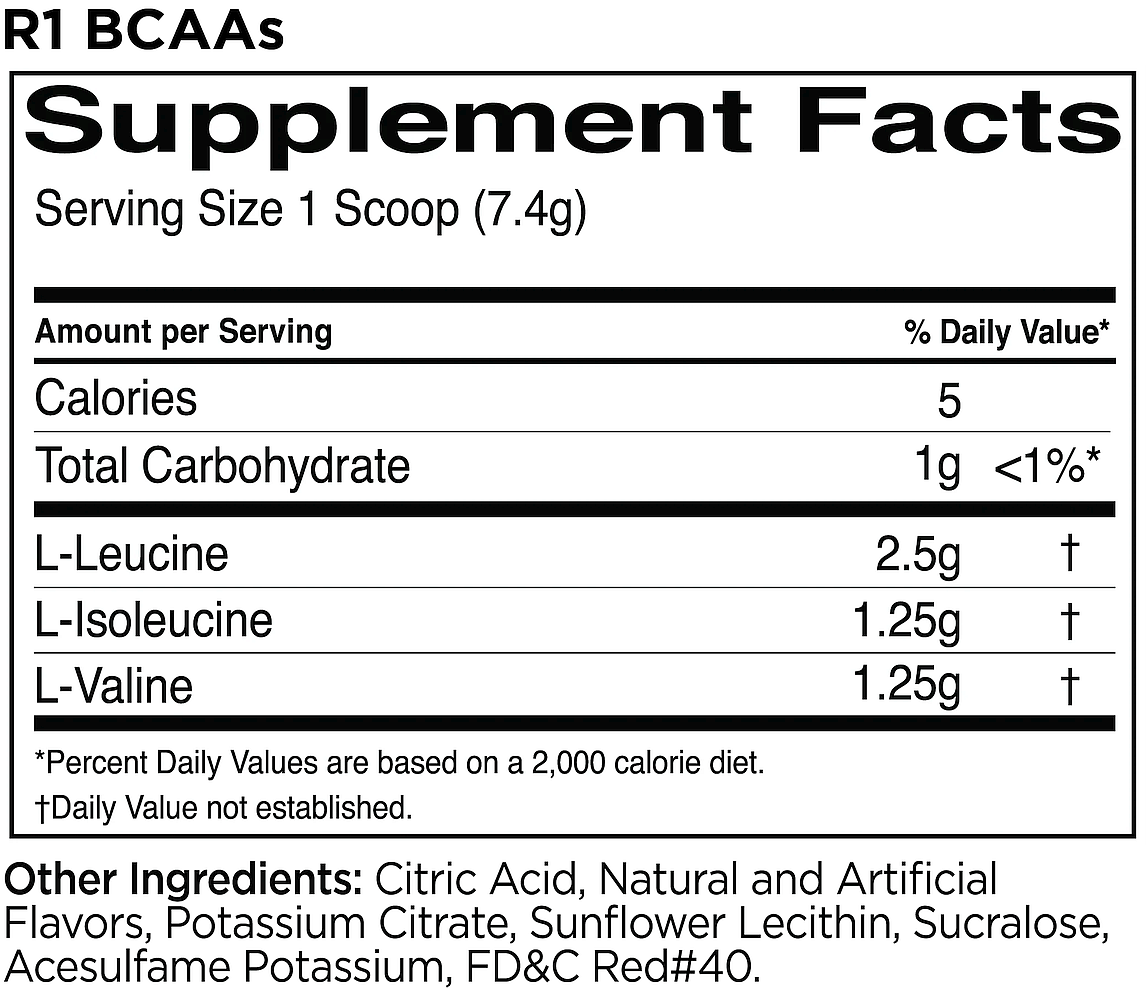 HOW TO USE IT
Anytime
R1 BCAAs is best taken in the morning, during or after workouts, and/or at bedtime.
Mixing Directions
Mix one (1) scoop with 8-10 oz. of cold water and consume before, during, or after training.
Alternate Suggested Use
Add a scoop to almost any workout supplement, juice, or protein shake.

^ These statements have not been evaluated by the Food and Drug Administration. This product is not intended to diagnose, treat, cure, or prevent any disease.
† Per serving