Jocko Protein Powder 4 Protein Blend Mint Chocolate - 2.3 Lb
Item #: JF105
UPC: 810076291123
JOCKO MÖLK: Designed and engineered with a time-release blend of whey concentrate, whey isolate, micellar casein, and egg. This whey isolate protein powder slowly digests in your system and fuels muscle growth and muscle recovery all day long.
Nut free ingredient list
Keto
No sugar added
Soy free
AMINO ACIDS: Blended with a plethora of amino acids, the building blocks of protein, these necessary components help your body with building muscle and regulating immune function. Check out the amino acid profile on the bottle!
DIGESTIVE ENZYMES & PROBIOTICS: With added digestive enzymes and probiotics to fuel growth and muscle recovery all day long, Mölk's complex mix of digestive enzymes and probiotics keeps your gut in check and ensures everything moves smoothly.
GRASS-FED PROTEIN, NO HORMONES OR SOY: We've developed the best protein powder from four different types of protein: whey protein concentrate and isolate, casein, and egg. Our whey protein powder comes from happy, grass-fed cows and is soy- and hormone-free.
SUGAR FREE BANANA FLAVOR: Get your protein shake without the unwanted sugar. Mölk is sweetened with monk fruit only. It has no added sugar, no artificial sweeteners, and no added flavors.
MOLK Protein Powders
Whey Protein Concentrate
Whey protein concentrate (WPC) contains low levels of fat and carbohydrates being 80% protein by weight. WPC has been shown to enhance power output and support healthy muscle growth, as well as assist in maintaining an increase in protein synthesis upon consumption.
HTTPS://PUBMED.NCBI.NLM.NIH.GOV/15690307/
HTTPS://PUBMED.NCBI.NLM.NIH.GOV/15570142/
Whey Protein Isolate
Whey protein isolate is a great source of protein for those struggling with lactose intolerance as this type of protein has all the fat and lactose removed during an extra processing step. Whey protein isolate provides amino acids essential for muscle repair and has been shown to positively affect strength performance.
HTTPS://JISSN.BIOMEDCENTRAL.COM/ARTICLES/10.1186/1550-2783-7-30
HTTPS://PUBMED.NCBI.NLM.NIH.GOV/20860817/
Egg Albumin
Egg albumin, also known as the egg white, provides nutrients such as protein, trace minerals, and vitamins while containing almost no fat or carbohydrates. Egg whites contain all nine essential amino acids, labeling them as complete protein. Egg albumin is a great way to consume high amounts of protein while limiting caloric intake.
HTTPS://WWW.NCBI.NLM.NIH.GOV/PMC/ARTICLES/PMC6470839/
HTTPS://WWW.NCBI.NLM.NIH.GOV/PMC/ARTICLES/PMC3497008/
Micellar Casein
A supplier of amino acids, carbohydrates, and calcium, micellar casein is a phosphoprotein primarily found in mammalian milk that is a slowly digestible protein source. Consuming micellar casein has been shown to positively influence plasma amino acid availability following consumption while stimulating muscle recovery. Being that casein is slowly digested it leaves your muscles fueled with amino acids over many hours.
HTTPS://WWW.NCBI.NLM.NIH.GOV/PMC/ARTICLES/PMC7468913/
HTTPS://WWW.NCBI.NLM.NIH.GOV/PMC/ARTICLES/PMC7451833/
Lactobacillus acidophilus
Lactobacillus acidophilus is a bacterium often used as a probiotic and is naturally found in areas such as your intestines. This bacterium may support a decrease in lactose intolerance, decrease your serum cholesterol levels in your gastrointestinal tract, and positively influence your body's immune response.
HTTPS://PUBMED.NCBI.NLM.NIH.GOV/20391953/
HTTPS://WWW.NCCIH.NIH.GOV/HEALTH/PROBIOTICS-WHAT-YOU-NEED-TO-KNOW
HTTPS://WWW.NCBI.NLM.NIH.GOV/PMC/ARTICLES/PMC238411/
Enzyme Blend
The enzymes in this specifically formulated blend are used to target different nutrients, such as breaking down carbohydrates and starches, working on proteins, handling fats, or more efficiently digesting lactose. Other than helping your body break down and absorb nutrients, digestive enzymes have been shown to support a decrease in lactose intolerance as well as relieve other common gastrointestinal complaints.
HTTPS://PUBMED.NCBI.NLM.NIH.GOV/20391953/
---
Label below is for chocolate flavor. Other flavors may vary slightly.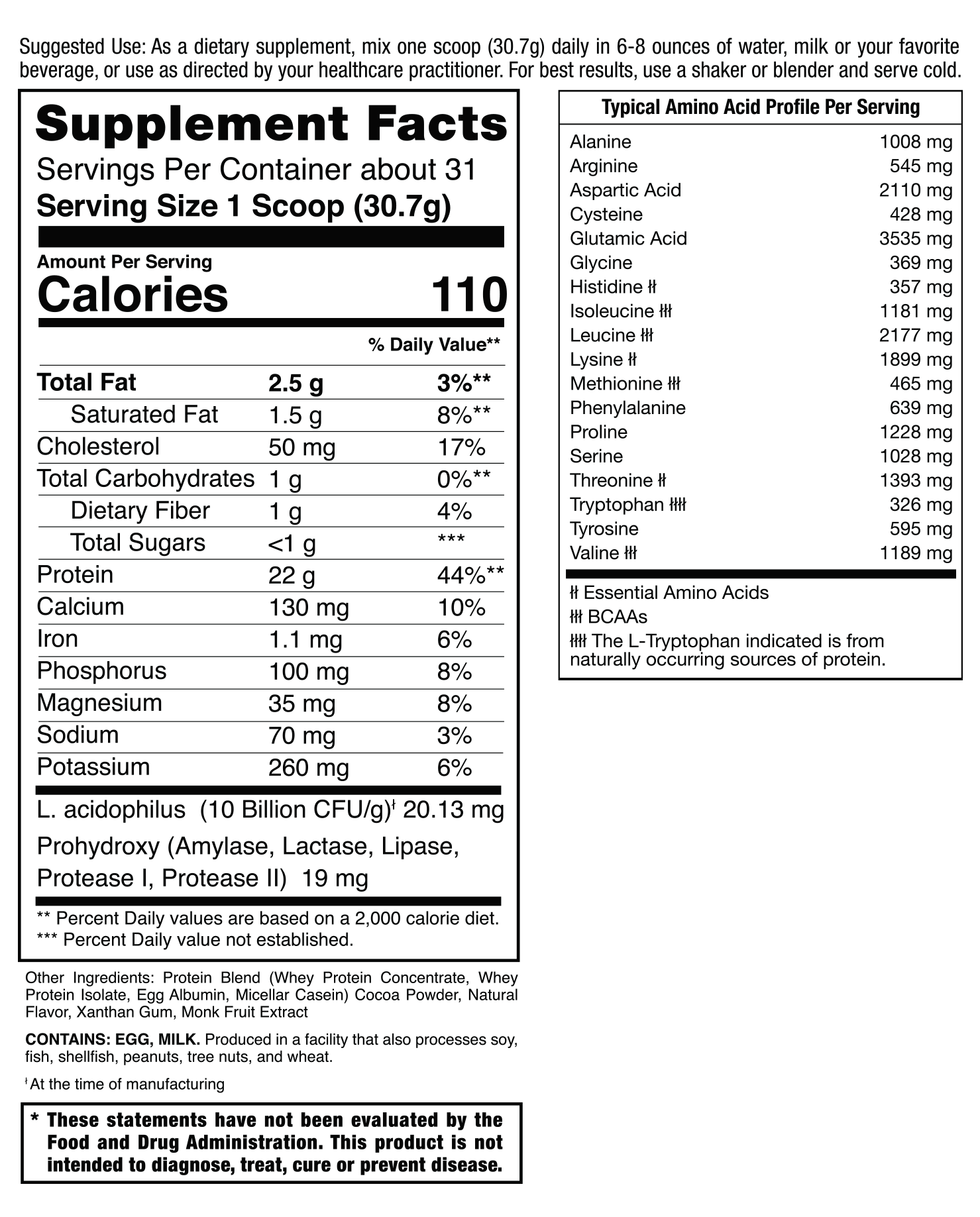 *FDA Disclaimer: These statements have not been evaluated by the Food and Drug Administration. This product is not intended to diagnose, treat, cure, or prevent any disease.