Prime Bites Protein Brownie Chocolate Glazed Donut - 12 Pack
Item #: APS11
UPC: 843562128863
PRIMEBITES® protein brownies are sold in 12 packs of individually wrapped brownies. The brownies are sold in 8 delicious flavors including Chocolate Glazed Donut, Glazed Cinnamon Roll, Birthday Cake Blondie, Blueberry Cobbler, Cookies & Cream, Chocolate Peanut Butter Chip, Chocolate Cookie Monster and Chocolate Fudge.
Depending on the flavor, the brownie has 9 to 11 grams of net carbs and around 200 calories. You also get 16 to 19 grams of high-quality protein from whey and collagen.
If you're trying to gain muscle, these brownies can supplement your nutritional needs when you need a snack. Instead of filling your body with unnecessary sugar, grab a protein-packed brownie. The carb/protein ratio is perfect for a meal replacement or a pre-workout or post-workout snack.
16 to 19 grams of Premium Protein
Fortified with Premium Collagen
Individually wrapped brownies for on-the-go use
Available in 6 Gourmet Flavors
Ingredients
AP PRIMEBITES® protein brownies allow you to enjoy the pleasure of a sweet treat without consuming loads of sugar. All four flavors are made with a combination of natural and artificial ingredients, with a minimal amount of fat and sugar. Compared to the typical brownie, these snacks contain about 75% less sugar.
The brownies are also gluten-free and contain no wheat protein. If you are allergic to nuts, be aware that our brownies are produced in a facility that processes peanuts and tree nuts.
Here is a closer look at the primary ingredients packed in each AP PRIMEBITES® protein brownie.
Whey Protein
The brownies contain a combination of whey protein concentrate (WPC) and whey protein isolate (WPI). Whey protein is the preferred choice for bodybuilders and fitness enthusiasts. Unlike wheat protein, whey protein is gluten-free and a complete source of protein.
Whey protein is created from milk and contains all the essential amino acids, including the three branched-chain amino acids (BCAAs):
Leucine
Isoleucine
Valine
Consuming high-quality protein is essential for building muscle. WPC and WPI are rich in amino acids, especially leucine.
Leucine is responsible for activating pathways that stimulate muscle protein synthesis, which is how you build muscle. Leucine and the other two BCAAs also help reduce delayed onset muscle soreness (DOMS) and improve muscle repair, allowing you to recover more quickly.
Along with building muscle, the amino acids found in whey protein support a healthier body. Whey protein is known to help moderate blood sugar levels, lower blood pressure, and promote better heart health.
Including whey protein in your diet may also combat inflammation. Chronic inflammation can lead to muscle loss and weakness, making it more difficult to reach your fitness goals.
Whether you want to bulk up or gain lean muscle, you need protein. While there are many good sources of BCAAs and protein, the whey protein found in these brownies ensures you get a complete amino acid profile. The AP PRIMEBITES® protein brownies allow you to easily increase your protein intake as part of a healthy meal plan and workout regime.
Collagen Hydrolysate
Along with whey protein, the protein blend includes collagen hydrolysate. Hydrolyzed collagen is collagen that is broken down into easily digestible amino acids.
Collagen is an important part of strengthening your joints and preventing osteoarthritis. It may also help prevent bone loss and protect your skin. However, collagen is also useful for muscle development. It may aid lean muscle mass building by promoting protein synthesis and the production of creatine.
Between 1% and 10% of your muscle tissue is composed of collagen. You need this protein to keep your muscles healthy and strong.
AP PRIMEBITES® protein brownies give you a combination of high-quality whey protein and collagen to promote better lean muscle growth and shorten your recovery time between workouts. Eat one or more brownies per day to supplement a healthy, balanced diet.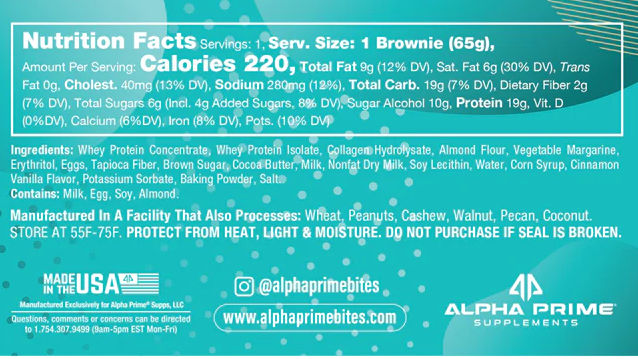 Warning: This product is only intended to be consumed by healthy adults, 18 years of age or older. Do not use if pregnant, nursing, currently taking PDE5 inhibitors or nitrates for chest pain. Before taking this product, consult a licensed, qualified, healthcare professional, especially if you are taking any other dietary supplement, prescription drug or over-the-counter medication; or if, you suspect you have or have been treated for, diagnosed with or have a family history of, any medical condition. Discontinue use 2 weeks prior to surgery. Immediately discontinue use and contact a medical doctor if you experience any adverse reaction to this product. Use only as directed. Do not use if the safety seal is broken or missing. Store in a cool, dry place. KEEP OUT OF REACH OF CHILDREN.
ALLERGEN WARNING:
Chocolate Fudge:
CONTAINS: MILK, EGG, SOY, ALMOND
Chocolate Cookie Monster:
CONTAINS: MILK, EGG, WHEAT, SOY, ALMOND
Cookies and Cream Blondie:
CONTAINS: MILK, EGG, WHEAT, SOY, ALMOND
Chocolate Peanut Butter Chip:
CONTAINS: MILK, EGG, SOY, PEANUTS, ALMOND
Birthday Cake Blondie:
CONTAINS: MILK, EGG, SOY, ALMOND
Blueberry Cobbler:
CONTAINS: MILK, EGG, WHEAT, SOY, ALMOND
Chocolate Glazed Donut:
CONTAINS: MILK, EGG, SOY, ALMOND
Glazed Cinnamon Roll:
CONTAINS: MILK, EGG, SOY, ALMOND
MANUFACTURED IN A FACILITY THAT ALSO PROCESSES: MILK, EGG, WHEAT, PEANUTS, SOY, ALMOND, WALNUT, COCONUT
STORE AT 55F-75F. PROTECT FROM HEAT, LIGHT & MOISTURE. DO NOT PURCHASE IF THE SEAL IS BROKEN.