Competitive Edge Labs TUDCA 250 Mg - 3 x 60 Cap 3 PACK
Item #: CG3013
UPC: 891192002084
TUDCA
Supports Liver Health & Detoxification

No Deceptive Proprietary Blends
THE High End Liver Protectant
Liver Support, Protection, & Detoxification are something that many people take for granted. In today's world, people are exposed to a variety of toxins or other things that are hard on the liver in the air we breathe, the food we eat, in things we take, and in alcoholic beverages. For athletes, this can sometimes be even more of an issue because of certain substances that they choose to put into their body.
At Competitive Edge Labs, we want to stress that nothing substitutes for a healthy lifestyle but there are so many things in this world that people and sometimes especially athletes come in contact with that can be harmful to the liver that we felt the need to offer this unique, high end ingredient to help our consumers.
What TUDCA is and why it's Awesome:
TUDCA is an abbreviation for Tauroursodeoxycholic Acid, a very sought after high end liver support ingredient. According to research, TUDCA goes beyond even the impressive benefits of traditional liver support supplements such as Milk Thistle and N-Acetyl-Cysteine.
Importance to Bodybuilders and Athletes
In the quest to achieve the most impressive physique or to maximize athletic performance, many bodybuilders and athletes take oral anabolic enhancement products that are notoriously harsh on the liver and therefore need the most advanced liver support supplement options possible.
Can TUDCA be Stacked with Cycle Assist?
ABSOLUTELY! Cycle Assist has long been known as THE CHOICE for consumers looking for a support product for their on cycle and post cycle therapy needs. Cycle Assist contains liver support ingredients that can be very complimentary to TUDCA and offers a variety of benefits that TUDCA does not.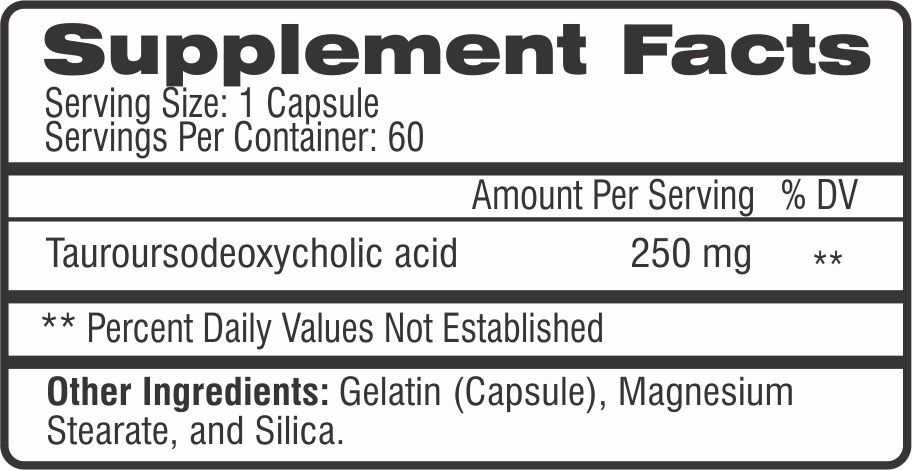 Suggested Use:
As a dietary supplement, take one capsule twice daily with food.
Warnings:
This product is for healthy adults over 18 years of age. Do not use if you are pregnant or nursing a baby. Consult with your physician before using this or any dietary supplement, especially if you are taking any medication(s) or have any medical condition(s). Keep stored in a cool, dry place. Keep out of reach of children.
*These statements have not been evaluated by the Food and Drug Administration. These products are not intended to diagnose, cure, prevent, or treat any disease.
More items you might like
Loading...