AllMax Nutrition VitaStack - 60 Packs (2 x 30 Packs) TWINPACK
Item #: AMX228
UPC: 665553200859
Pro-Level Supercompensation Vitamin & Nutrient Stack Packs
VITASTACK
Increases Lean Muscle Mass
Stimulates Muscle Growth
Maximizes Gains From Intense Training
Reduces Risk of Cramping
Maintains Fluid Balance
Optimizes Energy Levels
Replenishes Electrolyte
Joint Support Formula
Enhances Joint Mobility
Serious about training? You seriously need VITASTACK!
VITASTACK is your nutrient foundation. VITASTACK gives you every essential nutrient in dosages hard training athletes and bodybuilders need to accommodate their excessive physical demands. Engineered for extreme and intense training, VITASTACK is about as far as you can get from your mom's multi!
This is not your moms multi
Bodybuilders and athletes hit the gym hard. You demand far more from your body than anyone else. You want to be better than you are today and you drive yourself through complete dedication and your nutrient demands far exceed the norm.
Too many of the best intentioned, hardest training athletes fail because they demand more from their body than they put back. Over time, excessive demand and often unintentionally limited diets can create nutrient deficiencies that sideline even the best bodybuilder, athlete or competitor. While the effect can vary widely, the result is too often the same. The training and progress grind to a halt.
YOU DEMAND MORE FROM YOUR BODY, DEMAND MORE FROM YOUR VITAMIN STACK!

THE ALLMAX ADVANTAGE
For years, ALLMAX Nutrition customers have been asking for the kind of vitamin pack that only ALLMAX could bring into the market. We have taken decades of combined supplement knowledge and poured it into an ideal 9 pill, 7 function, easy-to-take and even easier to remember pack.
VITASTACK pillls pack
No counting.
No separating.
No excuses!
We simplify your vitamin supplementation into one easy stack that will provide you with the most effective dosages of only the most essential nutrients to restore, replenish and support your body's needs!
A COMPLETE, HIGH DOSE NUTRIENT, VITAMIN AND MINERAL STACK PACK
THE ULTIMATE PERFORMANCE PARTNER
Clearly labelled, VITASTACK stack packs are unbelievably convenient, you can pocket them and take them anywhere, making VITASTACK the ultimate performance partner. With one glance at the supplement facts, you'll know that ALLMAX has delivered on high quality supplementation for athletes who demand high performance, and only the best results.
Demand more from your vitamin stack
Over 70 highly active ingredients, many of which are so advanced and so rare, you will only find them in VITASTACK – ultra high absorption complex nutrients that give you the ability to reach your true potential.

Competitive Bodybuilders
Anyone on an extreme training program
Fitness and Figure Athletes
Anyone cutting carbs, fats and calories
Professional and Amateur Athletes
Anyone prepping for a contest
ALLMAX VITASTACK is available in 30 packs with each containing 9 pills for a full month's supply.
VITASTACK is 9 pills separated into 7 key functions essential to optimal performance in and out of the gym.
anabolinex
Increases Lean Muscle Mass
Stimulates Muscle Growth
Maximizes Gains from Intense Training
Provides Energizing Stimulus
ANABOLINEX provides the raw, core nutrients essential to supporting rapid muscle protein synthesis. There is a reason there are more ingredients in ANABOLINEX than any other blend in VITASTACK – supporting muscle growth: over 1,000 mg of extreme powerhouse active nutrients that fuel the kind of recovery and growth your training regimen demands.
We've included dibencozide, the biologically active form of B12. Most regular cheaper supplements provide cynanocobalamin, which is B12 stabilized with the more toxic cyanide group. B12 is directly involved in building lean muscle tissue and absolutely necessary for carbohydrate, protein and fat metabolism and DNA synthesis. Powerhouse 5-MTHF BioB9™ biologically active folate is included at 200% the RDI. Known in regular supplements as folic acid, BioB9™ does not require an additional step within the system for absorption and assimilation. Complete with a 45:30:25 ratio of essential BCAA blend, beta-alanine and creatine-magnesium chelate and more – VITASTACK has the anabolic bases covered.

electrofuse
Reduces Risk of Cramping
Maintains Fluid Balance
Optimizes Energy Levels
Replenishes Electrolyte Stores Lost Through Training
ELECTROFUSE supplies a broad spectrum of crucial organo-electrolytic mineral complexes absolutely unique to VITASTACK. With intense training comes intense loss of key hydrating electrolytes. As they are lost, cellular hydration levels drop and performance suffers and can result in tissue cramping and fatigue. While many regular vitamin supplements often ignore critical organo-electrolytic mineral complexes, VITASTACK embraces them. So crucial to the absorption of every other ingredient, electrolytic mineral compounds can assist in the delivery of other nutrients.
skeletocore
Joint Support Formula
Enhances Joint Mobility
Provides Joint Pain Relief
Maintains Healthy Connective Tissue
SKELETOCORE is an essential nutrient mineral blend that reinforces your skeletal frame at the cellular level. Virtually every critical mineral needed for bone, joint and tissue health is covered with SKELETOCORE. Joint pain can set you back weeks or months if you let it. Providing the optimal components that have been shown to help build and regenerate bones, joints, tendons and ligaments at the cellular matrix level will help keep the tissue healthy that lets you keep training. An ounce of prevention is worth a pound of cure, and in this case – it's really true!
energoforce
Enhances Stamina
Provides Mental Focus
Stimulates Energy
ENERGOFORCE drives the most important of all organs – the brain. Designed for memory and focus, ENERGOFORCE gives you the kind of alertness and focus required for ongoing intense training. Key nutrients work to sharpen the mind and keep you in the game. A dull or worndown mental function can quickly lead to a lack of enthusiasm to keep up with your training. Staying focused and mentally prepared will keep you on track and gaining muscle in the gym.
cardiopulse
Provides Overall Health
Supports Cardiovascular and Heart Health
Provides Optimal Balance of EPA and DHA
Accelerates Recovery Process
CARDIOPULSE is a truly complete OMEGA 3-6-9 essential fatty acid blend that delivers 212 mg ALA, 120 mg DHA and 80 mg EPA in a single RapidSorb softgel capsule along with other Omega EFAs and vitamin E. The value of Omega EFAs cannot be understated. Everything from cardiovascular health to reduction of inflammatory response within the body, there are literally hundreds of studies showing an extremely broad range of reasons why people in general need Omega3-6-9 EFAs and as an athlete, even more so. Studies on the dietary habit of North Americans show that Omega EFAs are grossly deficient in every segment of society. They are called ESSENTIAL for a reason, your body does not make them – they must come from your diet.
metabocore
Enhances Absorption of Nutrients
Increases Digestion Process
Supports Natural Digestion System
METABOCORE is a complex blend of enzymes essential for the rapid assimilation of nutrients. We've added Serrazyme® Serrapeptase a radical new proteolytic enzyme that acts as an anti-inflammatory while it breaks down inactive protein that builds up in the body and restricts function. A broad range of other nutrient enzymes have been included to maximize you usage of every macronutrient you consume. Digestive enzymes catalyze reactions that promote maximum assimilation of valuable nutrients. METABOCORE also includes chromium, a nutrient known to optimize metabolic function. To round out this formula, we've added double patented Bioperine® – a key nutrient that assists the body in assimilating other nutrients. It works synergistically within the body to help the absorption of other nutrients. This is a radically new concept in nutrient supplementation, one that will maximize overall function.
immunocharge
Prevents Free Radical Damage
Speeds Up Recovery Processes
Provides Immune System Support
IMMUNOCHARGE delivers an extremely broad spectrum of key nutrients that range from the most powerful antioxidants to crucial adaptogens with two main goals – to keep your immune system functioning optimally and to stave off free-radical tissue damage. This is critical to staying on target with your training. Athletes and bodybuilders with the best of intentions do their best to keep up with the demands they place on their body, but pushing beyond your genetics requires increased food, rest and nutrients. While your body's reserves will keep you in the game for a while, your immune system can sabotage your gains if you let it. Jacking VITASTACK daily delivers a broad foundation of key nutrients to keep your antioxidant damage to a minimum and your immune function at maximum capacity.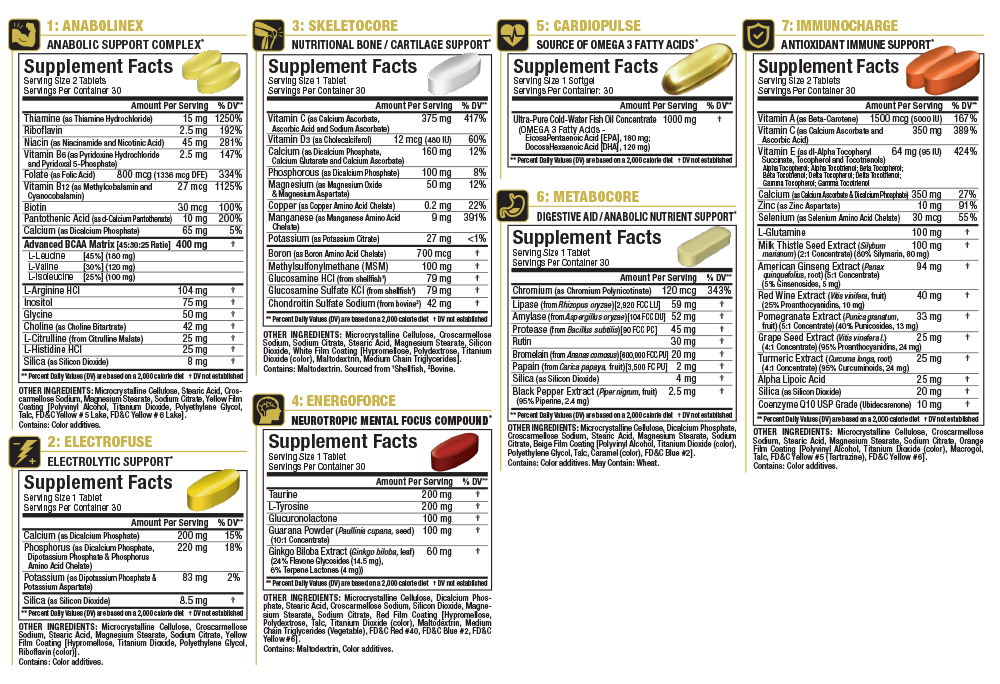 More items you might like
Loading...