Alpha Lion BURN2O Stim-Free Super Thermogenic Shredberry - 31 Servings
Item #: ALG72
UPC: 810037995152
25% Off +5-10% Off Special Offer
Out of Stock
BURN2O

Stim-Free Rapid Liquid Fat Loss†
Scorch stubborn fat by increasing thermogenesis and burning more calories without extra work. †
Burn2O is the world's FIRST and ONLY liquid fat burner to combine MitoBurn®, CaloriBurn®, L-Carnitine and GBB into a delicious calorie-free liquid shot, creating a "super thermogenic" that will leave you burning fat faster and longer.†
Fully Disclosed Formula. Premium Trademarked Ingredients.
Backed by Research for Maximum Effectiveness!
We take pride in our Full Label Disclosure, so you see the exact amount of EVERY active ingredient used inside, which means:
No Proprietary Blends (aka full transparency)
Scientifically-studied, premium ingredients
And most importantly… No excuses!
Premium Ingredients, Backed By Science
L-Carnitine
Carnitine is extremely effective at burning stored fat cells as energy. Fatty acids are converted into useful ATP that the body can rapidly scorch as energy, helping you get leaner, quicker. †
BONUS: Studies show that taking 2000 mg daily may help improve your brain's cognition, memory, and learning abilities!†
Mitoburn
β-aminoisobutyric Acid
MitoBurn® is the revolutionary new fat-burning powerhouse that we introduced to the world in 2020. It helps amplify the effects of exercise and even mimics the effects of exercise for the days when you're not in the gym.†
There's a reason why it's being heralded by many as "the future of fat loss."
GBB Gamma-Butyrobetaine
Known as "Super Carnitine", GBB works synergistically with these other fat-scorching titans and can boost carnitine levels by up to 300%.† It's a very powerful thermogenic that will enhance fat burning, enhance energy, and speed up your metabolism.†
You will feel the thermogenic effects within 15-30 minutes of taking your first dose. †
HOW SUPERHUMAN PUMP PROTECTS YOUR VITAL ADRENALS
100% Aframomum Melegueta
CaloriBurn® is the new calorie-burning king that gives you the power to experience faster fat burning through (you guessed it) increased caloric burning.†
It's a powerful natural extract made from 100% Aframomum Melegueta (Grains of Paradise) that will help take your daily caloric burning to new heights.† Prepare to enjoy the view!
How to use
Burn2O uses scientifically-dosed ingredients to help you burn more fat through thermogenesis, which may cause you to sweat more than normal.
Take 1/2 cap (15ml) before workouts
(or take your rest day...Burn₂O will still do its thing)
Prepare to break an awesome sweat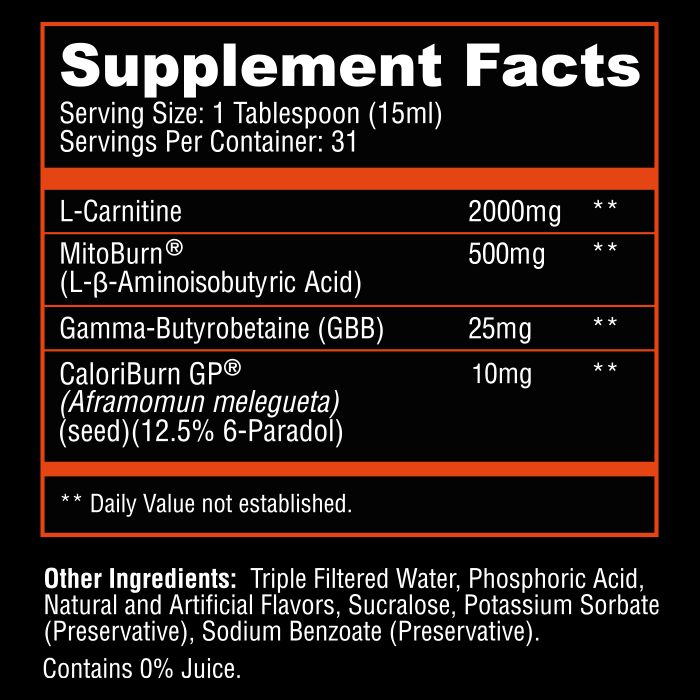 †THESE STATEMENTS HAVE NOT BEEN EVALUATED BY THE FOOD AND DRUG ADMINISTRATION. THIS PRODUCT IS NOT INTENDED TO DIAGNOSE, TREAT, CURE, OR PREVENT ANY DISEASE.