Rule 1 R1 Men's Train Daily MultiVitamin - 180 Tablets
Item #: R1024
UPC: 858925004883
R1 MEN'S TRAIN DAILY
Daily Multivitamin

We created Men's Train Daily Multivitamin to support the needs of highly active men. With over 50 ingredients, 24 vitamins and minerals, and a host of supporting compounds, this daily goes way beyond your typical grocery store multi.^
WHAT'S IN IT
Daily Fortification
R1 Men's Train Daily supplies all the basics plus digestive enzymes, amino acids, herbal extracts, a carotenoid complex, and phytonutrient-rich fruit concentrates. This is one powerful nutrient complex.^

50 active ingredients
24 vitamins and essential minerals
37.5mcg vitamin D3†
275mg+ B-complex vitamins†
Amino acids, enzymes, antioxidants, and phytonutrients

ZERO Calories
ZERO Sugars
ZERO Non-Functional Filler Ingredients

KEEP OUT OF REACH OF CHILDREN. FOR USE BY HEALTHY, ACTIVE ADULTS ONLY. CONSULT YOUR PHYSICIAN BEFORE USING THIS PRODUCT IF YOU ARE TAKING ANY MEDICATION, ARE UNDER A PHYSICIAN'S CARE FOR ANY MEDICAL CONDITION, OR UNDER 18 YEARS OF AGE. NOT FOR USE BY WOMEN THAT ARE PREGNANT, TRYING TO GET PREGNANT, OR NURSING.
SELECT FLAVOR
Unflavored
HOW TO USE IT
Daily
We recommend taking R1 Men's Train Daily Multivitamin with food. This enhances the absorption of fat-soluble vitamins and compounds.
Directions:
Take three (3) tablets daily with a meal.
Suggested Use
Taking all three tablets together may be easier, but splitting the dosage into three day parts — before breakfast, before lunch, and before dinner — works equally well.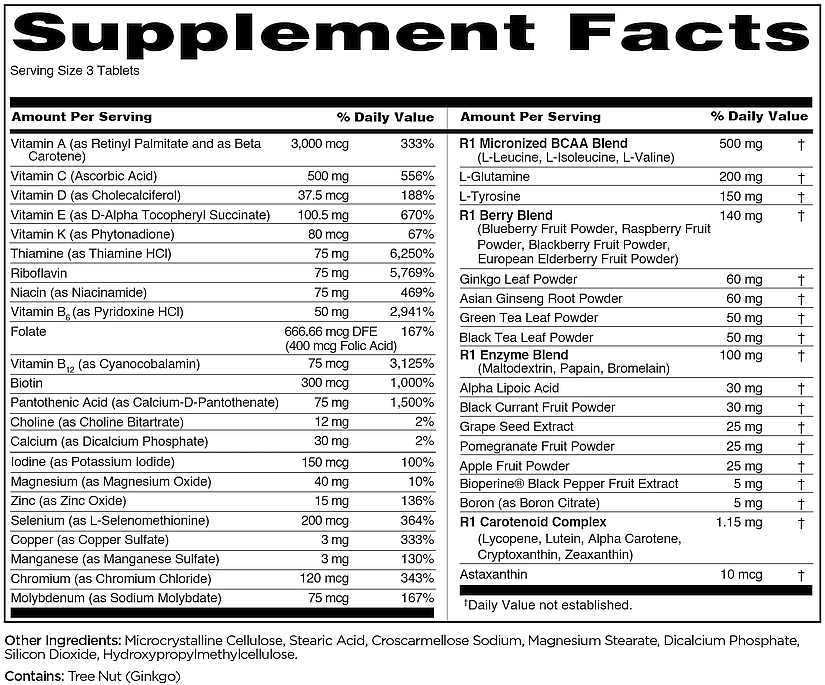 ^ These statements have not been evaluated by the Food and Drug Administration. This product is not intended to diagnose, treat, cure, or prevent any disease.
† Per serving