Hi Tech Pharmaceuticals Apple Cider Vinegar (ACV) - 90 Capsules
Item #: HT287
UPC: 811836026436
Natural Gut Support and Digestion
Supports Healthy Blood Sugar
Supports Nutrient Absorption
Natural Relief from Occasional Indigestion
Found in large quantities in Apple Cider Vinegar (ACV), Acetic acid is a short-chain fatty acid that separates into acetate and hydrogen in your body. Research suggests that acetic acid in specifically in Apple Cider Vinegar has powerful health benefits all highlighted within the digestive system. In unfiltered ACV also contains a substance called the Mother. While the mother contains no appreciable amounts of vitamins or minerals, it consists of proteins, enzymes and friendly bacteria that are the primary factors in aiding in digestion. In addition, ACV contains antioxidants as well that support an improved health benefit in todays complicated nutritional intake.
Research also is showing us that ACV can help encourage the body's natural ability of muscle improving blood sugar intake levels already in the normal range by supporting. As part of that same digestive ability, when taken with meals containing chicken, beef, pork, etc, has shown it may help with digesting and partitioning nutrients thanks to its ability to stimulate the production of proper stomach acid levels. Stomach acid breaks down proteins so that your body can process them and absorb more of the minerals, amino acids and other properties they have to offer.
These statements have not been evaluated by the Food and Drug Administration. This product is not intended to treat, cure, diagnose, or prevent any disease. This product should not be used in place of or as a substitute for recommendations by your healthcare professional.
SUPPLEMENT FACTS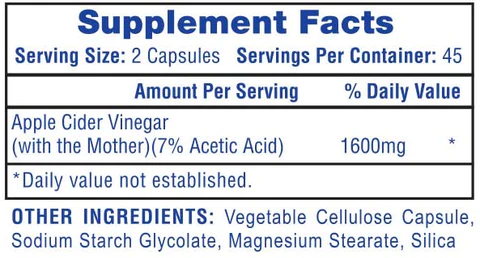 SUGGESTED USE
As a dietary supplement, take two (2) capsules once daily, preferably with a meal and water or as directed by your healthcare professional. For best results take daily for at least 30 days.
WARNING
For adults only. Consult your healthcare provider before using this or any product if you are pregnant or nursing, taking medication or have a medical condition. Keep out of reach of children. Do not use if seal is broken. Store in cool, dry place.