ABE Energy Drink Blue Lagoon - 12 Cans
Item #: ABE13
UPC: 5056555202388
20% Off Special Offer
Out of Stock
ABE ENERGY + PERFORMANCE
11.2oz Carbonated Energy Drink
Sugar Free
Introducing the new ABE (All Black Everything) Carbonated Beverage, with Zero Sugar, 200mg Caffeine, Citrulline, Dynamine, Vitacholine, and Essential B-Vitamins. Need that extra kick of energy in the gym or to boost your day? This ultimate Energy & Performance drink will take you to the next level in whatever you're doing.
INGREDIENTS
• 200mg Caffeine
• 2000mg Citrulline Malate 2:1
• 100mg Dynamine
• 200mg Vitacholine
• B3 & B12 Vitamins
BENEFITS
• Skin-splitting pumps
• Explosive Energy
• Locked in Focus
• Plateau-breaking Endurance
• Halal Certified Product
• Tested for Athletes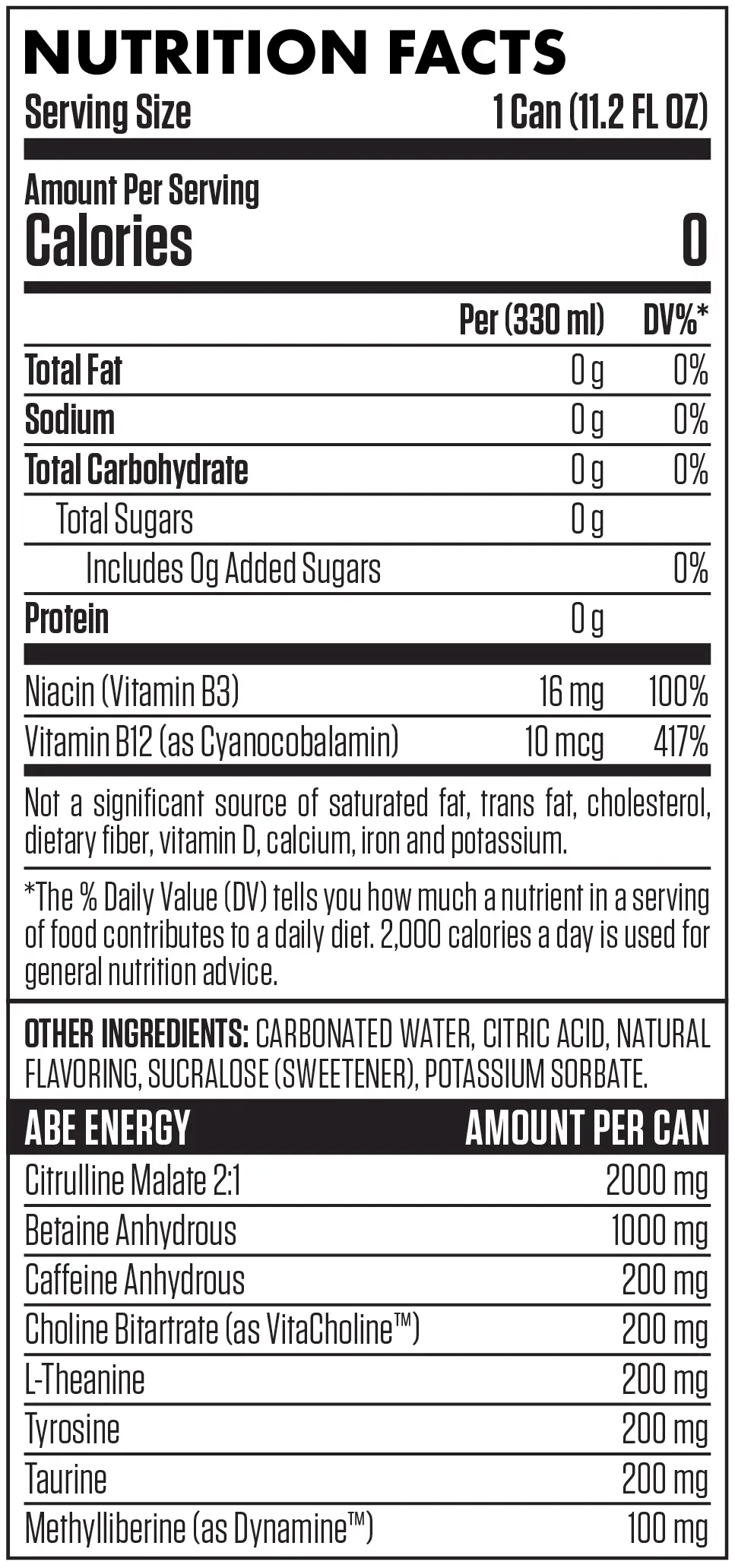 USE & WARNINGS
Consume 15 minutes before exercise. Check with a qualified health professional before using this product if you are under the age of 18, pregnant or nursing a baby or if you have any known or suspected medical condition(s) and or are taking any prescription or OTC medication(s). Contains Caffeine (200mg per 11.02oz). Not to be used as a substitute for a varied diet and healthy lifestyle. Store this product in a cool dry Consumeplace, away from children. Do not exceed suggested use.
† These statements have not been evaluated by the Food and Drug Administration. This product is not intended to diagnose, treat, cure, or prevent any disease.