SNS Serious Nutrition Solutions Inhibit E - 2 x 90 Cap Btls TWINPACK
Item #: SN2035
UPC: 899773000122
High Affinity AI/Anti-Estrogen*
Helps Promote Healthy Estrogen Regulation and Metabolism*
Potent Hormone Modulator for a Harder, Dryer, Leaner Physique*
The New Inhibit-E contains a unique combination of cutting edge, unique nutraceutical compounds that not only lower estrogen, but also help promote healthy estrogen regulation and metabolism while boosting natural testosterone levels.*
Battling estrogen can be a heck of a battle. You bust your butt in the gym, you watch what you eat, but you just can't get the results that you want; the results that you DESERVE. Estrogen can cause your body to store fat, make you feel bloated, and counteract all your efforts. It can also make you feel sluggish AND negatively impact your testosterone levels.
This new formulation of Inhibit-E really does mark the return of a supplement legend. The original Inhibit-E set the bar in terms of results and cost effectiveness in the AI/anti-estrogen supplement category. As special as the original was though, the NEW Inhibit-E has even more to offer.
Who can benefit from the New Inhibit-E? Ask yourself a few questions:
Do you want a leaner, dryer, more attractive physique?

Do you feel bloated?

Is icky water weight covering up the body you have worked so hard to get?

Are you trying to get in the best shape of your life?

Are you storing fat no matter how hard you are trying to lose it?

Are you storing fat but aren't sure why?

Are you busting your butt in the gym but still aren't getting the results you want, the results that you DESERVE?

Do you want a supplement that works as hard for you as you do?
Prohormone Users (Past and Present):
Are you on or coming off of a prohormone cycle?

Have you done prohormone cycles in the past and are still experiencing estrogen issues?

Do you need an AI but don't want to order one online from one of 'those' types of sites?
If you answered yes to any of the above questions, Inhibit-E may be right for you.
Let's examine the potential benefits from healthy estrogen regulation and management as well as the other potential benefits from Inhibit-E:
Helps Lower Estrogen AND Promotes Healthy Estrogen Regulation & Metabolism*

Maximize Natural Testosterone Production*

Promote Hard, Lean, Dry Muscle Gains*

Promote Enhanced Body Composition*

Shed Excess Fluid Weight*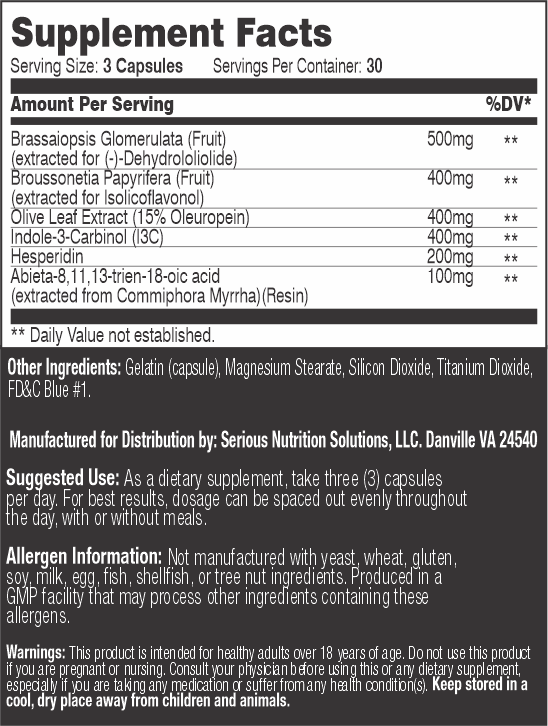 Now, just like any returning legend should, Inhibit-E will take a few questions.
I had or heard so much good feedback about the original Inhibit-E? Why did it take so long for SNS to release a new version?
Perfection Takes Time
The original Inhibit-E really is a supplement legend. It was THE cost effective anti-estrogen product. When SNS stopped making it, people waited, and waited, and waited for a new version to come out. As time went by, some people gave up and thought they would never see a version of Inhibit-E. But many held out hope; hope that there would be a time where SNS would one day finally release a new, even more powerful version of their beloved supplement. That time is now.
So, what was going on at SNS this whole time?
Not content to bring out a product almost as good as the original, not content to bring out a product just as good as the original, the team at SNS was determined to bring out a product that was even BETTER than the original AND to do so at the same cost effective price. Sure, we could've thrown together a fancy looking formula or jumped on some trendy new ingredient bandwagon, but that's not our style.
So yes, did bringing out this New and Even Better Inhibit-E at the same cost effective price take a long time?
Absolutely – as do many of the best things in life.
Does Inhibit-E sign autographs?
We're sorry, but no, Inhibit-E prefers to leave a lasting impression by helping you achieve the body you have always dreamed of. Think of it like your favorite athlete or rock star coming back for one last big game or show, except the return of Inhibit-E is even better. You don't have to live a dream through your favorite rocker or athlete; you can now get to work living your own.
Let's Examine the Ingredients that make the New Inhibit-E so special:
Brassaiopsis Glomerulata
Extracts of the planet Brassaiopsis Glomerulata have been shown to naturally possess several aromatase inhibiting (AI) compounds. One such compound is (-) – dehydrololiolide. (-) – dehydrololiolide has been shown to possess potent AI properties, and in a study was shown to be as potent as the pharmaceutical AI Letrozole (1). At SNS, we use a Brassaiopsis Glomerulata extract specifically extracted for (-) – dehydrololiolide.
Broussonetia papyrifera
Broussonetia papyrifera extracts have been shown to possess anti-inflammatory and antioxidant properties in studies (2,3). Inhibit E uses an extract of Broussonetia papyrifera specifically extracted for Isolicoflavonol. Isolicoflavonol has been shown to possess potent AI properties, and it's inclusion in Inhibit E makes it one of, if not the first product to use Isolicoflavonol (4).
Olive Leaf Extract
Olive Leaf extracts are continuing to become increasingly popular in many different types of supplements and it isn't hard to see why with the large range of benefits that consumers can see from supplementing with this unique ingredient. Although studies are conflicting on whether Olive Leaf extracts truly lower blood pressure, it has been shown to improve insulin sensitivity in humans. Inhibit E utilizes an Olive Leaf extract standardized to 15% Oleuropein. Oleuropein is a phenylethanoid present in Olive Leaf extract that possess powerful antioxidant properties. It has also been shown to potentially aid in fat loss by increasing thermogenin in brown adipose tissue (5-8). A recent study has examined human absorption of oleuropein in humans, and has found that Olive Leaf extracts effectively deliver oleuropein metabolites to plasma in humans (9).
Indole-3-Carbinol
Indole-3-Carbinol is one of the most studied nutraceuticals on the market, most commonly studied for its anti-breast cancer properties. Indole-3-Carbinol is a negative regulator of estrogen and possesses the ability to alter estrogen metabolism. This is where it gets tricky in promoting a supplement. We aren't saying that Indole-3-Carbinol can prevent any type of cancer. However, there has been research suggesting that Indole-3-Carbinol may help prevent the development of estrogen related cancers (including breast cancer) and that it may help stop cancer cells during the phase of a cell's life in which most of the cell's growth occurs, G1 (10-14). It has also been shown to possess antiplatelet and antithrombotic activity (15). Indole-3-Carbinol studies have also shown that it may be useful for individuals at risk of prostate cancer (16-18).
Hesperidin
Hesperidin is a potent antioxidant found in citrus fruits. Animal studies have shown that Hesperidin can reduce cholesterol, blood pressure, and can decrease the rate of bone density loss. It also has a sedative and anti-inflammatory effect (19-27). Hesperidin's inclusion into the Inhibit E formula, however, is due to its pronounced anticancer effects (28-30).
Abieta-8,11,13-trien-18-oic acid (extracted from Commiphora myrrha)
Abieta-8,11,13-trien-18-oic acid is commonly known as Dehydroabietic Acid (DHAA). Studies suggest that this powerful ingredient has an anti-estrogen effect. It also boosts the production of adiponectin, a protein hormone that helps supports weight loss. As a matter of fact, lowered levels of adiponectin correlate with obesity. Therefore, this ingredient may help enhance body composition while helping decrease estrogen.
Okay, I'm sold. But do I have to worry that by combining all of these potent ingredients, especially Isolicoflavonol with (-) – dehydrololiolide, that Inhibit-E will be too potent? What about the lack of human trials for these ingredients?
Absolutely not. The team at SNS has carefully examined both compounds and studied the scientific literature extensively to derive the proprietary dosages of these two compounds from the Brassaiopsis Glomerulata and Broussonetia papyrifera extracts in Inhibit E. We do not disclose this information, however, due to the novel inclusion of Isolicoflavonol in our formula, and the rare usage Brassaiopsis Glomerulata extracts standardized for (-) – dehydrololiolide.
These two extracts are lacking in human trials (although this is quite common in the supplement industry, especially with ingredients relating to estrogen metabolism, which are commonly done in cell culture lines), so it is sometimes difficult to derive at what level the dose of each ingredient becomes too potent. To accommodate for this, we dosed both compounds at safe and acceptable levels to prevent the product from crushing your estrogen levels. (Did you ever think you would have to worry about the possibility of a non-stimulant supplement being too strong? Yeah, I know – pretty exciting isn't it?)
Another thing to consider into this equation is the inclusion of the other ingredients in this product. Inhibit-E is designed to not only lower your estrogen levels/product, but to also promote healthy estrogen regulation and metabolism. Lowering your estrogen levels too dramatically can actually be a negative thing, and with our new Inhibit-E formula, we at SNS keep that in mind.
Stacking and Synergy:
Inhibit-E is versatile and can be stacked with a variety of other SNS products for improved, synergistic results. For fat loss, it can be stacked with Reduce XT, GlycoPhase, TTA-500, or other SNS fat loss products. For PCT (Post Cycle Therapy), Inhibit-E can be stacked with Growth Factor XT, Inhibit-P, Reduce XT, Liver Assist XT, X-gels, & more. For natural hormonal optimization regiments, Inhibit-E can be stacked with Growth Factor XT, Inhibit-P, X-Gels, Reduce XT, SNS DAA caps or powder, select other SNS products, &/or the upcoming SNS Natural Test Booster – Optimize-T.
Inhibit-E – the Anti-Estrogen King is Back
Get Yours Now!
Warnings:
This product is for healthy adults 18 years of age or older. Consult with a physician before using this or any dietary supplement, especially if you are taking any prescription, over the counter medication, or have any preexisting medical condition. Do not use this product if you have been diagnosed with prostate cancer, testicular cancer, or breast cancer. Discontinue use 2 weeks prior to any surgery. Discontinue use and consult a physician if you experience any adverse reaction to this product. Do not use if safety seal is broken or missing. This product should not be taken by women. KEEP OUT OF REACH OF CHILDREN.
*These statements have not been evaluated by the Food and Drug Administration. This product is not intended to diagnose, treat, cure, or prevent any disease.
References:
1. Balunas MJ, Su B, Riswan S, Fong HH, Brueggemeier RW, Pezzuto JM, Kinghorn AD. Isolation and Characterization of Aromatase Inhibitors from Brassaiopsis glomerulata (Araliaceae). Phytochem Lett. 2009 Feb 19;2(1):29-33.
2. Wu, W.-T. (2012). Evaluation of anti-inflammatory effects of Broussonetia papyrifera stem bark. Indian Journal of Pharmacology.
3. Zhou, X.-J., Mei, R.-Q., Zhang, L., Lu, Q., Zhao, J., Adebayo, A. H., & Cheng, Y.-X. (2010). Antioxidant phenolics from Broussonetia papyrifera fruits. Journal of Asian natural products research, 12(5), 399-406.
4. Balunas, M. J., Su, B., Brueggemeier, R. W., & Kinghorn, A. D. (2008). Natural products as aromatase inhibitors. Anti-cancer agents in medicinal chemistry, 8(6), 646-682.
5. De Bock, M.; Derraik, J. G. B.; Brennan, C. M.; Biggs, J. B.; Morgan, P. E.; Hodgkinson, S. C.; Hofman, P. L.; Cutfield, W. S. (2013). "Olive (Olea europaea L.) Leaf Polyphenols Improve Insulin Sensitivity in Middle-Aged Overweight Men: A Randomized, Placebo-Controlled, Crossover Trial". In Nerurkar, Pratibha V. PLoS ONE 8 (3): e57622.
6. Sudjana, Aurelia N.; D'Orazio, Carla; Ryan, Vanessa; Rasool, Nooshin; Ng, Justin; Islam, Nabilah; Riley, Thomas V.; Hammer, Katherine A. (2009). "Antimicrobial activity of commercial Olea europaea (olive) leaf extract". International Journal of Antimicrobial Agents 33 (5): 461–3. doi:10.1016/j.ijantimicag.2008.10.026. PMID 19135874.
7. Oi-Kano, Yuriko; Kawada, Teruo; Watanabe, Tatsuo; Koyama, Fumihiro; Watanabe, Kenichi; Senbongi, Reijirou; Iwai, Kazuo (2008). "Oleuropein, a Phenolic Compound in Extra Virgin Olive Oil, Increases Uncoupling Protein 1 Content in Brown Adipose Tissue and Enhances Noradrenaline and Adrenaline Secretions in Rats". Journal of Nutritional Science and Vitaminology 54 (5): 363–70.
8. Haris Omar, Syed (2010). "Oleuropein in Olive and its Pharmacological Effects". Scientia Pharmaceutica 78 (2): 133–54. doi:10.3797/scipharm.0912-18.
9. de Bock M, Thorstensen EB, Derraik JG, Henderson HV, Hofman PL, Cutfield WS (2013) Human absorption and metabolism of oleuropein and hydroxytyrosol ingested as olive (Olea europaea L.) leaf extract. Mol Nutr Food Res.
10. Dashwood, Rod H.; Arbogast, D.N.; Fong, A.T.; Pereira, C.; Hendricks, J.D.; Bailey, G.S. (1989). "Quantitative inter-relationships between aflatoxin B1 carcinogen dose, indole-3-carbinol anti-carcinogen dose, target organ DNA adduction and final tumor response". Carcinogenesis 10 (1): 175–81. doi:10.1093/carcin/10.1.175. PMID 2491968.
11. Hsu, J; Dev, A; Wing, A; Brew, C; Bjeldanes, L; Firestone, G (2006). "Indole-3-carbinol mediated cell cycle arrest of LNCaP human prostate cancer cells requires the induced production of activated p53 tumor suppressor protein". Biochemical Pharmacology 72 (12): 1714–23.
12. Auborn, K. J., Fan, S., Rosen, E. M., Goodwin, L., Chandraskaren, A., Williams, D. E., Chen, D., et al. (2003). Indole-3-carbinol is a negative regulator of estrogen. The Journal of nutrition, 133(7 Suppl), 2470S-2475S.
13. Grubbs, C. J., Steele, V. E., Casebolt, T., Juliana, M. M., Eto, I., Whitaker, L. M., Dragnev, K. H., et al. (1995). Chemoprevention of chemically-induced mammary carcinogenesis by indole- 3-carbinol. Anticancer Res, 15(3), 709-716.
14. Brignall, M. S. (2001). Prevention and treatment of cancer with indole-3-carbinol. Alternative medicine review : a journal of clinical therapeutic, 6(6), 580-589.
15. Park, M.-K., Rhee, Y.-H., Lee, H.-J., Lee, E.-O., Kim, K.-H., Park, M.-J., Jeon, B.-H., et al. (2008). Antiplatelet and antithrombotic activity of indole-3-carbinol in vitro and in vivo. Phytotherapy research : PTR, 22(1), 58-64.
16. Sarkar, F. H., & Li, Y. (2004). Indole-3-carbinol and prostate cancer. The Journal of nutrition, 134(12 Suppl), 3493S-3498S.
17. Nachshon-Kedmi, M., Yannai, S., Haj, A., & Fares, F. A. (2003). Indole-3-carbinol and 3,3'-diindolylmethane induce apoptosis in human prostate cancer cells. Food and chemical toxicology : an international journal published for the British Industrial Biological Research Association, 41(6), 745-752.
18. Garikapaty, V. P. S., Ashok, B. T., Chen, Y. G., Mittelman, A., Iatropoulos, M., & Tiwari, R. K. (2005). Anti-carcinogenic and anti-metastatic properties of indole-3-carbinol in prostate cancer. Oncology reports, 13(1), 89-93.
19. Hirata A, Murakami Y, Shoji M, Kadoma Y, Fujisawa S (2005). "Kinetics of radical-scavenging activity of hesperetin and hesperidin and their inhibitory activity on COX-2 expression". Anticancer Res. 25 (5): 3367–74. PMID 16101151.
20. Monforte MT, Trovato A, Kirjavainen S, Forestieri AM, Galati EM, Lo Curto RB (September 1995). "Biological effects of hesperidin, a Citrus flavonoid. (note II): hypolipidemic activity on experimental hypercholesterolemia in rat". Farmaco 50 (9): 595–9. PMID 7495469.
21. Ohtsuki K, Abe A, Mitsuzumi H, et al. (December 2003). "Glucosyl hesperidin improves serum cholesterol composition and inhibits hypertrophy in vasculature". J. Nutr. Sci. Vitaminol. 49 (6): 447–50. PMID 14974738.
22. Chiba H, Uehara M, Wu J, et al. (June 2003). "Hesperidin, a citrus flavonoid, inhibits bone loss and decreases serum and hepatic lipids in ovariectomized mice". J. Nutr. 133 (6): 1892–7. PMID 12771335.
23. Kawaguchi K, Kikuchi S, Hasunuma R, Maruyama H, Yoshikawa T, Kumazawa Y (May 2004). "A citrus flavonoid hesperidin suppresses infection-induced endotoxin shock in mice". Biol. Pharm. Bull. 27 (5): 679–83. doi:10.1248/bpb.27.679. PMID 15133244.
24. Emim JA, Oliveira AB, Lapa AJ (February 1994). "Pharmacological evaluation of the anti-inflammatory activity of a citrus bioflavonoid, hesperidin, and the isoflavonoids, duartin and claussequinone, in rats and mice". J. Pharm. Pharmacol. 46 (2): 118–22. PMID 8021799.
25. Galati EM, Monforte MT, Kirjavainen S, Forestieri AM, Trovato A, Tripodo MM (November 1994). "Biological effects of hesperidin, a citrus flavonoid. (Note I): antiinflammatory and analgesic activity". Farmaco 40 (11): 709–12. PMID 7832973.
26. Loscalzo LM, Wasowski C, Paladini AC, Marder M (February 2008). "Opioid receptors are involved in the sedative and antinociceptive effects of hesperidin as well as in its potentiation with benzodiazepines". Eur. J. Pharmacol. 580 (3): 306–13. doi:10.1016/j.ejphar.2007.11.011. PMID 18048026.
27. Guzmán-Gutiérrez SL, Navarrete A (March 2009). "Pharmacological exploration of the sedative mechanism of hesperidin identified as the active principle of Citrus sinensis flowers". Planta Med. 75 (4): 295–301. doi:10.1055/s-0029-1185306. PMID 19219759.
28. Al-Ashaal HA, El-Sheltawy ST"Antioxidant capacity of hesperidin from citrus peel using electron spin resonance and cytotoxic activity against human carcinoma cell lines. Pharm Biol. 2011 Mar;49(3):276-82
29. Chan, F. L., Chen, S., Ye, L., & Leung, L. K. (2012). The citrus flavonone hesperetin inhibits growth of aromatase-expressing MCF-7 tumor in ovariectomized athymic mice. The Journal of Nutritional Biochemistry.
30. Li, F., Ye, L., Lin, S.-M., & Leung, L. K. (2011). Dietary flavones and flavonones display differential effects on aromatase (CYP19) transcription in the breast cancer cells MCF-7. Molecular and cellular endocrinology, 344(1-2), 51-58.
More items you might like
Loading...