Rule 1 R1 Fruits & Greens + Antioxidants Mixed Berry - 30 Servings
Item #: R1016
UPC: 837234108741
R1 FRUITS & GREENS
Superfood & Antioxidant Complex
FLAVOR MIXED BERRY

We packed R1 Fruits & Greens™ + Antioxidants with highly concentrated vegetables, fruits, herbs, digestive enzymes, and vitamins A & C. Naturally flavored and lightly sweetened with stevia, R1 Fruits & Greens™ + Antioxidants is a pleasantly simple way to add superfoods and antioxidants to your daily regimen.^
R1 Fruits & Greens + Antioxidants
WHAT IT IS
Power-Packed Fruits and Veggies
R1 Fruits & Greens™ + Antioxidants provides an easy way to reap the benefits of nutrient-dense superfoods as part of a well-balanced diet for healthy, active lifestyles.
WHAT'S IN IT
Drink Your Veggies
With over 40 active ingredients, R1 Fruits & Greens™ + Antioxidants provides a comprehensive blend of phytonutrients without artificial flavors, stimulants, or added sugars.
Includes over 40 active ingredients
6g fruit and vegetable concentrates†
100mg Spectra™ Total ORAC blend†
2g prebiotic fiber†
Antioxidant vitamins A & C
50mg DigeZyme* digestive enzyme blend†
Naturally flavored, stevia sweetened
ZERO Artificial Flavors
ZERO Synthetic Sweeteners
ZERO Synthetic Dyes
ZERO Added Sugars
ZERO Banned Substances
ZERO Stimulants
These statements have not been evaluated by the Food and Drug Administration. This product is not intended to diagnose, treat, cure, or prevent any disease.
† Per serving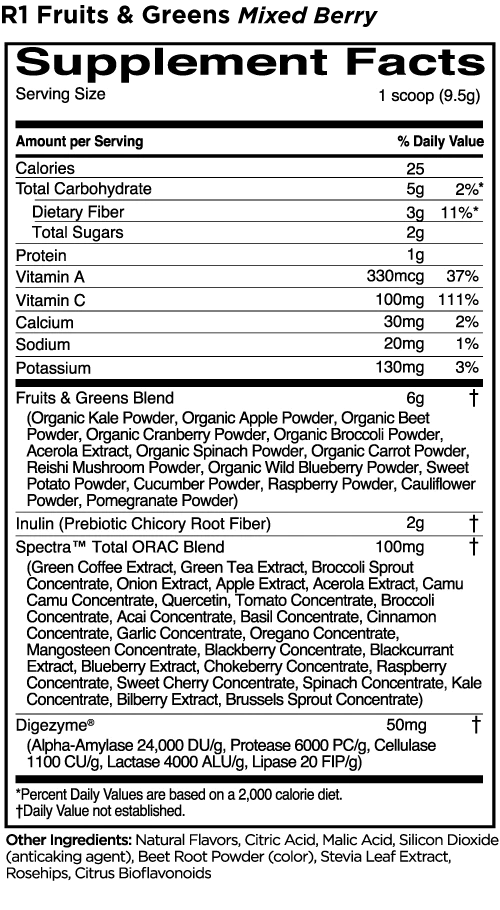 WARNING: KEEP OUT OF REACH OF CHILDREN. FOR USE BY HEALTHY ACTIVE ADULTS ONLY. CONSULT YOUR PHYSICIAN BEFORE USING THIS PRODUCT IF YOU ARE TAKING ANY MEDICATION, ARE UNDER A PHYSICIAN'S CARE FOR ANY MEDICAL CONDITION, OR UNDER 18 YEARS OF AGE. NOT FOR USE BY WOMEN THAT ARE PREGNANT, TRYING TO GET PREGNANT, OR NURSING.