Animal Creatine Micronized Capsules - 300 Capsules
Item #: UV480
UPC: 39442033451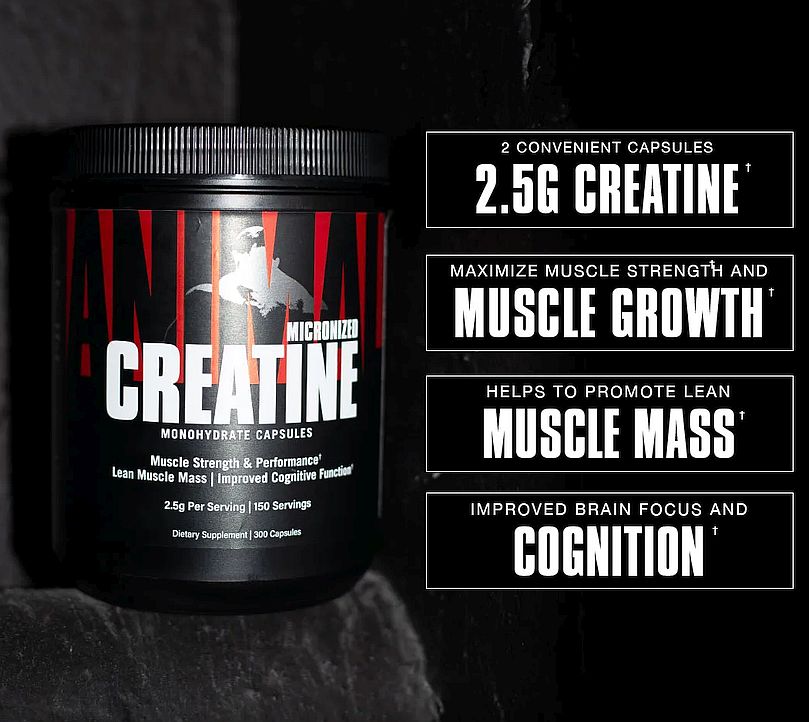 ANIMAL MICRONIZED CREATINE CAPSULES
Creatine Monohydrate Supplement in Capsule Form
Animal Micronized Creatine Caps support muscle building, recovery, and strength. In convenient and easy to take capsules, Animal Micronized Creatine Capsules also help delay muscle fatigue during exercise and have been shown to improve mental cognition.
2.5g of Pure Micronized Creatine Monohydrate Per Serving
Maximize Muscle Growth and Increase Strength
Easy to Take, No Mixing, Shakers, or Mess
Formulated to increase strength, improve endurance, and boost brain function, Animal Micronized Creatine Capsules are a quick and convenient way to support your training and performance goals, regardless of where the day takes you.
Each serving contains 2.5g of pure micronized creatine monohydrate (2 capsules per serving). Easy-to-digest and fast-absorbing, these creatine capsules help build muscle strength, size, and endurance without the need to carry around water, a shaker bottle, or even the need to measure out powders — simply grab, swallow, and go.
Speeds Up Muscle Growth
Reduces Fatigue and Tiredness
Improves Brain Cognition/Function
Improves High Intensity Performance
Helps ATP production for Faster Recovery