Bucked Up Long Range Endurance Lemon Lime - 20 Servings
Item #: BU210
UPC: 811374039448
-25% Off Special - Discount in cart
Long Range Endurance

LONG RANGE is formulated to deliver the proper balance of hydration ingredients to allow endurance athletes to simultaneously rehydrate and push themselves during exercise.*
Our team of sport scientists, athletes, and coaches have created a great tasting mix that maximizes rapid delivery of fluid and fuel without causing gastric distress.* LONG RANGE consumed during exercise enhances performance via two different mechanisms: provision of fuel for the muscle, and a neurochemical benefit to the brain and nervous system, allowing you to push yourself harder and longer at all times.*
The benefits of carbohydrate consumption before/during/after exercise are well documented and heavily researched. We designed Long Range following the most effective formulas shown to improve athlete performance both in the lab and in the highest levels of competition.
In order to meet the needs of endurance athletes who frequently need fuel for any endurance activities, our Long Range formula includes a combination of fructose and maltodextrin in a precise 0.8:1 ratio that maximizes carbohydrate absorption and prevents gastric distress.*
As an added bonus to everyone from professional athletes to weekend warriors, Long Range helps to protect your immune system by reducing the number of immune cells lost during exercise.*

The electrolyte content of Long Range helps fuel, hydrate, and exceed your needs more effectively when compared to water.*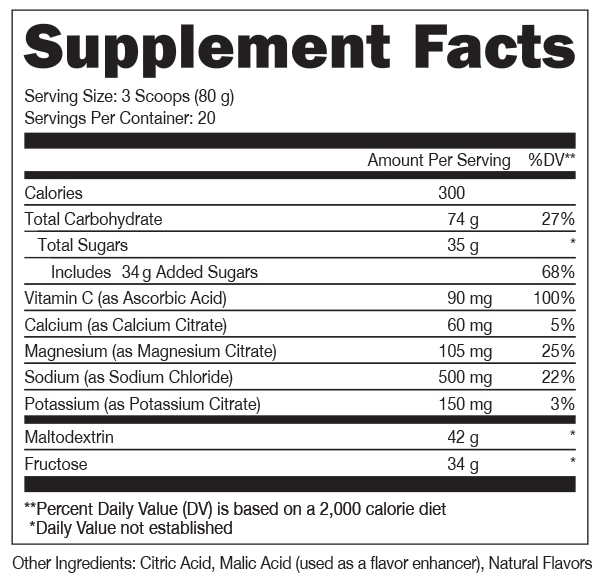 * These statements have not been evaluated by the Food and Drug Administration.
This product is not intended to diagnose, treat, cure or prevent any disease.