Apollon Nutrition Kidney Kindness - 360 Cap
Item #: APN96
UPC: 850042072172
20% Off + Free Ship w/$100 Apollon order
INTRODUCING KIDNEY KINDNESS
Your kidneys are absolutely vital to your overall health -- they help filter waste and toxins out of the blood. The kidneys also regulate your body's fluid balance and maintain electrolyte concentrations, which impacts blood pressure. Unfortunately, aging as well as certain lifestyle choices reduce kidney function, jeopardizing health and performance.
Despite this, kidney health is something that is egregiously overlooked.
Apollon Nutrition has sought to rectify these shortcomings with…KIDNEY KINDNESS.
WHAT IS KIDNEY KINDNESS?
KIDNEY KINDNESS was formulated to offer supreme nephrological support as it combines six powerhouse ingredients to provide advanced kidney and urinary tract support.
WHAT'S IN KIDNEY KINDNESS?
ASTRAGALUS ROOT
Astragalus membranaceus is a staple of traditional Chinese medicine commonly used for bolstering the immune system, supporting cardiovascular function and boosting vitality. Additionally, the plant also possesses potent anti-fibrotic properties and has been found in animal studies to support kidney health by reducing renal interstitial fibrosis in diabetic nephropathy and proteinuric nephropathy.[1,2]
Researchers believe that the kidney-aiding benefits of astragalus are due to a combination of factors including increased nitric oxide (NO) production as well as suppression of transforming growth factor beta expression.
An astragalus-based supplement was also found to benefit remaining kidney function (as well as general health & well-being) on individuals with impaired kidney function.[3] Additional human studies have found that astragalus preparations can benefit estimated glomerular filtration rate (eGFR) -- an important metric of kidney function.[4]

ORGANIC MORINGA LEAF
Native to India, moringa oleifera is a plant with a wide range of beneficial biological activities, including[5]:
Antioxidant
Anti-inflammatory
Hepatoprotective
Cardioprotective
Anti-hyperglycemic
Moringa leaves are particularly rich in powerful flavonoids such as quercetin, kaempferol and apigenin.[6] A number of studies have been conducted, demonstrating that moringa preparations can increase the activity of antioxidant enzymes, including superoxide dismutase (SOD), catalase (CAT), and glutathione (GSH) as well as decrease the activity of certain noteworthy inflammatory cytokines such as TNF-α, IL-1β, IL-6, and COX-2.[7]
Collectively, this supports antioxidant activity, which combats reactive oxygen species (ROS) and oxidative stress, supporting kidney function and cardiometabolic health.

CRANBERRY FRUIT
Cranberry juice is a well-known remedy for kidney complications and urinary disorders. In fact, clinical research confirms supplementation with cranberries may help prevent urinary tract infections (UTIs).[8] Researchers also have found evidence of cranberries decreasing the ability of bacteria to adhere to the lining of the bladder.
Recent studies also highlight that the bioactives in cranberry may also benefit the gut microbiome.[8]

N-ACETYL CYSTEINE
N-acetylcysteine (NAC) is a prominent immune support supplement as well as a precursor to glutathione, a major antioxidant in the body.
Human studies indicate significant improvement in residual renal function in individuals with reduced kidney function. These effects are mediated, in part, by reducing oxidative stress and improving outcomes of uremic anemia, common complication in persons with chronic kidney disease..[9]
A 2021 systematic review and meta-analysis investigating the use of NAC in individuals with kidney complications found that the supplement may benefit kidney function, relieve inflammation and reduce cardiovascular-related events among people with CKD.[10]

GRAPE SEED EXTRACT
Oxidative stress and inflammation play important roles in both the progression of many disorders, including those affecting the kidneys.
Grape seed extract is rife with powerful phytoactives that demonstrate anti-inflammatory and antioxidant effects. Human studies indicate that supplementation with grape seed extract may[11]:
Improve glomerular filtration rate (GFR) and proteinuria
Increase antioxidant status
Decrease lipid peroxidation and carbonylation
In addition to its hepato-supportive properties, grape seed extract is also known to benefit nitric oxide production, cognitive performance, cardiovascular health, immune function and aging, making it one of the best supplements available, regardless of your goal!

ANDROGRAPHIS EXTRACT
Andrographis (also known as "king of bitters") is a medicinal herb traditionally used to support improved immune function, reduced inflammation, and antioxidant protection. A growing body of research also supports the use of andrographis for kidney, liver, and joint health benefits.
Moreover, studies suggest that bioactives present in andrographis may reduce hepatic & renal (liver & kidney) alcohol toxicity.[12]

KIDNEY KINDNESS is our premium, research-backed tonic offering supreme nephrological support. Each serving delivers six powerhouse ingredients to provide advanced kidney and urinary tract support.
Suggested Use
As a dietary supplement, consume one serving (12 capsules) daily. You may also divide your daily serving of KIDNEY KINDNESS into two servings (6 capsules with breakfast, 6 capsules with dinner) or into three servings (4 capsules with breakfast, 4 capsules with lunch, 4 capsules with dinner).
Stacking Options
KIDNEY KINDNESS is stimulant-free and can be combined with other APOLLON NUTRITION health supplements, including:
● LIVER LOVER
● RESISTANCE
● 50/50 Formula-X
● Egg-Cellent
● ISOBLAST
● COLLAGEN
● FROM DUSK TILL DAWN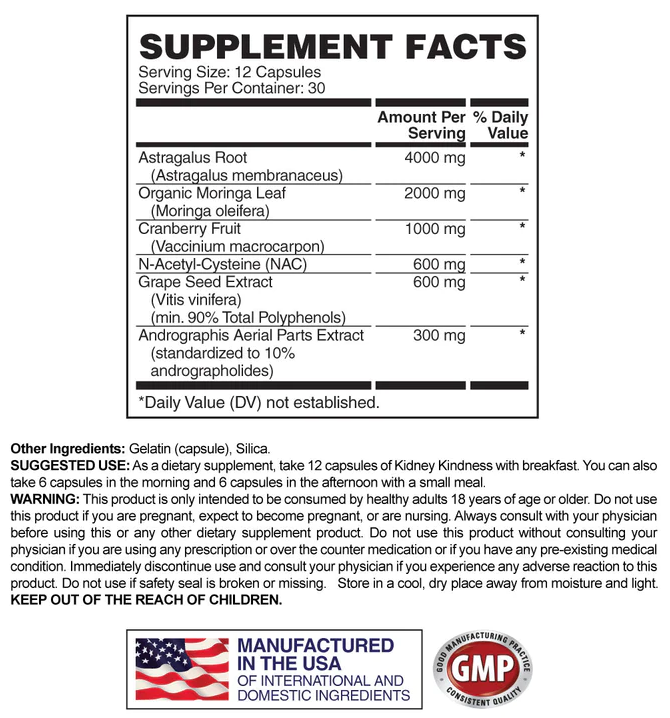 REFERENCES
Zhang J, Xie X, Li C, Fu P. Systematic review of the renal protective effect of Astragalus membranaceus (root) on diabetic nephropathy in animal models. J Ethnopharmacol 2009; 126:189–96.
Wang H, Li J, Yu L, Zhao Y, Ding W. Antifibrotic effect of the Chinese herbs, Astragalus mongholicus and Angelica sinensis, in a rat model of chronic puromycin aminonucleoside nephrosis. Life Sci 2004; 74:1645–58.
Lui SL, Zhu D, Cheng SW, Ng F, Hui PC, Yip T, Lo WK. Effects of Astragalus membranaceus-based Chinese Medicine Formulae on Residual Renal Function in Patients on Peritoneal Dialysis. Perit Dial Int. 2015 Sep-Oct;35(5):595-7. doi: 10.3747/pdi.2014.00039. PMID: 26450483; PMCID: PMC4597997.
Yoshino T, Horiba Y, Mimura M, Watanabe K. Oral Astragalus Root Supplementation for Mild to Moderate Chronic Kidney Disease: A Self-Controlled Case-Series. Front Pharmacol. 2022 Mar 1;13:775798. doi: 10.3389/fphar.2022.775798. PMID: 35300298; PMCID: PMC8921640.
Akinrinde AS, Oduwole O, Akinrinmade FJ, Bolaji-Alabi FB. Nephroprotective effect of methanol extract of Moringa oleifera leaves on acute kidney injury induced by ischemia-reperfusion in rats. Afr Health Sci. 2020 Sep;20(3):1382-1396. doi: 10.4314/ahs.v20i3.44. PMID: 33402987; PMCID: PMC7751547.
Amaglo NK, Bennett RN, Lo Curto RB, et al. Profiling selected phytochemicals and nutrients in different tissues of the multipurpose tree Moringa oleifera L. grown in Ghana. Food Chem. 2010;122:1047–1054. doi: 10.1016/j.foodchem.2010.03.073
Akter T, Rahman MA, Moni A, Apu MAI, Fariha A, Hannan MA, Uddin MJ. Prospects for Protective Potential of Moringa oleifera against Kidney Diseases. Plants (Basel). 2021 Dec 20;10(12):2818. doi: 10.3390/plants10122818. PMID: 34961289; PMCID: PMC8706354.
de Almeida Alvarenga L , Borges NA , Moreira LSG , Resende Teixeira KT , Carraro-Eduardo JC , Dai L , Stenvinkel P , Lindholm B , Mafra D . Cranberries - potential benefits in patients with chronic kidney disease. Food Funct. 2019 Jun 19;10(6):3103-3112. doi: 10.1039/c9fo00375d. PMID: 31140512.
Feldman L, Shani M, Sinuani I, Beberashvili I, Weissgarten J. N-acetylcysteine may improve residual renal function in hemodialysis patients: a pilot study. Hemodial Int. 2012 Oct;16(4):512-6. doi: 10.1111/j.1542-4758.2012.00702.x. Epub 2012 Apr 30. PMID: 22541137.
Ye M, Lin W, Zheng J, Lin S. N-acetylcysteine for chronic kidney disease: a systematic review and meta-analysis. Am J Transl Res. 2021 Apr 15;13(4):2472-2485. PMID: 34017406; PMCID: PMC8129408.
Turki K, Charradi K, Boukhalfa H, Belhaj M, Limam F, Aouani E. Grape seed powder improves renal failure of chronic kidney disease patients. EXCLI J. 2016 Jun 27;15:424-433. doi: 10.17179/excli2016-363. PMID: 27822171; PMCID: PMC5083963.
Singha PK, Roy S, Dey S. Protective activity of andrographolide and arabinogalactan proteins from Andrographis paniculata Nees. against ethanol-induced toxicity in mice. J Ethnopharmacol. 2007 Apr 20;111(1):13-21. doi: 10.1016/j.jep.2006.10.026. Epub 2006 Oct 28. PMID: 17127022.