Axe & Sledge Demo Day V2 Carbohydrate Powder Shark Bite - 30 Servings
Item #: AXS96
UPC: 75025826997
Free Shipping w/$45 A&S order -Excluded from coupons
New packaging & look... Same great formula!
Demo Day is a peri-workout carbohydrate powder that can be used before, during, and after training to fuel performance and facilitate recovery. Unlike other carbohydrate powders, demo day uses three low-glycemic carbohydrate sources to provide you with sustained energy, including carb10®, cluster dextrin®, and palatinose™. Better yet, these carbohydrates don't cause any gastrointestinal distress or big spikes in blood sugar levels.
Demo day also features hydromax® glycerol and l-taurine to further enhance hydration, pumps, and performance. Last, but not least, demo day has alpha-lipoic acid and cinnamon bark extract to promote carbohydrate uptake and insulin sensitivity! Demo day is now available in a smaller container that's much more convenient to travel with. With a fresh new look, new flavor, and new packaging, what's not to love about demo day?
The ultimate fuel source for hard-working m'fers
Demo day is a peri-workout carbohydrate powder which means that it can be used before, during, and/or after training. Unlike most carbohydrate powder that use cheap dextrose or maltodextrin, demo day utilizes three trademarked/patented carbohydrate sources that are easy on the stomach but don't rapidly spike your blood sugar levels!
Every scoop of demo day contains 25 grams of carbs, 100 calories, and only 2 grams of sugars! Demo day provides you with a clean fuel source and sustained energy that lasts long after the workout is over.
The tri-blend of carbohydrates in demo day consists of the following:
15 grams carb10
11 grams cluster dextrin
2 grams palatinose

In addition to the carbohydrates, demo day is contains several ingredients that boost performance, pumps, hydration, and carbohydrate uptake. This aspect of the formula is what sets demo day over the top when it comes carb powders!
Some other key ingredients found in demo day include:
2 grams l-taurine
2 grams hydromax®
50 milligrams cinnamon bark extract
50 milligrams alpha lipoic acid

Demo day is suited for those individuals that push their training to the limits. It's a premium fuel source that's designed to work as hard as you do. If you feel like you've hit a wall during a workout, adding more stims isn't the answer. Providing your body with the fuel it needs will make the biggest difference in how you look, feel, perform, and recover.
Try it for yourself, and we promise that you won't want to train without it!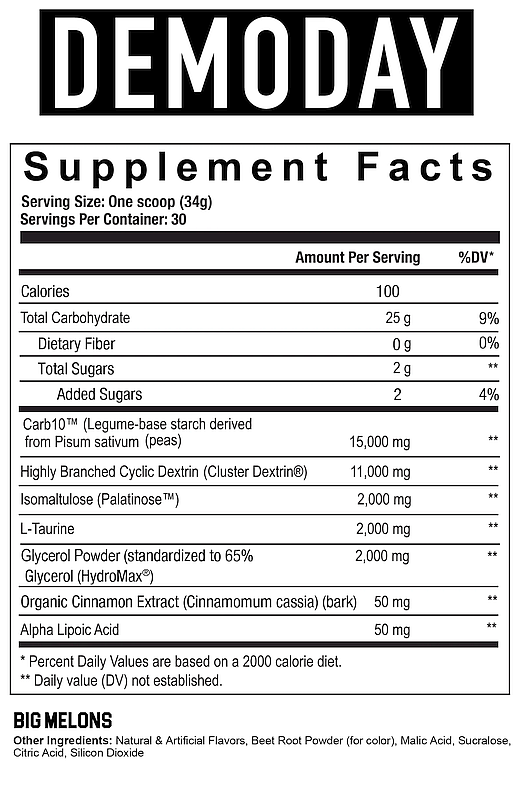 Warning: consult with a physician prior to using this product if you are taking medication or have a medical condition. Don't use if pregnant or lactating. Discontinue use two weeks prior to surgery. Keep out of reach of children. Keep the container tightly closed in a cool, dry, and dark place.
California prop 65 warning
Warning: consuming this product can expose you to chemicals including lead and mercury which are known in the state of california to cause cancer and birth defects, or other reproductive harm. For more information, go to https://www.P65warnings.Ca.Gov/food