Alpha Lion Gains Candy Nitrosigine - 63 Cap
Item #: ALG55
UPC: 810037995671
Gains Candy Nitrosigine
Premium Nitric Oxide Support†
Novel, Research Backed Nitric Oxide Boosting Support†
Supports Pumps & Increased Blood Flow†
Promotes Enhanced Nutrient Delivery†
Helps Promote Increased Cognitive Performance†
Long-Lasting Nitric Oxide Production To Help Promote Increased Physical Performance!†
Helps Improve Blood Flow for Muscle Pumps†
Helps Increase Nitric Oxide Production in the Body†
Helps Support Enhanced Nutrient Delivery†
Helps Improve Mental Focus and Acuity†
Nitrosigine® is a patented complex of Bonded Arginine Silicate backed by over 30 studies to help promote increased pumps, nitric oxide production, and cognitive focus.†
Backed by Research for Maximum Effectiveness!
We take pride in our Full Label Disclosure, so you see the exact amount of EVERY active ingredient used inside, which means:
No Proprietary Blends (aka full transparency)
Scientifically-studied premium ingredients
And most importantly… No excuses!
SCIENTIFICALLY-STUDIED DOMINATION FOR BETTER NITRIC OXIDE AND PUMPS†
Why is Nitric Oxide production so important? Because the more blood and oxygen pumping into those glorious biceps, the more size and strength you will unlock.†
Nitrosigine® has been studied to dwarf the competition when it comes to producing both N.O. and bigger pumps.†

Elevate Your Cognitive Performance
Not Just Your Pumps!†
Gains Candy™ Nitrosigine® helps promote more than just wild vascularity. New studies have shown that Nitrosigine® aids in improved cognition including mental focus, working memory, and mental acuity.† Nothing better than brain gains!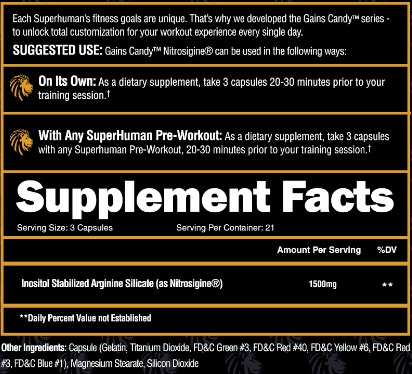 †THESE STATEMENTS HAVE NOT BEEN EVALUATED BY THE FOOD AND DRUG ADMINISTRATION. THIS PRODUCT IS NOT INTENDED TO DIAGNOSE, TREAT , CURE, OR PREVENT ANY DISEASE.