Alpha Lion SuperHuman BURN Hulk Juice - 21 Servings
Item #: ALG49
UPC: 810037995060
WHERE NEXT-LEVEL FAT BURNING MEETS ENHANCED PERFORMANCE†
A 2-in-1 fat burning pre-workout designed to amplify your caloric expenditure while increasing training intensity.† Featuring research backed ingredients and powered by our novel SXT™ Energy System, Superhuman Burn will help you burn more calories while elevating strength and focus.† Truly the best of both worlds.
7 Trademarked Ingredients
100% Transparent Label
Banned Substance Free
Safe, Side-Effect Free
All Ingredients are GRAS (Generally Regarded as Safe)
AMPLIFY YOUR STRENGTH, ENERGY, FOCUS, & MOST IMPORTANTLY: YOUR FAT LOSS RESULTS!†
Supports Increased Calorie Burning†
Sustained Energy & Focus w/ New SXT™ Energy System†
Promotes Elevated Thermogenesis†
Elevated Nitric Oxide for Maximum Pumps & Nutrient Delivery†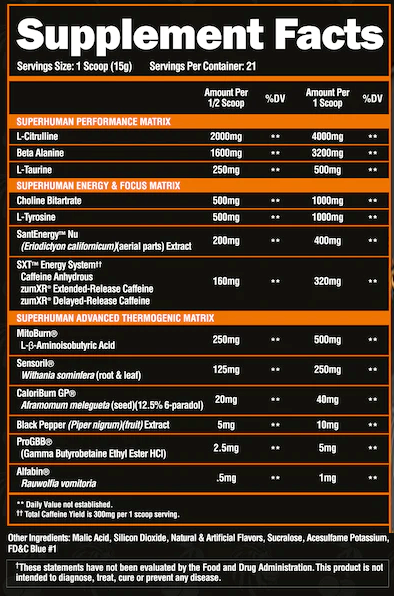 †THESE STATEMENTS HAVE NOT BEEN EVALUATED BY THE FOOD AND DRUG ADMINISTRATION. THIS PRODUCT IS NOT INTENDED TO DIAGNOSE, TREAT , CURE, OR PREVENT ANY DISEASE.