Ghost Energy Drink Orange Cream - 12 Cans
Item #: GHT10
UPC: 810085812180
20% Off Special Offer
Out of Stock
Introducing GHOST ENERGY, the fully transparent, fully loaded, feel-good energy drink we've all been waiting for.
No sugar. No artificial colors. No BS.
FULLY TRANSPARENT ENERGY
No sugar. No artificial colors. No BS. GHOST® ENERGY is the first full disclosure energy drink that delivers on efficacy and the info to ensure you know exactly what you're getting in every can. Combining 200mg of natural caffeine with brain-boosting nootropics to deliver the perfect combo of energy and focus.
GHOST® Full Disclosure Label
200mg Natural Caffeine
1000mg Carnipure® L-Carnitine
150mg Alpha-GPC
100mg NeuroFactor™
25mg AstraGin®
GHOST® FULL DISCLOSURE LABEL
All GHOST® products feature a 100% transparent label that fully discloses the dose of each active ingredient. Zero proprietary blends means you know what you're getting in each and every scoop.
NATURAL CAFFEINE
Clean, natural energy. GHOST® Energy contains 200mg of Natural Caffeine from coffee bean, which has been found anecdotally to deliver a smooth, feel good energy with less jitters and no crash when compared to other forms of Caffeine.
CARNIPURE®
L-CARNITINE
Carnipure® is a high-quality form of L-Carnitine. L-Carnitine is one of the most commonly used ingredients in energy drinks due to its roll in converting fatty acids into energy.*
ALPHA-GPC
Alpha-GPC is a natural nootropic that delivers some serious cognitive benefits. Having a ton of energy is great, but being able to channel that energy and actually focus while attacking your day is just as important.*
NEUROFACTOR™
NeuroFactor™ is an all-natural patented extract of the whole fruit (including the bean) of the coffee plant that has been clinically studied to boost brain and cognitive function in ways your morning cup of coffee can only dream of.*
ASTRAGIN®
AstraGin® works to help improve your body's ability to absorb a wide range of key nutrients...in other words, AstraGin® ensures you're getting the maximum benefit from everything we've packed into GHOST® Energy.*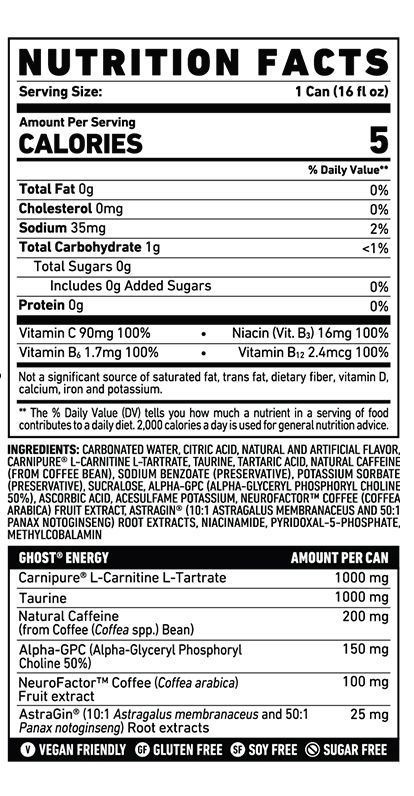 *These statements have not been evaluated by the Food and Drug Administration. These products are not intended to diagnose, treat, cure or prevent any disease.