Alpha Lion Gains Candy RipFactor - 60 Cap
Item #: ALG42
UPC: 810037992342
25% Off Special Offer
Out of Stock
GAINS CANDY RIPFACTOR
Get Ripped Faster.†
Helps Promote Healthy Overall Body Strength†
Helps Promote Healthy Muscle Size†
Helps Promote Healthy Muscular Endurance†
Assists w/ Healthy Nitric Oxide Production Levels in the Body†
Scientifically-Studied Results In As Fast As 14 Days†
RIP THROUGH MUSCLE-BUILDING PLATEAUS (AND SHIRT SLEEVES!)†
Helps Promote Healthy Muscular Increase†
Helps Promote Increased Strength†
Helps Promote Healthy Muscular Endurance†
Scientifically-Studied Results in As Fast as 14 Days†

Fully Disclosed Formula. Premium Trademarked Ingredients.
Backed by Research for Maximum Effectiveness!
We take pride in our Full Label Disclosure, so you see the exact amount of EVERY active ingredient used inside, which means:
No Proprietary Blends (aka full transparency)
Scientifically-studied premium ingredients
And most importantly… No excuses!
Modern Science Improves On Ancient Tradition
RipFACTOR® is a synergistic blend of extracts from two well-known botanicals from the ancient tradition. The development of this complex involved screening over 2,000 botanicals for their ability to promote optimal strength, endurance, and muscle gains.†
Sphaeranthus indicus
Flower Heads
A traditional ancient botanical, also known as East Indian Globe Thistle, the flower heads of this plant have been used for physical performance, muscle growth and longevity. †
Mangifera indica Tree Bark
The mango tree was domesticated in India over 4,000 years ago. The bark of the tree has legendary status across the regions where it grows for its numerous health benefits. RipFactor® creates potent muscle-building synergy by combining these 2 ingredients.†

Helps Promote Enhanced Protein Synthesis†
Helps Minimize Muscular Breakdown†
Helps Promote Healthy Activation of mTOR†
Helps Promote Increased Healthy Blood Flow†
ACCELERATE MUSCLE SIZE, STRENGTH, AND VOLUME†
A June 2019 study involving the unique combination of ingredients in RipFACTOR® reported a significant improvement in muscle endurance and strength beginning at day 14… †
With the numbers becoming more impressive from there. By day 56, participants saw up to 4X greater improvement in muscle size compared to the placebo group.†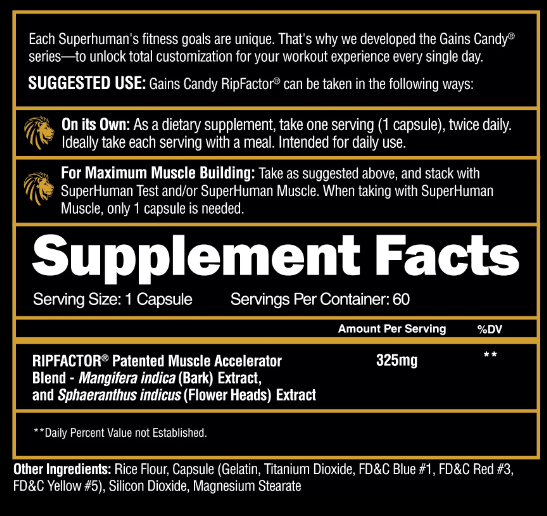 †THESE STATEMENTS HAVE NOT BEEN EVALUATED BY THE FOOD AND DRUG ADMINISTRATION. THIS PRODUCT IS NOT INTENDED TO DIAGNOSE, TREAT, CURE, OR PREVENT ANY DISEASE.