Fit Butters Monster Cookie Peanut Butter - 1 Lb
Item #: FB005
UPC: 685757569675
GLUTEN FREE
MONSTER COOKIE PEANUT BUTTER SPREAD tastes like your childhood favorite cookie, only better for you! The perfect flavor from the oatmeal cream pie flavored whey protein isolate and the perfect crunch from the real M&Ms.
DRY ROASTED PEANUTS make for better nut butters. Unlike the "other" guys, we do not roast our nuts in oil. We dry roast them and then add coconut oil for healthy fats.
COCONUT OIL added for healthier fats and better flavor. Coconut oil is a natural source of MCTs which are easier for the body to digest. MCTs are also known to stimulate fat burning, thyroid function and energy production. Less oil separation too!
WHEY PROTEIN ISOLATE infused for a complete protein source and an unmatched flavor. Monster Cookies uses an oatmeal cream pie flavored whey protein isolate from Purus Labs to richen the flavor to remind you of your favorite childhood monster cookies!
REAL M&Ms and GHIRADELLI dark chocolate chips added to every jar! We top every jar of Monster Cookie with real M&Ms and Ghirardelli dark chocolate chips for the perfect little touch to complete this wonderful tasting FIt Butter.
MADE IN SMALL BATCHES at 100 jars at a time. FIt Butters is a small business that is locally owned and operated in Minneapolis, MN. Our small batch process allows us to perfect each and every jar!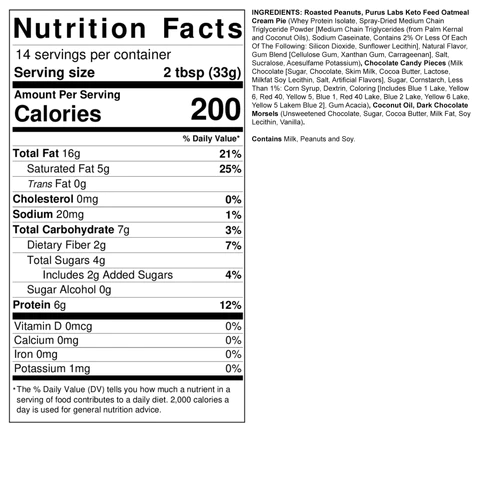 Storage Recommendations:
FIt Butters are not required to be refrigerated.
FIt Butters can be stored at room temperature. Avoid putting your FIt Butter in direct light to extend the shelf life. Storage in a dark pantry or room is best.
Refrigeration can extend the shelf life of your FIt Butter but it is not required. If you choose to refrigerate your FIt Butter please know it may harden, but will soften back at room temperature.