Axis Labs Xtract - High Definition Diuretic - 2 x 80 Cap TWINPACK
Item #: AX2026
UPC: 689076957403
20% Off Special Offer
Out of Stock
Axis Labs Xtract High-Definition Diuretic
20 Serving!
XTRACT - Competition Strength High-Definition Water Loss Formula!
Whether you are a bodybuilder or figure athlete preparing for a competition or you need to lose additional pounds of subcutaneous water by the weekend, look no further than Axis Labs XTRACT.*
THE XTRACT ADVANTAGE
- Water Loss*
- Competition Strength*
- Helps Gets You Ripped and Dialed-In*
- For Both Men and Women
Introducing XTRACT; The only high-definition water loss product with our exclusive HyperDry Infusion formula. Now you may effectively experience:
- What it's truly like to get ripped and dialed in*
- Water loss that gets you dry and lean*
- A shredded physique without losing competition strength*
Design
Becoming "ripped" and "dialed-in" is an elusive yet much coveted state of aesthetic fitness. In case you've been living on another planet, "ripped" means lean muscles that ripple and bulge just below the skin with veins pumping and coursing like swollen torrents. Those who achieve this pinnacle of definition stand head and shoulders above the competition.
Although a strict dietary regimen can help to melt away unsightly body fat, achieving a truly jaw-dropping, "shredded" physique requires a maximum reduction of definition-smoothing subcutaneous fluids. Out of desperation, competitive athletes, bodybuilders and fitness enthusiasts often turn to harsh diuretics. However, these harsh diuretics tend to strip the body of essential electrolytes which can result in painful muscle cramps, impaired nerve transmissions or worse.
HyperDry Infusion
Understanding this dilemma, Axis Labs was inspired to develop a safe yet highly effective fluid-management product. Their quest for an ideal product resulted in XTRACT. XTRACT achieves subcutaneous fluid and electrolyte management through the proprietary HyperDry Infusion and Electrolyte Infusion technologies.
Electrolyte Infusion
The Electrolyte Infusion system offers an effective blend of key electrolytes to help ensure that the HyperDry Infusion offers balanced fluid reduction.* Efficacious levels of the minerals calcium, potassium and magnesium promote natural fluid balance, strong nerve transmissions and muscle-pumping cell volumization.
If you absolutely need to unveil your shredded muscle for a competition, lean up for a vacation or wedding, trust XTRACT to get you there.
CUT LIKE DIAMONDS?!
Stack Xtract with CLA Softgels & Synthalean XD for boosted results. Manufactured to the highest standards for premium quality.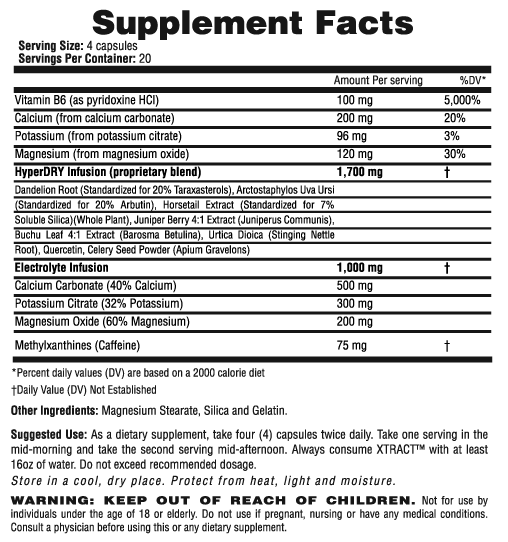 *These statements have not been evaluated by the Food and Drug Administration. Products are not intended to diagnose, treat, cure or prevent any disease.