Animal Primal Powder Strawberry Watermelon - 25 Servings
Item #: UV465
UPC: 039442033253
You train hard. You train with intensity. You want to get the most out of every training session with no
compromises. And you need a pre-workout that can power your performance, each and every time.
Introducing Animal Primal Preworkout — Animal's most comprehensive pre-workout formula ever,
designed so you can crush any training session.

We tirelessly worked to find the right combination of ingredients that could be worthy of the Animal
name. First, we start with the pump, but not just any pump will do. Animal Primal Preworkout uses the
breakthrough patented 3DPump®. Not only does it increase nitric oxide for the valued "pump", but it
helps increase exercise capacity and endurance and helps optimize vascular endothelial function, aka
vascularity†.

It also features a Muscle Endurance complex which combines Beta Alanine, Betaine and Taurine as a
powerful endurance trio†. Beta Alanine is a vital ingredient used to combat the urge to quit. In other
words, you'll be able to train longer and harder.

And when you train hard, you have to maintain focus. To help keep your head in the iron game, Primal
Preworkout provides performance focus through our Focus & Intensity Complex consisting of the amino
acid Tyrosine which is involved in neurotransmitter production, Huperzine A for brain health, and
Choline Bitartrate, which supports energy metabolism and helps the brain send messages for improved
mental endurance and focus†.

This blend is completed with patented Teacrine®. Among its many benefits includes increases in energy
without the jittery feeling, increases in motivation to accomplish tasks, mental energy and decreases in
feeling of fatigue†.

Our Quick and Sustained Energy Complex is the energy core of Animal Primal Preworkout. It is powered
by a combination of tried and true caffeine along with an herbal complex of green tea, coffee bean
extract and guarana†.

Proper hydration is key for maximal performance. So we've included an Electrolyte Complex to support
muscle hydration to help get you through those intense training sessions. And we've topped it off with a
combination of Astragin to support nutrient uptake and Senactiv which helps the production of citrate
synthase, an important enzyme that is responsible for producing more ATP†.
Maximize your workouts by pushing yourself to your limits with Animal Primal Preworkout.
Enhances energy and endurance†
Supports muscle hydration†
Supports intense focus†
Contains Astragin® to support nutrient uptake†
Contains Senactiv® which helps the production of citrate synthase, an important enzyme that is
responsible for producing more ATP†
Great tasting, easy to mix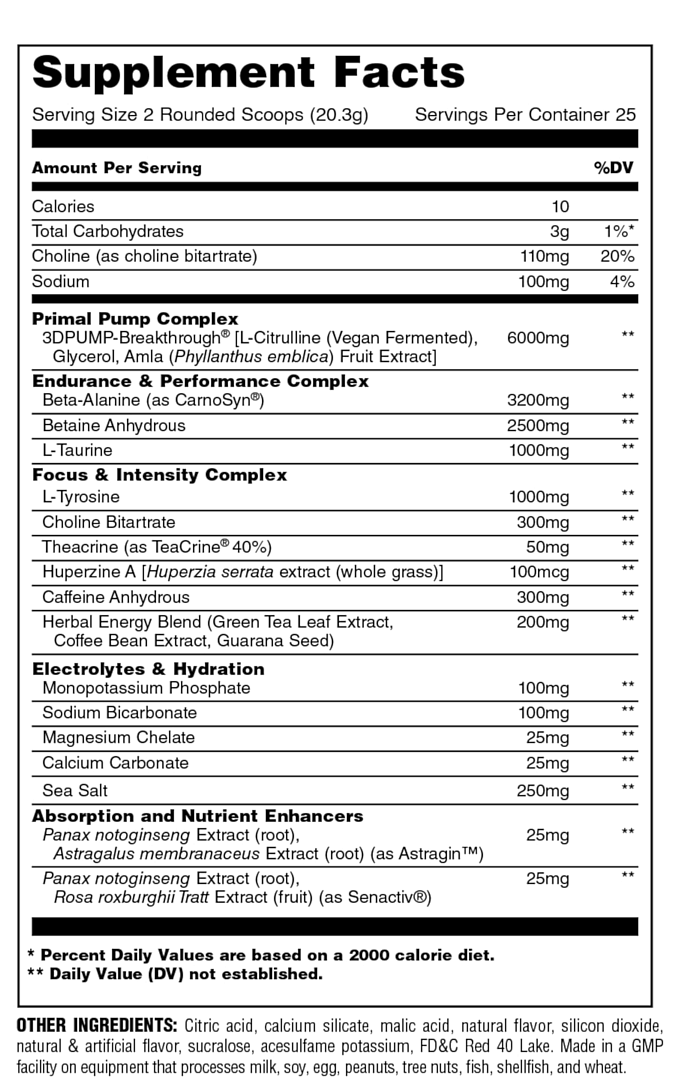 †These statements have not been evaluated by the Food and Drug Administration.
This product is not intended to diagnose, treat, cure or prevent any disease.
WARNING: Not for use by those under the age of 18. Consult a physician before using this
product. If you have, or have a family history of, heart disease, thyroid disease, liver disease,
kidney disease, diabetes, high blood pressure, recurrent headaches, depression or other
psychiatric conditions, glaucoma, difficulty in urinating, prostate enlargement, seizure disorder,
if you are using a monoamine oxidase inhibitor (MAOI), anti-depressants, or any other
medication, dietary supplement, prescription drug or over-the-counter drug consult with a
physician. Discontinue use two weeks prior to surgery. Do not use if pregnant or nursing. Do
not exceed recommended dose. Contains caffeine. Do not use if you are sensitive to caffeine.
Do not use in combination with other caffeinated products. Do not use if you have high blood
pressure, heart problems, or are contemplating becoming pregnant. California Residents:
WARNING: Reproductive Harm - www.P65Warnings.ca.gov. Store product in a cool, dry place,
away from heat, moisture and sunlight.