Alpha Lion Gains Candy Glucovantage - 60 Cap
Item #: ALG28
UPC: 810037992229
GAINS CANDY™ GLUCOVANTAGE
Turn Carbs From Foe to Friend.†
Helps Promote Improved Carbohydrate Utilization†
Helps Maintain Healthy Insulin Response†
Helps Support Healthy Glucose Metabolism†
Helps Convert Fat Storage Into Energy†
Helps Inhibit Adipocyte (Fat Cell) Growth†
Eat Carbs With Confidence w/ This "Super Berberine" for Fat Loss & Muscle Building!†
Helps Promote Improved Carbohydrate Utilization†
Helps Maintain Healthy Insulin Response†
Helps Support Healthy Glucose Metabolism†
Helps Convert Fat Storage into Energy†

Fully Disclosed Formula. Premium Trademarked Ingredients.
Backed by Research for Maximum Effectiveness!
We take pride in our Full Label Disclosure, so you see the exact amount of EVERY active ingredient used inside, which means:
No Proprietary Blends (aka full transparency)
Scientifically-studied premium ingredients
And most importantly… No excuses!
Turn carbs from foe to friend with GlucoVantage® — the industry's first Dihydroberberine (DHB) known for its ability to help promote healthy insulin response and healthy glucose metabolism.†
STORE CARBS IN MUSCLE AS GLYCOGEN INSTEAD OF FAT†
GlucoVantage® helps promote the shuttling of the carbs you eat to be stored in the muscle as glycogen and used as energy/fuel by the body instead of being stored as fat.†
This means less guilt and more gains!
HELPS SUPPORT HEALTHY GLUCOSE METABOLISM†
What good are carbs if you can't utilize them properly? GlucoVantage® helps support the process that breaks down those tasty carbs you ingest into the powerful currency that fuels your training and muscle growth.†
Make the carbs you eat work with you — not against you — and more efficiently to achieve your fitness goals.†
ANCIENT TRADITION MEETS MODERN SCIENCE†
GlucoVantage® is the industry's first implementation of Dihydroberberine (DHB) — a derivative of berberine, an ingredient used in Eastern tradition for decades...
Known for its unmatched ability to inhibit fat cell growth and support healthy carbohydrate utilization.†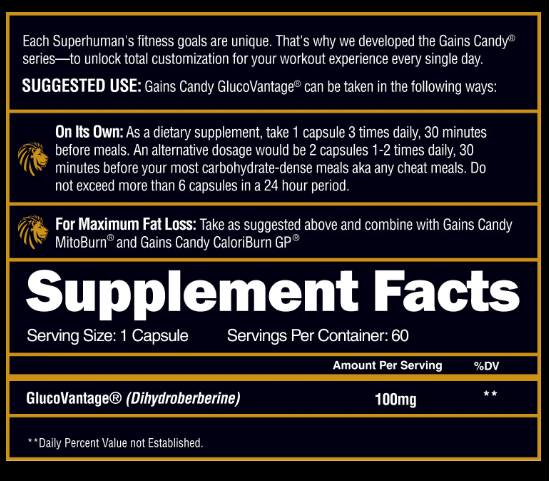 †THESE STATEMENTS HAVE NOT BEEN EVALUATED BY THE FOOD AND DRUG ADMINISTRATION. THIS PRODUCT IS NOT INTENDED TO DIAGNOSE, TREAT, CURE, OR PREVENT ANY DISEASE.