Bucked Up L-Citrulline - 300 Grams
Item #: BU197
UPC: 811374036928
-25% Off - Discount in cart
Out of Stock

L-Citrulline
If you want to achieve the glorious pump, L-Citrulline is the champion of boosting blood flow.
Its ability to increase nitric oxide production in the body -- which leads to vasodilation (relaxation of blood vessels) -- helps you experience a better, fuller PUMP.*
Integrate L-Citrulline into your supplement stack and achieve maximal awe-inspiring muscle swelling, or use it to improve your selfie game.
Because it's unflavored, you can mix a serving of L-Citrulline into any of your favorite beverages for added blood flow throughout the day. Alternatively (or in conjunction via splitting doses), L-Citrulline can be used alongside our other pre-workout supplements 20-30 minutes prior to training.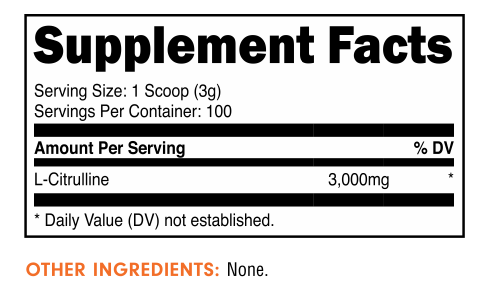 * These statements have not been evaluated by the Food and Drug Administration.
This product is not intended to diagnose, treat, cure or prevent any disease.